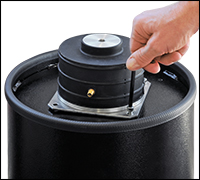 Click to Enlarge
All rigid supports can be upgraded to passive isolators. Simply remove the rigid pad using the included wrench, and then secure the PWA076 Passive Isolation Upgrade Kit.
Thorlabs' Rigid, Non-Isolating, free-standing Optical Table Supports are strong enough to support an optical table under heavy load. Each support has an adjustable pad to level or adjust the table height over a 23 mm (0.90") range using the included 24.0 mm (0.94") open-ended wrench. The height can then be locked in place using the included 36.0 mm (1.42") open-ended wrench. These supports can be used with any of our optical tables.
When paired with a Nexus® series optical table and a quiet environment, vibration-insensitive photonics experiments like general spectroscopy and multimode fiber coupling can be performed. A set of four supports is capable of supporting loads up to 2500 kg (5500 lbs) and full installation instructions are included. More than four supports may be necessary for higher loads, long tables, or custom-designed joined systems. Please contact Tech Support to discuss your specific requirements.
Passive Upgrade Kit for Rigid Non-Isolating Supports
As applications develop and grow, vibration isolation requirements may change. The PWA076 kit sold below allows users to upgrade non-isolating supports so that they provide passive isolation. The upgrade kit contains four passive isolation units (one for each support) and all needed accessories; click on the red Docs icon (

) by the rigid leg item numbers below to download the installation manual. Please note that when the passive upgrade kit is fitted, the load capacity of the four supports is reduced to 1100 kg (2425 lbs). A heavy-duty upgrade kit, with a load capacity of 550 - 2200 kg (1200 - 4850 lbs), is available upon request.
PTL802 and PTL803 Optical Table Supports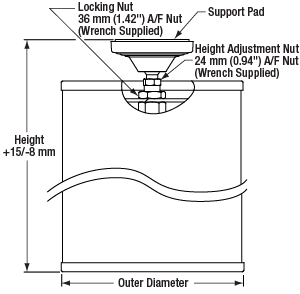 PTL701 Optical Table Support
| Feature | Design |
| --- | --- |
| Leveling System | Adjustable Support with Rubber Support Pad: The optical table can be raised 15 mm (0.59") or lowered 8 mm (0.31") by adjusting the height of the leveling support with an open-ended wrench for a total height adjustment range of 23 mm (0.90"). The height can then be locked into place using the locking nut. |
| Stable Support | Large-Diameter Cylindrical Design: The large-diameter, free-standing optical table supports provide maximum stability and safety. In addition, the adjustable rubber support pad ensures that the levelling mechanism remains in firm contact with the optical table and does not walk off the optical table supports over time. |
| 910 mm Working Height | Cylindrical Steel Supports: To complement our three table thicknesses of 210 mm (8.3"), 310 mm (12.2"), and 460 mm (18.1"), our optical table supports are available at heights of 700 mm (27.5"), 600 mm (23.6"), and 450 mm (17.7") to produce a working height of 910 mm (35.8"). |
| Item # | PTL701 | PTL802 | PTL803 |
| --- | --- | --- | --- |
| Height | 450 mm (17.7") | 600 mm (23.6") | 700 mm (27.6") |
| Outer Diameter | 277.0 mm (10.75") | 273.0 mm (10.75") | 273.0 mm (10.75") |