Optical Table Earthquake Restraints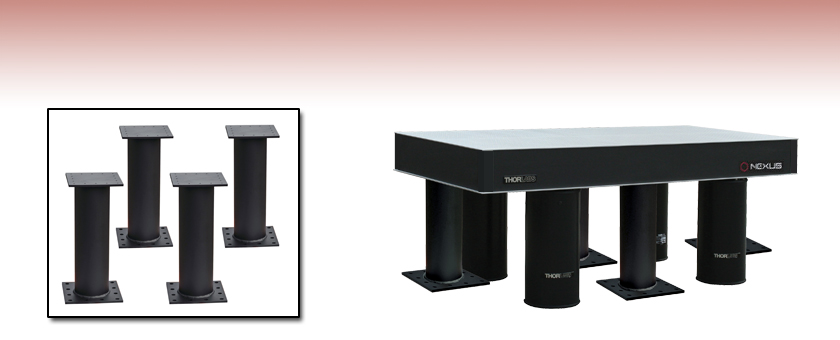 Withstand Loads up to 5,500 lbs (2500 kg) at Lateral Accelerations up to 1.4 g
Heights: 23.6" and 27.5" (600 mm and 700 mm)
Conform to International Building Code 2009
PTE600

Please Wait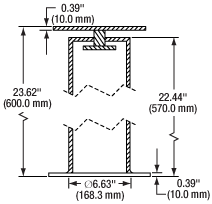 Click to Enlarge

Diagram of PTE600 Earthquake Restraint
Features
Set of Four Earthquake Restraints can Withstand a 5500 lb (2500 kg) Load at 1.4 g Lateral Acceleration
Available in Two Heights: 23.5" (600 mm) or 27.5" (700 mm)
Complies with International Building Code (IBC) 2009
Thorlabs' Optical Table Earthquake Restraints are designed to reduce and/or stop movement of an optical table top during seismic activity. As shown in the diagram to the right, the top plate of the earthquake restrains is allowed to freely float, allowing the table to float on passive or active isolators. Larger movements, such as those during an earthquake are restricted by the restraints. These restraints are minimally invasive, with the ability to withstand a combined table top and equipment load of 5500 lb (2500 kg) at 1.4 g of lateral acceleration. These restraints have been certified to comply with International Building Code (IBC) 2009; for more information about this certification, please contact tech support. They are available in two heights, 23.5" (600 mm) or 27.5" (700 mm), which matches the height offerings of our optical table supports. They are designed for use with rigid, passive, or active supports.
The restraints are designed to be secured into a masonry floor with bolts appropriate for the particular floor type. Since floor structures vary, bolts are not supplied with the restraints; please contact Tech Support for more information.
Please note: In order to mount these supports to an optical table, holes must be added to the underside of the table for attaching the restraints prior to shipping. Please contact Tech Support to order an optical table equipped with the necessary alterations. Tables, once they are manufactured and shipped, cannot be retrofitted to accept earthquake restraints. These earthquake restraints are not shipped from stock; all orders will incur a lead time.
Posted Comments:
No Comments Posted