Workspace Enclosure Frames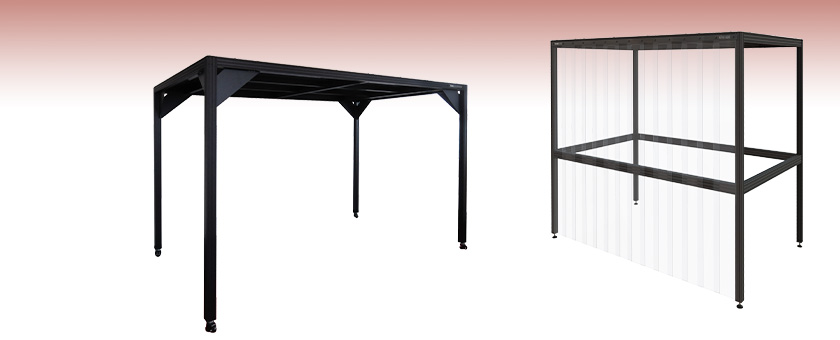 Free-Standing, Customizable Enclosure Frames
For Nexus® Optical Tables, ScienceDesk™ Workstations, and Other Setups
LFE1220W
Walkway Enclosure Frame
Application Idea
LFE1220 Wraparound Enclosure Frame
with LFELSC14 Strip Curtain

Please Wait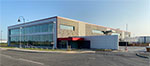 Enclosure Frames are
designed in our UK office.
Interested in Custom Capabilities?
Thorlabs is in the process of expanding our offering of Enclosures and Laminar Flow Systems and accessories. If you are interested in features that you don't see here, please contact us to discuss custom requests.
Features
Free-Standing Enclosure Frames
Options Available to Enclose 1.2 m x 2.0 m (4' x 6') Nexus® Optical Tables with or without a Walkway
Compatible with other Setups, Such as ScienceDesk™ Workstations, that Fit Within the Enclosure Area
Transparent Strip Curtains and LED Light Strips also Available Separately
Thorlabs' Customizable Enclosure Frames are designed to enable the creation of a custom work environment around Nexus optical tables, ScienceDesk workstations, or other setups that fit within the enclosure frame area. The LFE1220 Wraparound Enclosure is designed to tightly encompass the surface of a 1.2 m x 2.0 m (4' x 6') optical table while not making contact with the table sides in order to minimize vibrations. The LFE1220W Walkway Enclosure Frame is large enough to provide a walkway on all four sides when centered over a 1.2 m x 2.0 m (4' x 6') optical table, although it can be used with other setups that fit inside the frame as well. Both enclosure frames include panels that cover the frame ceiling.
Each enclosure frame is composed of rails that are compatible with our transparent PVC strip curtains and the PSY240E 850 mm (33.46") long LED light strip, both available separately below. The rail frames are also compatible with our 50 mm & 75 mm construction rail accessories, including T-nuts and screws, mounting brackets and feet, rail joiners, and channel inserts. Users can also customize the frames by adding their own accessories, such as HEPA filter units and air quality monitors. Alternatively, we also offer Laminar Flow Enclosures based on these enclosure frames that include HEPA filtration, an air quality monitor, LED light strip, and soft wall transparent curtains for situations where a clean room environment is desired.
Please note that these enclosures require assembly, a manual process that requires four people to work on at least one of the assembly steps. Each fully assembled enclosure is designed to enclose a Nexus optical table. Tables are not included and must be purchased separately. To view a list of compatible Nexus optical tables, please see the Compatible Tables tab. For full assembly instructions, please view the manual by clicking on the red docs icon (

) below.
Compatible Nexus Optical Tables
Item #
Dimensions
Mounting Holes
Additional Features
T46H
4' x 6' x 8.3"
1/4"-20
-
T46V
4' x 6' x 8.3"
1/4"-20
Sealed Holes
T46J
4' x 6' x 12.2"
1/4"-20
-
T46W
4' x 6' x 12.2"
1/4"-20
Sealed Holes
T46HHa
4' x 6' x 8.3"
1/4"-20
Two Through Ports
T46K
4' x 6' x 18.1"
1/4"-20
-
T46X
4' x 6' x 18.1"
1/4"-20
Sealed Holes
T1220C
1.2 m x 2.0 m x 210 mm
M6 x 1.0
-
T1220Pb
1.2 m x 2.0 m x 210 mm
M6 x 1.0
Sealed Holes
T1220D
1.2 m x 2.0 m x 310 mm
M6 x 1.0
-
T1220CH
1.2 m x 2.0 m x 210 mm
M6 x 1.0
Two Through Ports
T1220E
1.2 m x 2.0 m x 460 mm
M6 x 1.0
-
T1220R
1.2 m x 2.0 m x 460 mm
M6 x 1.0
Sealed Holes
T1220Q
1.2 m x 2.0 m x 310 mm
M6 x 1.0
Sealed Holes
Posted Comments:
No Comments Posted