Specification
Imperial Boards
Metric Boards
Material
416 Stainless Steel
Flatness
±0.006" over 1 ft2
±0.15 mm over 0.09 m2
Breadboard Thickness
1/2"
12.7 mm
Hole Size and Spacing
1/4"-20 Tapped Holes on
1" Centers
M6 Tapped Holes on
25 mm Centers
Distance from Edge
to First Hole
1/2" on All Sides
12.5 mm on All Sides
Number of Counterbored Holes
Four 1/4" Located at Corners Inset 1"
Four M6 Located at Corners Inset 25 mm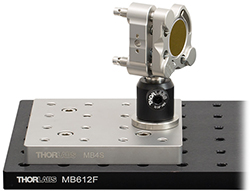 Click to Enlarge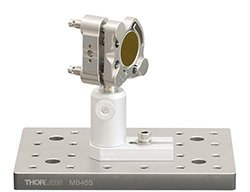 Click to Enlarge

Features
Passivated Stainless Steel Breadboards
Vacuum-Compatible Down to 10-6 Torr Out of the Box
May be Attached to our Aluminum Breadboards to Add Magnetic Capabilities
Standard Imperial (1/4"-20) and Metric (M6) Breadboard Hole Patterns
Offset Counterbored Mounting Holes Allow a Full, Uninterrupted, Threaded Hole Matrix
Thorlabs' passivated stainless steel, 1/2" (12.7 mm) thick breadboards provide a stiff, magnetic, and vacuum-compatible surface for mounting small subsystems. Breadboards are through tapped in a standard 1" (imperial) or 25 mm (metric) hole pattern offset 1/2" or 12.5 mm, respectively, from the edges of the board. Four standard 1/4" (M6) mounting holes are counterbored to create an uninterrupted surface for your application.
The 1/4"-20 (M6) tapped holes are threaded completely through these breadboards, allowing components to be mounted on either side. The four standard mounting holes are located at each corner of the breadboard, inset 1" from each edge on imperial breadboards (25 mm on metric). Ø1.5" mounting posts can increase the height of these breadboards by securing them to the surface of an optical table (or another breadboard). The counterbored mounting holes allow for these breadboards to be attached to any of our non-magnetic aluminum breadboards, providing a means to use magnetic bases or other magnetic accessories. The mounting holes may be used to attached the breadboards to optical tables, other breadboards, mounting posts, brackets, or a variety of other surfaces or mounts.
These breadboards may also be used within a vacuum environment down to 10-6 Torr. After passivation, breadboards are double bagged in a clean environment to eliminate contamination when transported into a cleanroom. Gloves should be used when handling breadboards to prevent surface contamination from skin oils. For use in a sensitive vacuum system, a thorough pre-baking in a bake-out oven should be performed to remove all moisture and surface volatiles. Additional cleaning may be needed depending on the system requirements. For additional information on preparing these breadboards for vacuum applications, please contact Tech Support.
Custom sizes are available; contact Tech Support for more information. We also offer a broad selection of solid aluminum breadboards and steel and aluminum honeycomb breadboards. For vacuum chamber applications, unanodized solid aluminum breadboards are also available in a variety of sizes. For a quick comparison of our different breadboard options, please see the BB Selection Guide tab.
Item #
Dimensions
(L x W x H)a
Unpackaged
Weight
Packaged Shipping
Weightb
Imperial
MB4S
4" x 4" x 1/2"
2.45 lbs
2.73 lbs
MB46S
4" x 6" x 1/2"
3.51 lbs
3.81 lbs
MB6S
6" x 6" x 1/2"
5.16 lbs
5.45 lbs
Metric
MB10S/M
100 mm x 100 mm x 12.7 mm
1.11 kg
1.24 kg
MB1015S/M
100 mm x 150 mm x 12.7 mm
1.59 kg
1.73 kg
MB15S/M
150 mm x 150 mm x 12.7 mm
2.34 kg
2.46 kg
Breadboards

Nexus, Optimized Damping

Intrinsically Damped

Aluminum Honeycomb

Stainless Steel

Solid Aluminum

Optically Clear Acrylic
Construction
Breadboard Thickness
60 mm (2.4")
110 mm (4.3")
58 mm (2.28")
25 mm (0.98")
55 mm (2.2")
12.7 mm (0.5")
7.0 mm (0.28")
9.5 mm (0.375")
12.7 mm (0.5")
19.05 mm (0.75")
12.7 mm (0.5")
Working Surface
430 Grade Stainless Steel or 304L Grade Nonmagnetic Steel Top Plate
430 Grade Stainless Steel Top Plate
Aluminum
416 Grade Stainless Steel
Solid Aluminum
Anodized or Unanodized
Acrylic
Top Skin
5 mm (0.20")
5 mm (0.20")
6 mm (0.24")
N/A

N/A

N/A

Bottom Skin
5 mm (0.20")
3 mm (0.12")
3 mm (0.12")
N/A
N/A
N/A
Core Design
High-Density Plated Steel Honeycomb, 0.26 mm Thick
High-Density Plated Aluminum Honeycomb
N/A

N/A

N/A

Side Panels
Rigid Steel Box Section
Unplasticized Polyvinyl Chloride (uPVC)
Black Laminated
Aluminum Sides
N/A

N/A

N/A

Ferromagnetism
Magnetic or Non-Magnetic Options
Magnetic
Non-Magnetic
Magnetic
Non-Magnetic
Sealed Holes
Sealed (25 mm Depth) or Non-Sealed Options
Non-Sealed
N/A

N/A

N/A

Thread Options
1/4"-20 (M6) Tapped Holes
1/4"-20 (M6) Tapped Holes
1/4"-20 (M6) Tapped Holes
1/4"-20 (M6), 4-40 (M3), or
8-32 (M3) and 1/4"-20 (M6) Tapped Holes
1/4-20" Tapped Holes
Spacing
1" (25 mm) Centers
1" (25 mm) Centers
1" (25 mm) Centers
1" (25 mm) Centers or
0.5" (12.7 mm) Centers
0.5" (12.7 mm) Centers
Distance from
Edge to First Holes
0.5" (12.5 mm) on all Sides
0.5" (12.5 mm) or
1.0" (25 mm) on all Sides
0.5" (12.5 mm) on all Sides
0.5" (12.5 mm) on all Sides
1.0" (25.4 mm) on all Sides
Performancea
Damping
N/A
N/A
N/A
Stiffness

60 mm (2.4") Thick

58 mm (2.28") Thick

25 mm (0.98") Thick
12.7 mm (0.5") Thick

7.0 mm (0.28") Thick

12.7 mm (0.5") Thick

110 mm (4.3") Thick

55 mm (2.2") Thick
19.05 mm (0.75") Thick
Optical Breadboard Selection Guides
The selection guides below list every size offered for our honeycomb, solid aluminum, and acrylic breadboards. Simply locate the specific width and length needed and then select the type of breadboard. Expand each table by clicking the More [+] button within the header.

Thorlabs also offers several unique breadboard solutions. For applications requiring temperature control, we offer anodized aluminum water cooled breadboards in several sizes, in addition to a temperature-controlled mini-series breadboard for small-scale operations. Our anodized aluminum large-area translation stages and rotating breadboards offer hand-operated positioning control, while our manual and motorized translating mounting platforms are ideal for use in microscopy applications.
Imperial Optical Breadboard Size Options
Width
Length
Honeycomb
Stainless Steel
Solid Aluminuma
Acrylic, Transparent
Nexus
(60 mm Thick)b
Nexus
(110 mm Thick)b
Intrinsically Damped
(58 mm Thick)
Aluminum
(25 mm Thick)
Aluminum
(55 mm Thick)
Standard
Double Density
High Density
Metric Optical Breadboard Size Options
Width
Length
Honeycomb
Stainless Steel
Solid Aluminuma
Nexus
(60 mm
Thick)b
Nexus
(110 mm
Thick)b
Intrinsically Damped
(58 mm Thick)
Aluminum
(25 mm Thick)
Aluminum
(55 mm Thick)
Standard
Double Density
High Density