Key Common Specificationsa
Vertical Resonant Frequency
1.25 Hz
Horizontal Resonant Frequency
1.0 Hz
Vertical Transmissibility at 10 Hz
-32.5 dB (97.5%)
Horizontal Transmissibility at 10 Hz
-30 dB (97%)
Maximum Load Capacity (Set of Four)
2500 kg (5500 lbs)

Click to Enlarge
Close-Up Image of the
Active Isolation Pad
Features
Active Vertical and Horizontal Vibration Isolating Supports
Oil-Free Design
High Load Capacity: 2,500 kg (5,500 lbs)
Compatible with All Thorlabs' Nexus® Optical Tables
Self-Leveling Valves Keep the Optical Table at a Constant Height with Fast Settling Times
Extremely Low Resonant Frequency:

Vertical: 1.25 Hz
Horizontal: 1.0 Hz

Maintain 910 mm (35.8") Optical Table Working Height

450 mm (17.7") Legs for 460 mm (18.1") Thick Optical Tables
600 mm (23.6") Legs for 310 mm (12.2") Thick Optical Tables
700 mm (27.5") Legs for 210 mm (8.3") Thick Optical Tables
Thorlabs' Active Vibration Isolation Optical Table Supports contain an isolation system that effectively isolates the optical table from vertical and horizontal vibrations throughout the critical 3 to 50 Hz frequency range. This is ideal since most common large-amplitude sources of vibrations found in laboratories vibrate within this range of frequencies (see the Vibrations tab of the Optical Tables Tutorial).
When the active optical table supports are paired with a Nexus® series optical table and setup in a quiet environment, even the most vibrationally sensitive photonics experiments like interferometry, holography, and nanopositioning can be performed. In addition, the active optical table supports can be used to dramatically reduce the vibrations transmitted to an optical table setup in a noisy environment like on the upper floor of a steel framed building (see the Selection Guide tab).
Vertical Isolation
The vertical vibrations are isolated from the optical table by a dual-chamber pneumatic isolation system that requires a constant source of compressed air, such as an air compressor (sold separately). If the source of compressed air is removed, the optical table will lower until it securely rests on the large-diameter cylindrical optical table supports, and the table will no longer be isolated from floor vibrations.
Horizontal Isolation
The horizontal vibrations are isolated from the optical table by mounting the vertical isolation system on a trifilar suspension system. This proprietary design eliminates the need to use oil-based damping systems that can leak or degrade over time.
Self-Leveling Valves
Each optical table support is also equipped with a 3-way valve. The valve regulates the pressure in the pneumatic isolation system to control the height of the optical table. If the table is displaced vertically, the 3-way valve will allow the pressure in the dual-chamber air reservoir to increase or decrease, as necessary, so that the table is returned to its original height. More information about the function and construction of the optical table supports can be found under the Design tab or in the Isolation Systems tab in the Optical Tables Tutorial.
Tabletop Height
To accompany our three optical table thicknesses, 210 mm (8.3"), 310 mm (12.2"), and 460 mm (18.1"), our optical table supports are available with heights of 450 mm (17.7"), 600 mm (23.6") and 700 mm (27.5") to produce a working height of 910 mm (35.8"). A set of four isolators is capable of supporting loads up to 2500 kg (5500 lbs) and full installation instructions are included. More than four isolators may be necessary for higher loads, long tables, or custom-designed joined systems. Please contact Tech Support to discuss your specific requirements.
Active Vibration Isolator Specificationsa
Item #
PTS601
PTS602
PTS603
Leg Height
450 mm
(17.7")
600 mm
(23.6")
700 mm
(27.5")
Vertical Resonant Frequency
1.25 Hz
Horizontal Resonant Frequency
1.0 Hz
Vertical Transmissibility at Resonance
10 dB
Horizontal Transmissibility at Resonance
12 dB
Vertical Transmissibility at 5 Hz
-20 dB (90% Isolation)
Vertical Transmissibility at 10 Hz
-32.5 dB (97.5% Isolation)
Horizontal Transmissibility at 5 Hz
-24 dB (94% Isolation)
Horizontal Transmissibility at 10 Hz
-30 dB (97% Isolation)
Maximum Load Capacity (set of four)
2500 kg (5500 lbs)
Height Adjustment Range
-13 mm, +5 mm (-0.51", +0.2")
Self Leveling Repeatability
0.5 mm (±0.02")
Air Pressure (Maximum)
80 psi (551 kPa)
Finish
Black Paint
Vibration Sources and Their Approximate Contributions
Types
Frequency (Hz)
Typical Amplitude (inches)
Air Compressors
4 – 20
10-2
Handling Equipment
5 – 40
10-3
Pumps
5 – 25
10-3
Building Services
7 – 40
10-4
Foot Traffic
0.5 – 6
10-5
Elevators
Up to 40
10-3 to 10-5
Building Motion
46/Height in meters
10-1
Building Pressure Waves
1 – 5
10-5
Railroada
5 - 20
+/-0.15g dB
Highway Traffica
5 - 100
+/-0.001g dB
Vertical Transmissibility Plot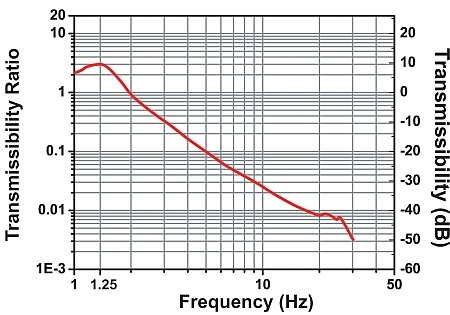 Transmissibility

An optical table system is subjected to continuous vibrational impulses from the laboratory floor. These vibrations may be caused by large machinery within the building or even by wind or traffic-excited building resonances (swaying). Transmissibility is a measure of the isolators efficiency at damping out these vibrations and is defined as the ratio of the amplitude of the transmitted vibration to that of the forcing vibration.
Other common ways to represent this ratio are:
Percent of isolation = (1 - transmissibility ratio) x 100 or
Isolation in dB = 20 x log(transmissibility ratio).
At resonance, the system amplifies the input vibration so that the transmissibility ratio is greater than one. The transmissibility ratio is dependent on several factors; for instance the ratio will be dependent on the load placed on the isolators. Remember that the isolators only damp vibrations transmitted through the legs of the frame from the floor; air handling systems are often a significant source of vibration that is transmitted to the work surface through the air. As a result, in applications particularly sensitive to vibrations a comprehensive evaluation of the environment is recommended before choosing a vibration isolation platform. For more information on this topic please see our Vibration Isolation Tutorial.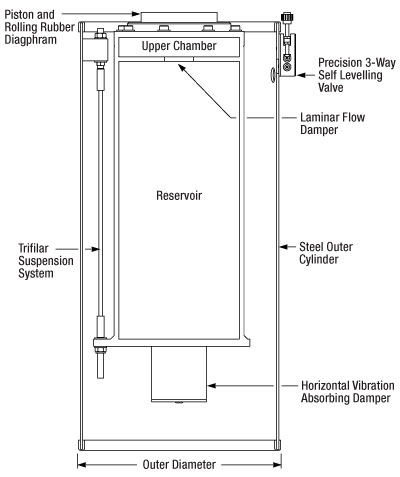 | Feature | Design |
| --- | --- |
| Vertical Vibration Isolation | Dual-Chamber Damped Pneumatic Spring: Vertical damping is achieved by the use of a dual-chamber, damped pneumatic spring. The table is supported by the air pressure in these chambers. A piston, clamped to the bottom of the table, is sealed to the upper chamber with a rolling rubber diaphragm, allowing virtually friction-free motion between piston and chamber. Floor or tabletop motion forces air to flow from one chamber to the other through a laminar flow damper. This restriction of airflow damps oscillatory motion between the floor and table, dramatically reducing settling time. The volume ratio of the chambers has been optimized to minimize the resonant frequency of the optical table support while maximizing the damping performance for our complete range of tabletops. |
| Horizontal Vibration Isolation | Trifilar Suspension System: Damping of horizontal vibrations is accomplished by supporting the pneumatic vertical isolator on a trifilar suspension system. This innovative pendulum design uses gravity to provide the restoring force after horizontal disturbances. Horizontal oscillations at the system's resonant frequency are damped by linking the base of the vertical isolator to the outer cylinder with an oil-free vibration-absorbing damper. |
| Self-Leveling System | 3-Way Air Valve: To allow for changes in load distribution, the active vibration isolation optical table supports have a self-leveling system based on a precision 3-Way valves that do not compromise vertical isolation when the system is at rest. Because these valves are actuated by tabletop movement, the system returns to its original level position within ±0.5 mm (0.02") after disturbances. Additionally, this system allows the table height to be adjusted over a range of 18 mm (0.7") and can be used to compensate for an uneven floor. These isolators require a constant supply of air. When the air supply is removed, the tabletop rests securely on top of the legs with the isolation system disabled. |
| Stable Support | Large-Diameter Cylindrical Design: The large-diameter, free-standing optical table supports provide maximum stability and safety, without the need for cumbersome tie bars that add additional resonances to the support system. The low vertical and horizontal transmissibility of these cylindrical isolators results in the least possible relative tabletop motion while the proprietary design uses no liquids that could leak or degrade over time. |
| 910 mm Working Height | Cylindrical Steel Supports: To accompany our thee tabletop thicknesses, 210 mm (8.3"), 310 mm (12.2"), and 460 mm (18.1"), our isolation systems are available at heights of 700 mm (27.5"), 600 mm (23.6"), and 450 mm (17.7") to produce a working height of 910 mm (35.8"). |