Thorlabs offers several balldriver kits that come with a holder designed to minimize laboratory clutter and keep tools organized and easy to find. The BT17(/M) balldriver holder can also hold Ø1/2" post mounted components. The MPT01 magnetic storage tray is ideal for retaining and tidying small tools, parts, and accessories. For larger equipment, consider a 19" rack system with various shelving options that can be used to organize a wide variety of laboratory equipment and tools. The 19" rack system can also be used to hold Thorlabs' optomechanical component kits.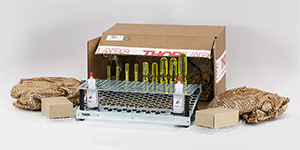 Click to Enlarge
BT17 Packaging

Item #
% Weight
Reduction
CO2-Equivalent
Reductiona
BT17
41.27%
107.78 kg
BT17/M
41.27%
129.34 kg
Smart Pack
Reduce Weight of Packaging Materials
Increase Usage of Recyclable Packing Materials
Improve Packing Integrity
Decrease Shipping Costs
Thorlabs' Smart Pack Initiative is aimed at waste minimization while still maintaining adequate protection for our products. By eliminating any unnecessary packaging, implementing packaging design changes, and utilizing eco-friendly packaging materials for our customers when possible, this initiative seeks to improve the environmental impact of our product packaging. Products listed above are now shipped in re-engineered packaging that minimizes the weight and the use of non-recyclable materials.b As we move through our product line, we will indicate re-engineered packages with our Smart Pack logo.