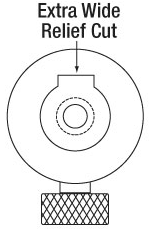 Post Holders Have an Extra Wide Relief Cut for Two-Line Contact with Ø1/2" Posts
Features
Precision-Machined Extra Wide Relief Cut Provides Stable Two-Line Contact with Ø1/2" Posts
Variety of Mounting Mechanisms Include Bottom-Located 1/4"-20 (M6) Tapped Hole or Magnetic Base
Extra Thumbscrews Also Available Below
Thorlabs' Ø1/2" optical post holders are the ideal solution for mounting optical components when a specific height for a setup has not been determined. These post holders come in several styles: standard, vacuum compatible, and pedestal.
Standard Post Holders
Standard post holders can be mounted to any one of our Mounting Bases via a 1/4"-20 (M6) cap screw. Each includes a spring-loaded thumbscrew that holds the post in place before tightening.
Vacuum-Compatible Post Holders
Vacuum-compatible post holders are constructed from 6061-T6 and 2024-T3 aluminum and are compatible with our Vacuum-Compatible Mounting Bases. They are similar to our standard post holders but have a chemically cleaned finish instead of the standard black anodization. This allows them to be used directly out of the packaging at pressures as low as 10-6 Torr, or at even lower pressures with additional cleaning and processing. They also incorporate a one-piece thumbscrew instead of the standard spring-loaded design found on our other post holders.
Pedestal Post Holders
Pedestal post holders have a base that works in conjunction with the clamping forks featured below for flexible mounting options on an optical table. They incorporate high-strength magnets in the base to provide holding force while performing rough alignments. Standard post holders can also be converted to pedestal post holders using the BE1(/M) or BE1R(/M) base adapters, which are also available below.
In addition to the post holder options presented here, Thorlabs also offers swivel post holders, which have an attached swivel base, and other specialty post holders.
Key Features
Type
Standard Post Holders
Vacuum-Compatible Post Holders
Pedestal Post Holders
Post Contact
Precision-Machined Extra Wide Relief Cut for Stability
Optical Table Mounting
Bottom-Located 1/4"-20 (M6) Tapped Hole
Compatible with CF038-P5, CF125, CF175,
CF038C(/M)-P5, CF125C(/M), and CF175C(/M) Clamping Forks
(Sold Below)
Thumbscrew
Spring Loaded with 3/16" (5 mm) Hex
One Piece with 3/16" (5 mm) Hex
Spring Loaded with 3/16" (5 mm) Hex
Vacuum Compatibility
N/A
>10-6 Torr (Lower Pressures with Additional Cleaning)
N/A
Construction
Black Anodized Aluminum
6061-T6 and 2024-T3 Aluminum
Black Anodized Aluminum