Click to Enlarge
The TIA60's connections include an SMA input, a 4-pin power socket, and a BNC output.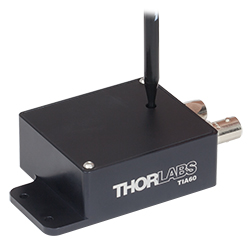 Click to Enlarge
The image above shows how to use the included screwdriver to adjust the DC offset.
Features
Transimpedance Gain: 30 200 V/A
Large Operation Bandwidth: DC to 60 MHz
Low Input Current Noise: 4.8 pA/√Hz @ 1 MHz
Designed for Multiphoton and Other Laser Scanning Microscopies
Ideal for Hamamatsu H7422, H10720, and H10721 Series PMTs
Thorlabs' TIA60 Transimpedance Amplifier is designed to amplify the output signal from a photomultiplier tube (PMT), PIN photodiode, or other devices that require an amplified current to voltage signal. It offers a large operational bandwidth range from DC to 60 MHz (3 dB) and low noise output (4.8pA/√Hz @ 1 MHz). A trim pot, accessible through a hole in the top of the amplifier (see image to the right), provides a DC offset adjustment to improve the dynamic range of the data collection system.
The TIA60 can be powered by the KPS101 Power Supply Unit (sold below). Internal electronics of the TIA60 regulate the power to the amplification circuitry, isolating the performance of this amplifier from electrical noise that may be inherent to the power source.
The compact amplifier housing is designed to be mounted close to the detector in order to reduce the noise coupled into the unamplified signal between the detector and the amplifier. It comes with an SMA to BNC adapter, a 4-pin to power jack adapter, and a trim pot adjuster. M3 screws are also included for mounting the amplifier to the Hamamatsu H7422 series PMT.
This amplifier is fully compatible with Hamamatsu's H7422, H10720, and H10721 series PMTs, but the mounting hole pattern will only accommodate the H7422 series. The TIA60 amplifier is also compatible with our biased photodetectors and passive electrical filters.
Specifications
Minimum
Typical
Maximum
AC Performance
Bandwidth (3 dB, Cin = 4 pF)a
-
60 MHz
-
Rise/Fall Time (10% to 90%)
-
5.5 ns
-
Settling Time (3%, 0.5 V Output)
-
16 ns
-
Transfer Characteristics
Total Transimpedance (Combined Stages, DC)b
29 000 V/A
30 200 V/A
32 000 V/A
Transresistance (Input Stage Z-Amp, DC)
-
6.04 kΩ
-
Input
Linear Input Range, 0 V Bias
-
-
±50 µA
Maximum Inputc
-
-
±500 µA
DC Input Impedance
-
33 Ω
-
Input Reference
-
0 V
-
Noise
Input Current Noise (1 MHz, Cin = 4 pF)a
-
4.8 pA/√Hz
-
Total Input RMS Noise (DC to 60 MHz)a
-
50 nA
-
Output
DC Bias (50 Ω Load)
-0.15 VDC
0 VDC
1.5 VDC
Output Range (50 Ω Load)
-1.5 V
-
1.5 V
Impedance (DC to 60 MHz)
-
50 Ω
-
Return Loss (DC to 60 MHz)
15 dB
-
-
Slew Rate
-
625 V/µs
-
DC Performance
Offset Voltage Drift (at Output)
-
±103 µV/°C
-
Power Supply
Input Voltage
9 V
12 V
15 V
Input Current
-
65 mA
100 mA
Physical
Operating Temperature
5 °C
-
55 °C
Storage Temperature
-40 °C
-
55 °C
Dimensions (L x W x H)
3.78" x 2.20" x 1.06"
(95.9 mm x 55.9 mm x 26.8 mm)
Weight
100 g
The graphs below represent measured data using the KPS101 as the power source. For a file containing the raw data, click here.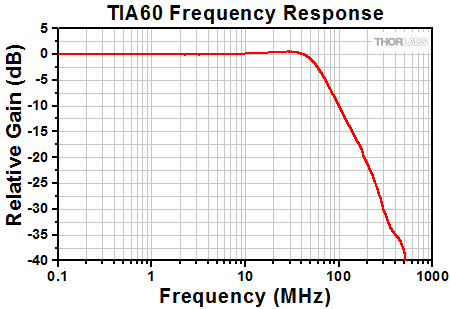 Click to Enlarge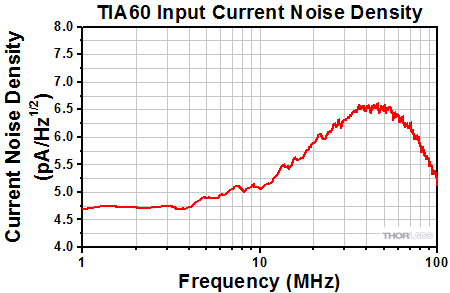 Click to Enlarge
Output Voltage Signal
BNC Female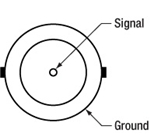 50 Ω Recommended Termination
Input Current Signal
Input Power Signal
| Pin | Description |
| --- | --- |
| 1 | +V Input |
| 2 | NC |
| 3 | NC |
| 4 | Ground |