Kinematic Mirror Mounts with Vertical Drives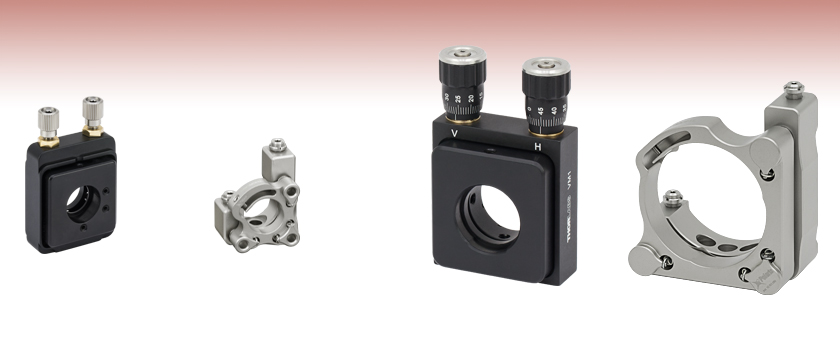 Two-Adjuster Mounts with Vertical Drives that Keep Beam Path Clear
Options for Ø1/2", Ø1", Ø1.5", and Ø2" Mirrors
Ideal for Use with High-Power Lasers
VM1
For Ø1" Mirrors
POLARIS-K05VS2
For Ø1/2" Mirrors
POLARIS-K2VS2
For Ø2" Mirrors
Right-Handed
(Left-Handed Version Available)
VM05
For Ø1/2" Mirrors

Please Wait
Product Highlight: Polaris Vertical Mirror Mount
Features
Kinematic Mirror Mounts with Two Vertical-Drive Adjusters
Options for Ø1/2", Ø1", Ø1.5", or Ø2" Mirrors
Compact Designs and Vertical Drives are Ideal for Tight Lab Set-Ups
Polaris® Mirror Mounts with Vertical-Drive Adjusters are Designed for Exceptional Thermal and Long-Term Stability
Kinematic Mirror Mounts with Vertical Drives
Thorlabs offers kinematic mirror mounts with vertical drives for either Ø1/2" or Ø1" optics. The adjusters for these mounts are located above the optical path, allowing for safe adjustment of the system without needing to place your hands near the incoming beam. The position of the actuators also makes these mounts ideal for compact setups. The VM05(/M) and VM1(/M) mounts feature an angular adjustment range of ±3°, and are fabricated from black anodized aluminum. The thick main body design increases rigidity to prevent flexing during adjustment.
Polaris Kinematic Mirror Mounts with Two Vertical-Drive Adjusters
Vertical-drive Polaris mounts are designed for Ø1/2", Ø1", Ø1.5", and Ø2" optics and feature a patented vertical drive design (US Patent 11,320,621) and a patented optic bore design (US Patent 10,101,559) with a monolithic flexure arm. This design provides high holding force and pointing stability with minimal optic distortion. Polaris optic bores are precision machined to achieve a fit that will provide optimum beam pointing stability over changing environmental conditions such as temperature changes, transportation shock, and vibration. Machined from heat-treated stainless steel, Polaris mounts utilize precision-matched adjusters with ball contacts and sapphire seats to provide smooth kinematic adjustment, and are designed to be compatible with clearnroom and vacuum applications. Please see the full web presentation for details.