Differential Adjuster Screws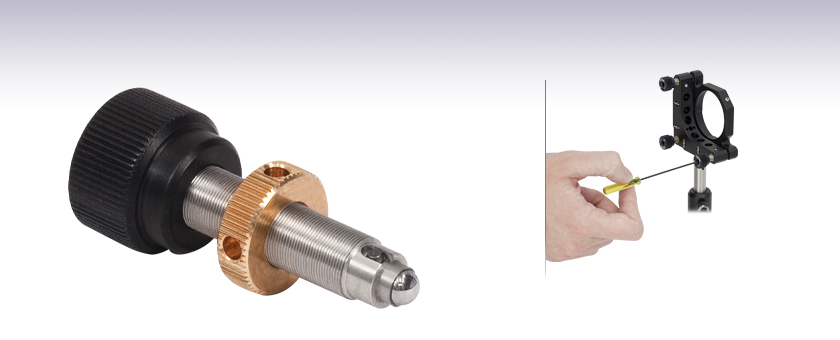 1/4"-80, 1/4"-100, or M6 x 0.25 Coarse Adjustment Thread
25 µm/rev Fine Adjustment Over 400 µm of Travel
1.02" Imperial or 25.6 mm Metric Adjuster Length
Use the DAS110 in
Our Kinematic Mirror
Mounts for Ultra-Fine
Differential Tip & Tilt
KM200
Post and
Post Holder
Not Included
DAS110
1/4"-80 Externally Threaded Differential Adjuster
US Patent 7,421,918

Please Wait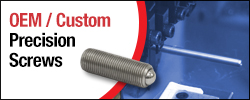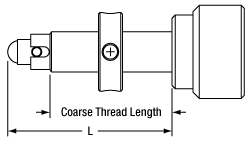 Click to Enlarge

Coarse Thread Length and Adjuster Length (L)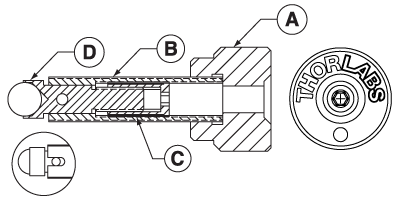 Click for Details
A Cross-Section of a Differential Adjuster Screw,
Showing the Internal Components
Features
Length of Screws:

DAS110 and DAS25U: 1.02" (26.0 mm)
DAS6M 1.01" (25.6 mm)

1/4"-80, 1/4"-100, or M6 x 0.25 Coarse Thread Options
Fine Adjustment: 25 µm/rev Over ≥400 µm of Travel
Ø0.49" (12.4 mm), 0.15" (3.8 mm) Thick Locking Ring
On-Axis Load Capacity: 11.25 lbs (5.1 kg)
Recommended Preload: 1 to 2 lbs (0.5 to 1 kg)
Thorlabs' Differential Adjuster Screws come pregreased to ensure smooth mating into compatible components. To install an adjuster, screw the threads into the bushing by hand. Ensure that cross threading does not occur in order to avoid damage to the adjuster and bushing. Additionally, each screw includes a Ø0.49" (Ø12.4 mm), 0.15" (3.8 mm) thick locking ring with a knurled surface for improved grip. Four Ø0.09" (Ø2.3 mm) blind holes in each ring allow a hex key to be inserted to assist with tightening.
The DAS110 Differential Adjuster Screw can replace the standard 1/4"-80 adjusters used on most Thorlabs' Kinematic Mirror Mounts.
Coarse Adjustment
When used with a compatible component, coarse adjustment is provided by the external threads on the main screw body, labeled B on the diagram to the right. The screw can be actuated using the attached knob, labeled A, or the 5/64" (2 mm) hex socket. The knob can also be removed if needed due to space constraints.
Fine Adjustment
The fine-adjustment mechanism provides a highly de-magnified displacement of 25 µm per revolution and can be actuated using a 1/16" hex accessible through the center of the 5/64" (2 mm) hex for coarse adjustment.
As illustrated in the diagram above, an intermediate actuator, labeled C, is threaded into the main body screw (B) and onto a push rod (D) that terminates with a ball tip. A pin on the push rod fits into a slot on the main body screw and prevents these two components from rotating relative to each other. As a result, when the intermediate actuator is rotated, it will be translated along the main body screw at a rate determined by the intermediate actuator's external thread pitch while the push rod is translated in the opposite direction at a rate determined by the intermediate actuator's internal thread pitch. Thus, differential movement is achieved between the intermediate actuator and the push rod.
In the case of the actuators below, the intermediate actuator has an external thread pitch of 400 µm and an internal thread pitch of 375 µm. When the intermediate actuator is rotated clockwise, it advances in the main body by 400 µm per revolution. At the same time, the push rod, which is restricted from rotating by the main body, retreats by 375 µm per revolution, providing a total displacement of 25 µm per revolution.
Item #
Coarse Adjustment Thread
Adjuster Length (L)
Coarse Thread Lengtha
Coarse Adjustment Hex
Fine Adjustment Hex
DAS110
1/4"-80
1.02" (26 mm)
0.76" (19.3 mm)
5/64" (2 mm)
1/16"
DAS25U
1/4"-100
DAS6M
M6 x 0.25
1.01" (25.6 mm)
Each adjuster includes a 0.15" (3.8 mm) thick adjustment ring, which will reduce the accessible length of coarse adjustment threads when installed.


OEM & Custom Precision Screws
Thorlabs manufactures custom and high volume OEM precision screws and bushings with various diameters, lengths, and threads. To inquire about custom or OEM precision screws, please contact Technical Support or use the "Contact Us" form to the right. A specialist will contact you within 24 hours or the next business day.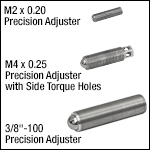 Click to Enlarge
Precision Screw Capabilities
Thorlabs' in-house machine shop, located in Newton, NJ, gives us the ability to quickly produce large quantities of precision screws and bushings. We are equipped to manufacture screw diameters ranging from 2 mm to 20 mm with lengths up to 165 mm and a maximum thread pitch of 200 TPI. Our standard adjuster screw design has a hardened steel ball tip to provide a single point of contact; for other applications we are able to provide adjusters without the steel ball. Custom orders can be achieved on a case-by-case basis. For large orders of an item, Thorlabs passes on to the customer the cost savings associated with planned production of high volumes of that item. For more information on Thorlabs' discount pricing policy, click the "V" link to the right. We also offer a large variety of stock precision screws, which are available here.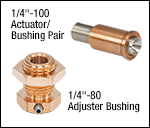 Click to Enlarge
Fast Turn-Around Times
Our experienced, highly skilled machinists are running our on-site Citizen Swiss Screw Machines 24 hours a day, allowing us to produce high-volume custom and OEM orders. Each machine is capable of running unattended, producing one screw every 30 to 120 seconds. This flexibility allows us to fulfill multiple orders at once without sacrificing quality.
High Quality
Thorlabs inspects all of our fabricated precision screws and bushings after the initial fabrication process and right before packaging. All inspections adhere to the ANSI AQL1.5 acceptable quality level, which states that if a certain percentage, based upon the amount of product in a certain lot, does not meet specification, then the entire lot is not sold. This ensures that all customers receive the highest quality product every time and that all items will be of equal performance.
Precision Screw Production