Mounted Terahertz Lenses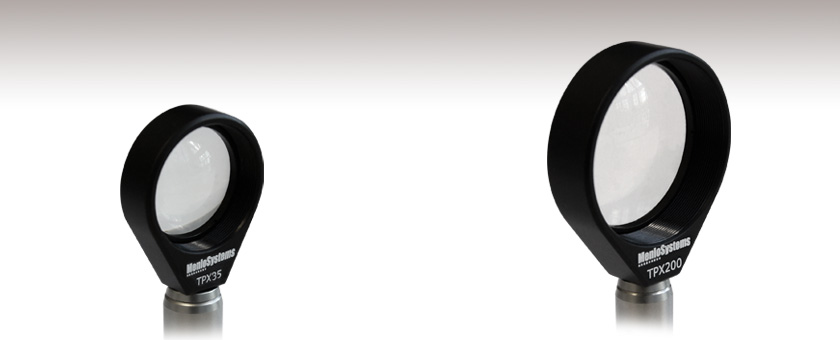 Broadband Transmission in THz Regime
Optically Transparent in 780 - 1550 nm Range
Lightweight TPX Material for Easy Handling
TPX35
Ø1" THz Lens, f = 35 mm
(Post Not Included)
TPX200
Ø1.5" THz Lens, f = 200 mm
(Post Not Included)

Please Wait
Jason Reeves

Menlo Systems

Feedback? Questions? Need a Quote?

Please note that these terahertz lenses are available directly from Menlo Systems, Inc. within the United States and from Menlo Systems GmbH outside the United States.
United States
Phone: +1-973-300-4490
Email: ussales@menlosystems.com
Outside United States
Phone: +49-89-189166-0
Email: sales@menlosystems.com
Features
High Transparency in THz Regime
Pre-Mounted for Convenience
Easily Focus or Collimate Terahertz Radiation
Transparent in Optical Range from 780 nm to 1550 nm
Menlo Systems' plano-convex, aspherical TPX lenses are optimized for collimation and focusing in THz applications.
Item # TPX35 is a Ø1" lens with an effective focal length (EFL) of 35 mm, designed for collimation of highly divergent THz radiation. Item # TPX50 is a Ø1.5" lens with a 50 mm EFL, featuring the same numerical aperture as the TPX35. Both TPX35 and TPX50 are optimized for collimation in combination with Menlo Systems' TERA15-FC antenna series.
Item #s TPX100 and TPX200 are Ø1.5" lenses with a 100 mm and a 200 mm EFL, respectively, ideal for focusing THz radiation for increased working distance in the terahertz path.
TPX35 is mounted in a Ø1" lens holder and offers a clear aperture of 23.0 mm, whereas TPX50, TPX100, and TPX200 are mounted in a Ø1.5" lens holder and offer a clear aperture of 35.5 mm.
Item #
TPX35
TPX50
TPX100
TPX200
Effective Focal Length
35 mm
50 mm
100 mm
200 mm
Lens Diameter
1.00" (25.4 mm)
1.50" (38 mm)
Lens Geometry
Plano-Convex, Aspheric
Wavelength Range
Broadband THz Range
Material
TPX Polymer
Mounting Tap
M4
Posted Comments:
No Comments Posted