Compact Optical Frequency Comb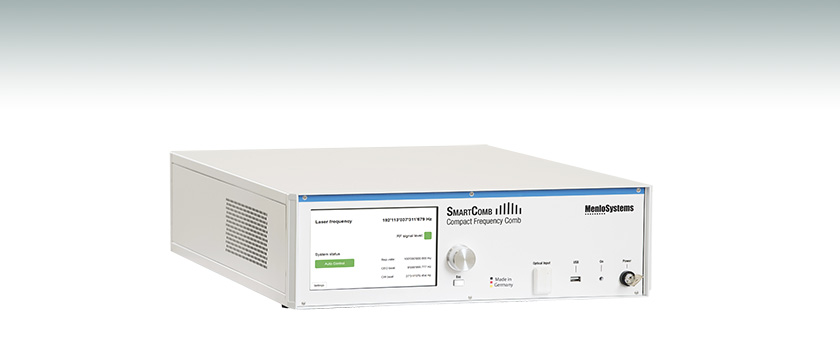 Patented Fiber-Based Femtosecond Frequency Comb System
Full Optical Metrology System in a Revolutionary Compact Package
Advanced Programmer Interface (API)
SMART-COMB

Please Wait
SMART-COMB Specifications
Performance Specifications
Comb Spacing
100 MHz
Accuracy
10-14 in 120 sa
Stability
5 x 10-13 in 1 sa
Laser Input
Up to Two Fiber-Coupled, Linearly Polarized, FC/APC, PM Input Ports
Laser Output
Available upon Request
Center Wavelength
1550 nm
Spectral Range @ 1550 nm
>25 nm
Additional Wavelengthsb
633 nm, 780 nm, or 1064 nm
Environmental Specifications
Input Requirements
10 MHz Frequency Reference, Power Level +7 dBm
or Internal Atomic Clock
Operating Voltage
100/115/230 VAC
Frequency
50 to 60 Hz
Power Consumption
<100 W
Cooling Requirements
None
Operating Temperature
22 ± 5 °C
Optical Unit Dimensions
3U (5.25") x 19" Rack System Compatible
(133 mm x 449 mm x 555 mm)
Weight
17 kg
Or same as reference, whichever applies first. The internal atomic clock supports a stability of 3 x 10-10 in 1 s and accuracy of 10-9, which is subject to aging. Recalibration is available.
Available upon request. Please inquire for other wavelengths.
Applications
High Precision CW Laser Stabilization
Calibration of Lasers
Dimensional Metrology
Laser Cooling of Atoms and Ions
LIDAR
Features
First Fully Automated, Fully Fiber-Coupled, Turnkey Optical Frequency Comb in a Compact 3U x 19" Housing
Touch Panel Control
Beat Detection Unit Included
Internal Atomic RF Clock
Class 1 Laser
Click Here to View Menlo Systems' Frequency Comb Brochure
Menlo Systems' SMART-COMB is a full optical metrology system in a revolutionary compact package measuring 3U (5.25") x 19". This is the first model in a new era of optical frequency combs. SMART-COMB is a unique system where the user simply plugs in the optical fiber of the laser being measured or stabilized, while SMART-COMB does the rest. The module features fully automated locking electronics, fully automated beat detection, and fully automated measurement and stabilization. Based on Menlo Systems' figure 9® technology, this frequency comb is made for use in optics labs as well as other settings.
SMART-COMB can measure or stabilize CW lasers at wavelengths in the visible or near infrared. Feed in your laser and get the optical frequency with 14 digits of accuracy, or continuously stabilize your laser within a few hundred kHz over a period of days. SMART-COMB is also available with additional output ports at different wavelengths for applications where frequency comb light is used as seed light or for spectroscopy.
SMART-COMB has a robust design. Its performance has already been verified onboard of an aircraft and two sounding rocket missions, proving it is well-suited even for demanding environments.
Simon Kocur

Menlo Systems

Feedback? Questions? Need a Quote?

Please note that the Compact Optical Frequency Comb is available directly from Menlo Systems, Inc. within the United States and from Menlo Systems GmbH outside the United States.
United States
Phone: +1-973-300-4490
Email: ussales@menlosystems.com
Outside United States
Phone: +49-89-189166-0
Email: sales@menlosystems.com
Posted Comments:
No Comments Posted