Passive Benchtop Isolation Systems
Pneumatic IsoPlates Provide All-in-One Passive Isolation for Breadboards
Standard and Heavy-Duty Pneumatic Isolator Feet Attach to Existing Setups
Sorbothane Feet for Small Breadboards and Instrumentation
PWA075


Passive Isolator Kit
AV4
Sorbothane Feet
PTT600600
IsoPlate System

Please Wait
Thorlabs' passive benchtop isolation solutions are designed for temporary setups or less demanding applications. They provide vibrational isolation using either pneumatic isolators or sorbothane. Options are available for use with breadboards, optical tables, or other heavy equipment. For more demanding applications, see our line of active isolation breadboard support frames.
IsoPlate
Thorlabs' IsoPlate Isolation Systems use pneumatic isolators to provide vibrational isolation for breadboards. They consist of four inflated cushions that are built into the corners of a heavy-duty support plate. These isolation systems are well suited for medium-sensitivity microscopy measurements and general photonics applications.
Passive Isolation Mounts
Our Passive Isolation Mounts are pneumatic isolator feet that are used to stabilize a small optical table or breadboard. Sold as a set of four, they are easily attached to existing support systems and provide passive isolation to a wide range of work surface sizes. These isolation mounts are well suited for medium-sensitivity microscopy measurements and general photonics applications.
Sorbothane Feet
Thorlabs' Vibration Isolating Feet are fabricated from sorbothane and provide vibrational isolation for workbench-mounted breadboards. We offer multiple sorbothane feet options, with maximum load capacities ranging from 6 lbs (2.7 kg) to 50 lbs (22.7 kg). This low-level, passive isolation solution is well suited for non-sensitive applications, such as electronic equipment mounted on a tabletop.
Selecting the Proper Sorbothane Isolator Feet
The example presented here details the steps needed to ensure the proper selection of round sorbothane isolator feet to match the requirements of a particular load and problem frequency. Following the example are plots showing the amount of isolation achieved for our isolator feet. For specific isolation recommendations, please contact Tech Support.
Example
Mass of the Breadboard (mb): 44 lbs
Mass of Mounted Optics, Posts, Hardware, and Stages (me): 10 lbs
Number of Isolators (n): 4
Problem Frequency: Unknown
The round sorbothane feet's isolation graphs, shown below, use load per isolator (m) in lbs, which is given by the following equation:
Based on the values given above, the calculated load per isolator is 13.5 lbs. This value should then be looked up on each isolation graph for the round isolator feet below. Sorbothane feet with a calculated load per isolator that exceeds the maximum load are not suitable for the application. Without a known problem frequency, the isolator that effectively isolates at the lowest cut-on frequency is recommended.
For this example, the AV4(/M) or AV5(/M) sorbothane feet would both be acceptable solutions. The AV4 Ø27 mm isolator feet provide better isolation performance at lower frequencies but are near the load limit, so if the total load were higher than anticipated the isolator would be outside of the recommended load capacity. Our AV5 Ø38.1 mm isolator feet will have worse isolation performance at lower frequencies, but are well within the load range which may be preferable.
If a sorbothane sheet is preferred, it would need to be cut to an appropriate size as shown in the Sheet Cutting Guide tab. For a 13.5 lb (6.1 kg) load, a 0.5" (12.7 mm) thick sheet cut into 1.5" x 0.5" (38.1 mm x 12.7 mm) pieces would provide a good isolation solution.
---
Sorbothane Feet Isolation Plots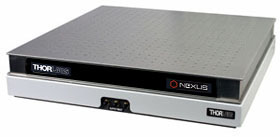 PTT600600 IsoPlate Support Plate with B2424F Breadboard
(Parts Sold Individually)
Three-Point Stabilization for Breadboards
Two Sizes:

600 mm x 600 mm (23.6" x 23.6")
900 mm x 600 mm (35.4" x 23.6")

Load Capacity, Including Breadboard: 45 - 180 kg (100 - 400 lb)
IsoPlate Passive Isolation Systems, which are available in two different sizes, provide portability and localized air suspension for small-scale experiments, demonstrations, and vibration-sensitive instrumentation. The breadboard, which must be purchased separately, sits on four rubber pads supported by inflated cushions. A pair of these cushions shares an air reservoir, and the remaining two cushions have independent reservoirs. This arrangement provides stable, three-point dynamics to the system.
Air suspension is achieved via three Schrader valves on the front panel, which can be inflated by a standard foot pump.
Specification
Value
Load Capacity, Including Breadboard
45 - 180 kg (100 - 400 lb)
Resonant Frequencya
3.5 Hz
Transmissibility at Resonancea
24 dB
Transmissibility at 10 Hz
-16 dB
(0.15 Transmissibility Ratio)
Measured Transmissibilitya (Click to View)
Air Pressure Required (Max)
60 psi (415 kPa)
Air Connection
Schrader Valve
Inflation Method
Foot Pump
Measured at the maximum load for the IsoPlate.


Click to Enlarge
Installation of Passive Isolation Mount
Supports a Wide Range of Breadboard and Optical Table Sizes
Use Extra Mounts to Increase Load Capacity
Supplied as a Set of Four
These Passive Isolation Mounts, which are designed for use with breadboards and small optical tables, are particularly well-suited for upgrading a rigid, non-isolating support frame. They can also be placed on a floor or benchtop to provide a quick and easy temporary vibration isolation solution when a permanent system is not deemed necessary.
The mounts are sold as a set of four, contain a Schrader valve, and can be inflated using our standard foot pump. Other quantities are available by contacting Tech Support. Please follow the instructions outlined in the installation guide so that the isolation mounts are neither overinflated nor underinflated.
Item #
PWA074
PWA075
Load Capacity (Set of Four)
24 - 260 kg (50 - 570 lbs)
135 - 700 kg (300 - 1540 lbs)
Resonant Frequencya
3.5 Hz
Transmissibility at Resonancea
24 dB
Transmissibility at 10 Hz
-16 dB (0.15 Transmissibility Ratio)
Measured Transmissibilitya (Click to View)
Air Pressure Required (Max)
72 psi (496 kPa)
Footprint
75 mm x 75 mm (2.95" x 2.95")
105 mm x 105 mm (4.13" x 4.13")
Height
65 mm (2.56")
Thread on Top of Mount
M10 x 1.5
M12 x 1.75
Measured at the maximum load for the isolator type.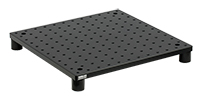 Click to Enlarge
Four AV4 Feet Supporting an MB12
Breadboard
Four Size Options Available for Benchtop Vibration Isolation
Available Mounting Options:

1/4"-20 (M6) Tapped to Directly Attach to a Breadboard
Adhesive Mounting Surface to Directly Attach to Untapped Surfaces

Supplied as Set of Four
Use Extra Feet to Increase Load Capacity
These Sorbothane mounting feet provide a passive isolation solution for workbench-mounted breadboards. They can also be used to isolate noisy equipment from the optical table or breadboard surface. Unlike our pneumatic benchtop isolation solutions, these solid Sorbothane feet do not require inflation.
The AV4(/M), AV5(/M), and AV6(/M) mounting feet each contain internal 1/4"-20 (M6) threading with four included 1/4"-20 (M6) threaded studs. In contrast, the AV3 mounting feet are not threaded, and are attached to equipment or breadboards using the included double-sided tape. See the table below for the load capacities and dimensions of each isolator. When choosing an isolator, we recommend picking the isolator that offers the largest range of damped frequencies for the specific load being used. For further assistance in choosing the proper Sorbothane isolator, please see the Feet Selection Guide tab above.
Please note that these feet may have silicon residue on their surface from the molding process. Thorlabs offers SB12E Adhesive Felt Sheets to reduce contact between this silicon residue and the work surface. These sheets can be cut to match the size of the sorbothane and easily attached via the adhesive side. The residue can also be removed by wiping the feet with an alcohol-based solvent such as isopropyl alcohol (IPA).
Item #
AV3
AV4(/M)
AV5(/M)
AV6(/M)
Load Capacitya
(Per Foot)
3 to 6 lbs
(1.4 to 2.7 kg)
3 to 14 lbs
(1.4 to 6.4 kg)
3 to 33 lbs
(1.4 to 15.0 kg)
3 to 50 lbs
(1.4 to 22.7 kg)
Isolator Efficiency
(Click to View)
Hardnessb
70 Durometer
70 Durometer
70 Durometer
70 Durometer
Dimensions
Ø0.71" x 1.00"
(Ø18.0 mm x 25.4 mm)
Ø1.06" x 1.00"
(Ø27.0 mm x 25.4 mm)
Ø1.50" x 1.00"
(Ø38.1 mm x 25.4 mm)
Ø1.77" x 1.00"
(Ø45.0 mm x 25.4 mm)
Mounting
Double-Sided Tape
Internal 1/4"-20 (M6) Threadc

Internal 1/4"-20 (M6) Thread

c

Internal 1/4"-20 (M6) Thread

c
The load range for a set of four isolation feet will be the provided values multiplied by four.
Measured using the Shore "00" scale.
Includes Stud with External 1/4"-20 (M6) Threading