Features
Vertical and Horizontal Vibration Isolation
Support Frames Accommodate Breadboard Sizes as Large as 1200 x 1800 mm (48" x 72")
Available in 700 mm or 800 mm Frame Heights
Sturdy, All Steel Construction
Manually Leveling Feet to Compensate for Uneven Floors
Set of Casters Available (PWA061)
These workstations are designed to support Thorlabs breadboards up to 48" x 72" (1200 mm x 1800 mm) in size. They can carry loads of up to 700 kg (1545 lbs) and have a frame height of 700 mm (27.5") or 800 mm (31.5"). The systems are based on four independent, air mounted, active vibration isolators which are self leveling with a repeatability of ±0.25 mm (0.010"). With vertical and horizontal resonance frequencies of 1.6 Hz and 1.2 Hz (accordingly) these isolators are an ideal solution for interferometry, cell injection, non-contact surface measurement, microscopy and other motion-sensitive measurements. The pneumatic isolators in the active isolation support frames require a constant source of pressurized air, such as that provided by our compressor.
Specifications
Specification
Value
Vertical Resonant Frequency
<1.6 Hz
Horizontal Resonant Frequency
<1.2 Hz
Vertical Transmissibility at Resonance
<13 dB
Horizontal Transmissibility at Resonance
<8 dB
Vertical Transmissibility at 5 Hz
-18 dB (87.5%)
Horizontal Transmissibility at 5 Hz
-18 dB (87.5%)
Vertical Transmissibility at 10 Hz
-34 dB (98%)
Horizontal Transmissibility at 10 Hz
-34 dB (98%)
Load Capacity
700 kg (1,545 lbs)
Height
800 mm (31.5").
700 mm (27.5")
Isolators Height Adjustment Range
±6 mm (0.25")
Self Leveling Repeatability
±0.25 mm (0.010")
Legs Height Adjustment Range
±10 mm (0.4")
Air Pressure Required
690 kPa (100 psi) Maximum
Finish
Black Paint
Vertical Transmissibility Plot
A vibration isolation system is subjected to continuous vibrational impulses from the laboratory floor. These vibrations may be caused by large machinery within the building or even by wind or traffic excited building resonances (swaying). Transmissibility is a measure of the isolators efficiency at damping out these vibrations and is defined as the ratio of the amplitude of the transmitted vibration to that of the forcing vibration.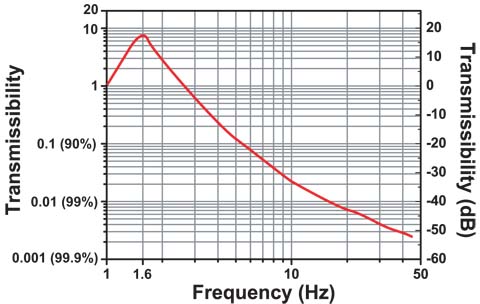 Vertical damping is achieved by the use of a dual chamber, damped pneumatic spring. The breadboard is supported by the air pressure in these chambers, and sits on a piston which is sealed to the upper chamber with a rolling rubber diaphragm. This allows virtually friction free motion between piston and chamber. Floor or tabletop motion forces air to flow from the upper chamber to the reservoir bottler through a high-resistance damper.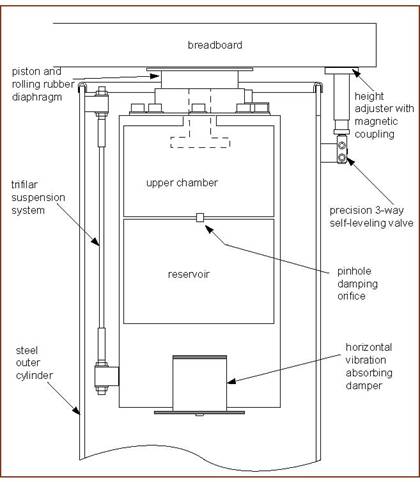 This restriction of airflow damps oscillatory motion between the floor and breadboard, dramatically reducing settling time. The volume ratio of the chambers has been optimized to maximize damping performance for our complete range of breadboards while preserving a low resonant frequency.
Damping of horizontal vibrations is accomplished by supporting the pneumatic vertical isolator on a trifilar suspension system. This innovative pendulum design uses gravity to provide the restoring force after horizontal disturbances. Horizontal oscillations at the system's resonant frequency are damped by linking the base of the vertical isolator to the outer cylinder with an oil-free vibration-absorbing damper.
To allow for changes in load distribution, SuperDamp™ isolators also feature a self-levelling system incorporating precision three way valves that do not compromise vertical isolation when the system is at rest. Because these valves are actuated by worksurface movement, the system returns to its original level position within ±0.25mm (0.01in.) after disturbances. The valves also compensate automatically for any changes in load distribution.
Additionally, this system allows the breadboard height to be adjusted over a range of 26mm (1.02in) and can be used to compensate for an uneven floor. These isolators require a constant supply of air. When the air supply is removed, the breadboard rests securely on top of the frame with the isolation system disabled.
Please see the Vibration Isolation Tutorial for more information the design of our products and the theory of vibration isolation and damping.
Selecting a Vibration System
Thorlabs offers three types of breadboard support systems: Active Isolation, Passive Isolation and a rigid support system.
The Active and the Passive isolation systems are both based on compressed air, providing vibration isolation in frequencies above 2Hz and 10Hz (respectively) making them ideal systems for demanding photonic experiments or for work in a noisy environment. In addition, Thorlabs also offers rigid support systems with no vibration isolation for less demanding applications which require only breadboard isolation. The table below compares the isolation performance of our different isolation systems.
Active
Vibration Isolators
Standard Passive
Vibration Isolators
Heavy Duty Passive
Vibration Isolators
Rigid,
Non-Isolating
Optics a la Cart
Rigid Lab Cart
Vertical Resonant Frequency
<1.6 Hz
3.5 Hz
3.5 Hz
N/A
N/A
Horizontal Resonant Frequency
<1.2 Hz
N/A
N/A
N/A
N/A
Vertical Transmissibility
at Resonance
<13 dB
24 dB
24 dB
N/A
N/A
Horizontal Transmissibility
at Resonance
<8 dB
N/A
N/A
N/A
N/A
Vertical Transmissibility at 10Hz
-34 dB
-16 dB
-16 dB
N/A
N/A
Horizontal Transmissibility at 10Hz
-34 dB
N/A
N/A
N/A
N/A
Isolation Type
Active
Passive
Passive
N/A
N/A
Damping Efficiency
Best
Good
Good
N/A
N/A
Height
700 mm (27.5")
800 mm (31.5")
700 mm (27.5")
800 mm (31.5")
700 mm (27.5")
800 mm (31.5")
700 mm (27.5")
800 mm (31.5")
870 mm (34.3")
Load capacity
700 kg (1540 lbs)
24 to 260 kg
(50 to 570 lbs)
135 to 700 kg
(300 to 1540 lbs)
700 kg (1540 lbs)
320 kg (705 lbs)
Mobility
N/A
N/A
N/A
N/A
Lockable casters
Storage
N/A
N/A
N/A
N/A
Bottom Shelf
Optional Drawer
Vibration Isolation
Vibration isolation is needed to isolate between noises originating around the workstation and breadboard surface. Such vibrations may result from machinery in the building such as elevators or compressors, pedestrians, building vibrations and nearby street traffic. The role of the vibration system is to dampen, both horizontally and vertically, the noises generated by the surrounding environment. Such noises are typically in the range of 10-100 Hz. the table below depicts common vibration sources:
Types
Frequency
(Hz)
Amplitude
(inches)
Air Compressors
4 – 20
10-2
Handling Equipment
5 – 40
10-3
Pumps*
5 – 25
10-3
Building Services
7 – 40
10-4
Foot Traffic
0.5 – 6
10-5
Acoustics
100 – 10,000
10-2 to 10-4
Punch Presses
Up to 20
10-2 to 10-5
Transformers
50 – 400
10-4 to 10-5
Elevators
Up to 40
10-3 to 10-5
Building Motion
46/Height in meters
10-1
Building Pressure Waves
1 – 5
10-5
Railroad
5 - 20
±0.15 g
Highway Traffic
5 - 100 Hz
±0.001 g