Adapters for Nikon Eclipse Ti Microscopes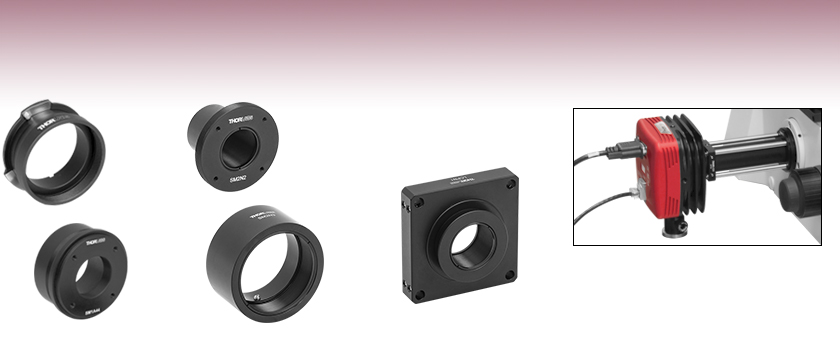 Adapters for Epi-Illumination, Lamphouse, Camera, Trinocular, Eyepiece, and Condenser Ports, as well as Nosepieces
Modify Nikon Eclipse Ti Microscopes Using Thorlabs' Optomechanical Components
SM2A18
Epi-Illumination Module
Bayonet Mount Adapter
SM1A44
Camera Port
Adapter
SM2N2
Eyepiece Adapter
SM2N3
Lamphouse Port
Adapter
LCPN1
Condenser Port Adapter
Scientific Camera Mounted to Nikon Microscope Using SM1A44 Camera Port Adapter, SM1 Lens Tube, and 30 mm Cage System Components

Please Wait
Features
Click on Each Port to View Available Adapters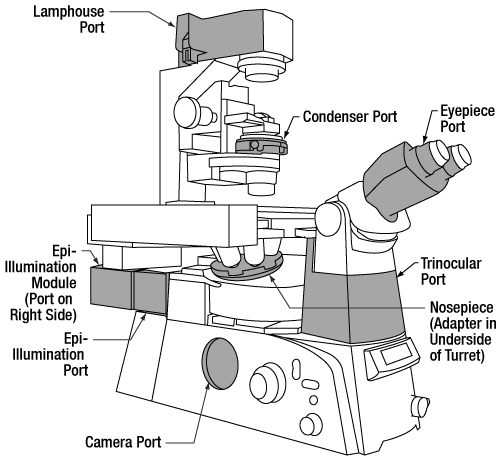 Nikon Eclipse Ti-U Microscope
Illumination Adapters
Thorlabs offers two adapter types to modify the epi-illumination pathway to accept SM threading or a cage system. Adapters with a male Nikon bayonet mount adapt LED light sources and other collimated illumination sources. The SM1A30 and SM2N1 adapters modify the epi-illumination port exposed by removing the epi-illumination module.
The SM2N3 adapter allows a collimated illumination source to mount onto the lamphouse port.
Camera Port Adapter
The SM1A44 adapter is designed to allow components with SM1 threading, SM2 threading, or 30 mm cage system compatibility to be mounted to the camera port. This adapter is ideal for inserting user-built optical assemblies into the optical path or utilizing our CMOS cameras.
Nosepiece Adapter
The SM1A53 SM1 Adapter is designed to allow Thorlabs' SM1-threaded components to be threaded onto the Nikon TI-ND6-E, TI-ND6, or TI-N6 Nosepieces, also known as objective turrets, that are typically found in Nikon Eclipse Ti-U, Ti-S, and some Ti-E microscopes.
Trinocular Port Adapters
Custom widefield viewing and image detection setups can be connected to the trinocular port using an LCPN2 or LCPN4 adapter. The LCPN3 adapter can be use to connect the trinocular port to Olympus trinoculars with a D5Y dovetail. See the Microscope Dovetails tab for details about Olympus' D5Y dovetail.
Eyepiece Adapter
The SM2N2 adapter replaces the lens element on an eyepiece of the Nikon microscope's trinoculars, allowing custom image detection or viewing setups to be attached to the microscope.
Condenser Adapter
The LCPN1 and LCPN5 adapters connect to the condenser holder for the attachment of custom light conditioning modules.
Note: Thorlabs does not guarantee compatibility with other industry-standard microscopes not explicitly mentioned on this webpage.
Introduction to Microscope Dovetails
Dovetails are used for mechanical mating and optical port alignment of microscope components. Components are connected by inserting one dovetail into another, then tightening one or more locking setscrews on the female dovetail. Dovetails come in two shapes: linear and circular. Linear dovetails allow the mating components to slide before being locked down, providing flexible positioning options while limiting unneeded degrees of freedom. Circular dovetails align optical ports on different components, maintaining a single optical axis with minimal user intervention.
Thorlabs manufactures many components which use dovetails to mate with our own components or those of other manufacturers. To make it easier to identify dovetail compatibility, we have developed a set of dovetail designations. The naming convention of these designations is used only by Thorlabs and not other microscope manufacturers. The table to the right lists all the dovetails Thorlabs makes, along with their key dimensions.
In the case of Thorlabs' Cerna® microscopes, different dovetail types are used on different sections of the microscope to ensure that only compatible components can be mated. For example, our WFA2002 Epi-Illuminator Module has a male D1N dovetail that mates with the female D1N dovetail on the microscope body's epi-illumination arm, while the CSS2001 XY Microscopy Stage has a female D1Y dovetail that mates with the male D1Y dovetail on the CSA1051 Mounting Arm.
To learn which dovetail type(s) are on a particular component, consult its mechanical drawing, available by clicking on the red Docs icon (

) below. For adapters with a female dovetail, the drawing also indicates the size of the hex key needed for the locking setscrew(s). It is important to note that mechanical compatibility does not ensure optical compatibility. Information on optical compatibility is available from Thorlabs' web presentations.
For customers interested in machining their own dovetails, the table to the right gives the outer diameter and angle (as defined by the drawings below) of each Thorlabs dovetail designation. However, the dovetail's height must be determined by the user, and for circular dovetails, the user must also determine the inner diameter and bore diameter. These quantities can vary for dovetails of the same type. One can use the intended mating part to verify compatibility.
In order to reduce wear and simplify connections, dovetails are often machined with chamfers, recesses, and other mechanical features. Some examples of these variations are shown by the drawings below.