19" Rack Enclosures for Electronic Devices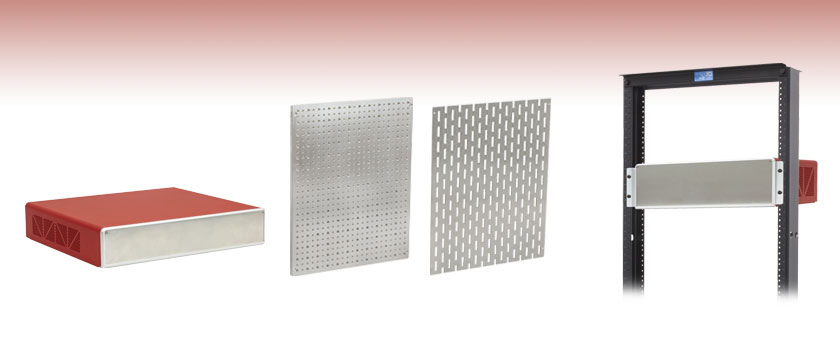 Aluminum Enclosures for 19" Racks
Mounting Board and Breadboards
Accessories for Benchtop Usage Available
EC2U
19" Rack Enclosure,
482.6 mm x 377.2 mm x 88.4 mm
MSBU3038
Breadboard for EC2U, EC3U, and EC4U;
8-32 and 1/4"-20 Taps
EC3U Enclosure Mounted in 19" Rack
Application Idea
ECUMB
Mounting Board for EC2U, EC3U, and EC4U;
18.0 mm x 5.0 mm Slot Holes

Please Wait
Enclosure
Item #
Height in Rack Units
Enclosure Dimensionsa
(W x D x H)
EC2U
2U
482.6 mm x 377.2 mm x 88.4 mm
(19.00" x 14.85" x 3.48")
EC3U
3U
482.6 mm x 377.2 mm x 132.9 mm
(19.00" x 14.85" x 5.23")
EC4U
4U
482.6 mm x 377.2 mm x 177.4 mm
(19.00" x 14.85" x 6.98")
These dimensions measure the outside of the enclosure, including the mounting brackets. Detailed dimensions of each enclosure are available by clicking on the red Docs icons () below.
Features
3 Sizes of Aluminmum Housings Available (See Table to the Right)
Designed for 19" Equipment Rack
Aluminum Mounting Board for Mounting Components Inside Enclosures
Breadboard for EC2U, EC3U, and EC4U Enclosures
Accessories for Converting the Enclosures to Benchtop Use
Thorlabs offers enclosure options for customers interested in assembling their own 19" rack-mounted electronic devices. Our enclosures are available with one of three rack unit (U) heights: 2U, 3U, or 4U. The front and rear panels of the enclosure are blank; input and output ports can be added by the user depending on the application.
A mounting board or breadboard (sold separately below) can be secured inside the EC2U, EC3U, and EC4U enclosures. The ECUMB mounting board provides a surface with 18 mm x 5 mm slots for assembling electronic components, such as PCBs, development boards, and power supplies. Alternatively, the MSBU3038(/M) breadboard features a high-density hole pattern of 8-32 (M4) and 1/4"-20 (M6) tapped holes to allow optomechanical components to be mounted inside the enclosure. Both the mounting board and breadboard are secured using the 2 mm hex key and M3 button head cap screws included with the enclosure.
The EC2US, EC3US, and EC4US mounting strips may be used to replace the mounting brackets and reduce the profile of the EC2U, EC3U, or EC4U respectively. The ECUF rubber feet may be attached to the enclosures for benchtop usage.
For housings that hold smaller, custom electronic circuits, such as electrical filters, voltage dividers, or impedance matchers, see our compact customizable electronics housings. For housings that are not designed to be mounted in a 19" rack, please view our benchtop customizable electronic housings or our smaller flanged benchtop enclosure.