Click for Details
Diagram of the Beam Path Through the In-Line Fiber Filter Mount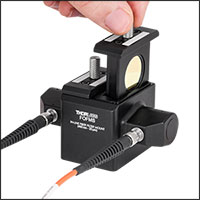 Click to Enlarge
Ø1" Filters can Easily be
Removed and Replaced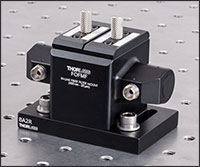 Click to Enlarge
FOFMF Mounted to an Optical Table Using a
BA2R
Magnetic Base
Features
Free-Space, Fiber-to-Fiber Coupling System Utilizing Off-Axis Parabolic (OAP) Mirrors

OAP Mirrors Provide High Reflectance, High NA, and Achromatic Performance Over Reflection Band
Protected Silver Coating (450 nm - 20

µm

) for Broadband Sources
UV-Enhanced Aluminum Coating (250 nm - 450 nm) for UV Sources

FC/PC or SMA Connectors

FC/PC Versions (FOFMF) Accepts Both 2.2 mm Wide Key and 2.0 mm Narrow Key Connectors
SMA Versions (FOFMS) are Designed for SMA905 Connectors

Two CFH2-F Ø1" Filter Holders Provided

Blank Filter Holder and Variable Attenuator Insert Available Separately

Compatible with Macro and Micro Cuvettes (Not Included, See Specs Tab for Details)
Bottom-Located 1/4"-20 (M6) Tap for Mounting to a Post or any Mounting Base


Light-Tight Cover Available
Thorlabs' In-Line Fiber Optic Filter Mounts are ideal for fiber-based applications that require light to be spectrally filtered or reduced in intensity. As shown in the diagram to the right, each mount is composed of two removable CFH2-F filter holders within a fixed, free-space fiber-to-fiber coupling system. The system utilizes two off-axis parabolic (OAP) mirrors to collimate the light out of the input fiber and couple it into the output fiber. The all-reflective design eliminates phase delays and absorption losses introduced by transmissive optics. Either filter holder can be replaced with a 12.5 mm x 12.5 mm UV fused quartz cuvette (not included). The added ability to insert quartz cuvettes make these mounts ideal for use in absorption or transmission spectroscopy measurements (see the Application tab for details). The system is light tight when two filter holders are used or with the use of the FOFM-CV light-tight cover.
The FOFMF(/M) and FOFMS(/M) mounts have two bulkheads designed for use with FC/PC- or SMA-terminated multimode fiber patch cables, respectively. These mounts use OAP mirrors with protected silver coatings designed for wavelengths from 450 nm to 20 µm. Each system, without filters or cuvettes installed, will have an insertion loss of ≤2 dB for 200 µm - 1000 µm core, ≤0.39 NA multimode fiber within that wavelength range.

The FOFMS(/M)-UV mounts have two bulkheads designed for use with SMA-terminated patch cables, such as our solarization-resistant fiber patch cables. These mounts use OAP mirrors with UV-enhanced aluminum coatings designed for wavelengths from 250 nm – 450 nm. Each system, without filters or cuvettes installed, will have an insertion loss of ≤3.5 dB from 250 nm to 350 nm and ≤2 dB from 350 nm to 450 nm for 200 µm - 600 µm core, ≤0.39 NA multimode fiber.
For more details on the insertion loss of these mounts, please see the Insertion Loss tab. For more information about the OAP mirrors, please see the Specs tab. For applications that require fluorescence measurements or a free-space design, please see our cuvette holders. For custom connectors, mirror coatings, or filter holders, please contact Tech Support.
Fiber Compatibility
Thorlabs' In-Line Fiber Optic Filter Mounts are designed to work with multimode fibers. In general, the mounts cannot be used with single-mode fibers because significant losses are incurred when light is coupled to the narrow core of these fibers in the absence of precision alignment. However, a single mode fiber can be used as the input of the mount provided that the output is connected to a multimode fiber.
Filter Holders, Blank Plates, and Variable Attenuation Insert
Each SM1-threaded (1.035"-40) filter holder can be used to mount various Ø1" filters up to 0.31" (8.0 mm) thick. The precision, spring-loaded, dovetail design of the removable holders ensures reproducible positioning. Two laser-engraved boxes on top of each holder are used for labeling and identification of the mounted optic. Additionally, Ø1/2" filters can be mounted using the SM1A6T Thread Adapter. Extra filter holders are sold separately below.
If the included filter holder does not suit your application, the CFH2-B Blank Plate is also available separately below. This plate uses the same mounting method as the included CFH2-F and can be machined to suit your specific requirements. Alternatively, it can also be used as a manual shutter. The CFH2-V Variable Attenuation Insert can be inserted in place of one of the filter holders to partially or completely block light from passing. It features an adjuster capable of ±0.01 dB attenuation resolution (when used with Ø200 - Ø1000 µm Core, 0.22 - 0.50 NA fiber) along with the ability to quickly block the aperture via a quick-release mechanism.
Light-Tight Cover
A light-tight cover for the fiber optic filter mounts is available for applications that are particularly sensitive to light. This cover is compatible with cuvettes up to 50 mm (1.96") tall, including the stopper. Please note that the FOFM-CV cover is not compatible with the CFH2-V attenuator insert.
Mounting Options
A bottom-located 1/4"-20 (M6) tap is used to mount the in-line fiber filter mounts onto a Ø1/2" post or post holder base, such as the BA2R Magnetic Base (shown in the image above) or UBP2 Universal Base.
Item #
FOFMF
FOFMF/M
FOFMS
FOFMS/M
FOFMS-UV
FOFMS/M-UV
Connector Style
FC/PC
2.2 mm Wide Key
FC/PC
2.2 mm Wide Key
SMA905
SMA905
SMA905
SMA905
Recommended Input NAa
≤0.39 NA
Insertion Lossb
(No Filters or Cuvettes)
≤2 dB @ 450 nm - 20 µmc
<2.0 dB @ 350 - 450 nmd
<3.5 dB @ 250 - 350 nmd
Filter Holders
Two Included (CFH2-F)
Compatible Filter Diameter

Ø1" (25.4 mm)

Compatible Cuvette Dimensionse
12.5 mm x 12.5 mm
(0.49" x 0.49")
Mount Dimensions (Excluding Filter Holder)
2.00" x 3.31" x 1.60"
(50.8 mm x 84.0 mm x 40.6 mm)
Mount Dimensions (Including Filter Holder)
2.00" x 3.31" x 2.28"
(50.8 mm x 84.0 mm x 57.9 mm)
Tap
1/4"-20
M6
1/4"-20
M6
1/4"-20
M6
Off-Axis Parabolic Mirror Specificationsf
Item #
MPD00M9-P01
MPD00M9-F01
Coating
Protected Silver
UV-Enhanced Aluminum
Reflectance (Average)
Click for Plot
>97%, 450 nm - 2 µm
>96%, 2 - 20 µm
>90%, 250 - 450 nm
Off-Axis Angle
90°
Reflected Focal Length

15.0 mm (0.59")

Surface Roughness
<100 Å (RMS)
Reflected Wavefront Error
λ/4 at 633 nm
Surface Quality
40-20 Scratch-Dig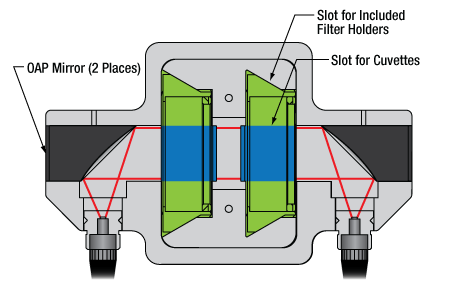 Click to Enlarge
Diagram of the Beam Path Through the In-Line Fiber Filter Mount
Insertion Loss vs Wavelength
The graphs below compare the insertion loss vs wavelength for different fiber types. The shaded region denotes the specified wavelength range and insertion loss of the in-line fiber filter mount. Insertion loss at any given wavelength is also dependent upon the properties of the fiber used and is measured without filters or cuvettes.
---
Insertion Loss at Mode-Stripped and Overfilled Launch Conditions
The graphs below compare the performance of fibers used with the in-line filter mount under different launch conditions. A mode-stripped (70/70) fiber launch condition removes cladding modes that are lost in the in-line filter while an overfilled (>100%) fiber launch condition contains all propagating modes. Because measuring the input and output power using a power meter does not allow for discrimination of these mode types, a mode-stripped launch condition is a better measurement of the actual insertion loss of the in-line fiber filter.

Click to Enlarge
Absorption Spectrum of Methanol
Absorption Spectroscopy
Absorption spectroscopy is a technique used to characterize the optical properties of a material by measuring the amount of light absorbed by a sample at a given frequency or wavelength. As a broadband light source is sent through a sample, the sample absorbs a fraction of the incident radiation at certain frequencies or wavelengths. These regional decreases in the overall transmission curve describe the material's unique absorption spectrum. This technique is commonly used in material analysis to gather details about the chemical composition of an unknown substance or the concentration of a molecule in a solution.
Shown to the right is the absorption spectrum of methanol obtained by using Thorlabs' FOFMS In-Line Fiber Optic Filter Mount along with an SLS202L Broadband Light Source, two 0.20 NA, Ø200 µm Core ZrF4 MIR multimode fiber patch cables, and a CV10Q3500 3500 µL Capacity Quartz Cuvette. Quartz cuvettes are ideal due to their high transmission from the UV to the MIR spectrum. A similar example of this setup can be seen in the image at the top of the page.
As light enters the FOFMF filter system, it is collimated at the first protected silver OAP with a beam diameter of approximately 6 mm (see the Specs tab for details). It then passes through two slots that house a Ø1" optical filter or cuvette. In this case, we loaded a single cuvette with a sample of methanol. Once through the cuvette, the light is couple into the output fiber using the second protected silver OAP mirror and measured using a Fourier Transform Infrared Spectrometer (FTIR).