Lens Tube Mounts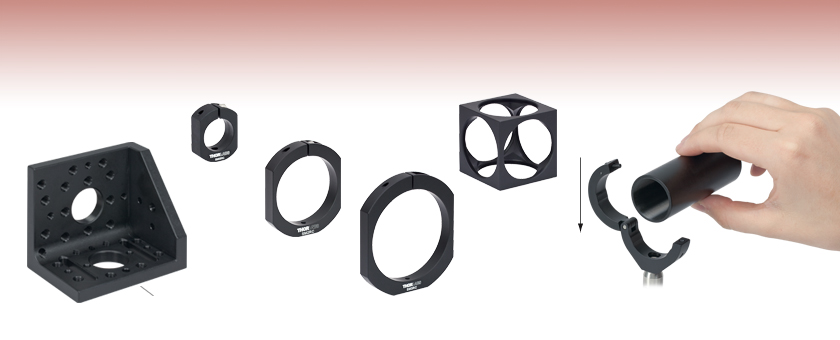 Allow Mounting of Lens Tube Assemblies to a Breadboard
Easy Assembly of Extended Structures
CAM1
SM1-Threaded Bore
SM05RC
Holds an
SM05 Lens
Tube
SM2RC
Holds an SM2
Lens Tube
SM3RC
Holds an SM3
Lens Tube
SM2C6
Easy Drop-In
Installation
SM1TC Lens Tube Clamp shown
with Lens Tube and Post
0.71" Inner
Diameter
2.21" Inner
Diameter
3.21" Inner
Diameter

Please Wait
The mounts below have been developed specifically to allow positioning of lens tube systems within free-space optical setups on breadboards or tables. Different designs are available to hold Ø1/2" (SM05), Ø1" (SM1), Ø30 mm (SM30), Ø1.5" (SM1.5), Ø2" (SM2), or Ø3" (SM3) lens tubes or C-Mount extension tubes.
Thorlabs offers many solutions for mounting lens tubes, including fixed lens mounts and threaded mounting rings.
Lens Tube Clamps and Slip Rings
Thorlabs' lens tube clamps and slip rings are both designed to enable post mounting of lens tube systems. With slip rings, lens tube systems can be mounted by passing the lens tube through the clear aperture of the ring. In contrast, the lens tube clamps enable drop in installation and removal of lens tubes. The lens tube clamps and slip rings can be bolted to any of our posts or other rigid construction components with an 8-32 (M4) tap.
Lens Tube Compatible Cage Plate
Similar to our slip rings, our CP36 cage plate features a Ø1.2" double bore that allows an SM1 lens tube to slide in. Our LCP36 cage plate features a Ø2.2" double bore that allows an SM2 lens tube to slide in. A nylon-tipped setscrew allows the lens tube to be locked securely in place in both of these products.
External Adapters
These adapters slip onto the outside of our lens tubes and feature standard threads and outer diameters for additional mounting possibilities.
Construction Cubes
The construction cubes, with SM threading on all six sides, are designed especially for building complex, three-dimensional lens tube systems such as beam splitters and interferometers.
Right-Angle Brackets
Using the threaded right-angle bracket, a lens tube system can be mounted parallel to a breadboard's surface. With two SM-threaded apertures, these brackets interface easily between a free-space setup and a lens tube system. The right angle mounts are equipped with #4 (M3) and #6 (M4) mounting holes as well as 1/4"-20 (M6) taps to allow rigid mounting of the lens tubes to the table surface.
Thorlabs' Stackable Lens Tubes provide an easy and fast solution for assembly of an optical system with a single optical axis. Using lens tubes one can easily assemble several optical components on a common optical axis without the need for X-Y alignment of each component to the common axis. Thorlabs offers Ø1/2", Ø1", Ø30 mm, Ø1.5", Ø2", and Ø3" lens tubes, for use with different optics sizes, as well as adapters to convert between the four different sizes.

Thorlabs also offers many of our optical components in pre-mounted 1" lens tubes as well as specially developed components and mounts, all of which are pre-aligned to the optical axis, including:
Thorlabs has also added alignment tools for lens tubes for working with IR optics, such as infrared alignment disks and alignment targets. Additionally, with the use of retaining rings, any standard optical component can be easily mounted into the lens tubes.
For more complex optical systems Thorlabs has developed sets of post mounting rings, and mounting brackets and construction cubes to enable building complex, rugged systems.
Thorlabs lens tubes can also easily interface with our cage system components such as the cage plates, kinematic turning mirror mounts, pre-mounted beamsplitter cubes and pre-mounted turning mirrors.