30 mm Cage System Adjustable Mechanical Slits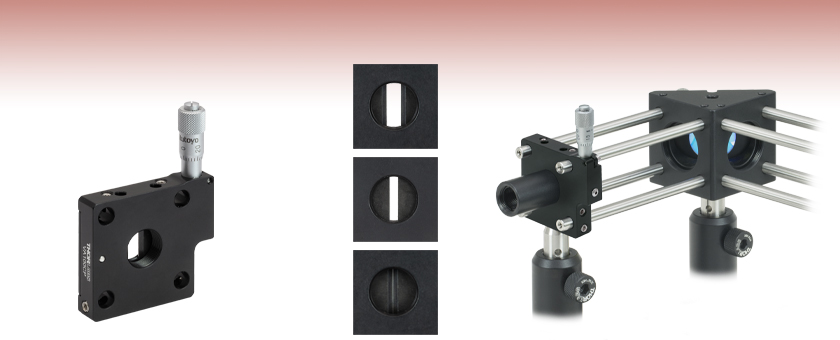 Through Holes for 30 mm Cage System
Fine Micrometer Adjustment of Slit Width
Central SM05-Threaded Bore
Application Idea
VA100CP Variable Slit with Attached SM05 Lens Tube in a 30 mm Cage System
VA100CP
Back View
Slit Open
Front View
Slit Nearly Closed
Back View
Slit Closed

Please Wait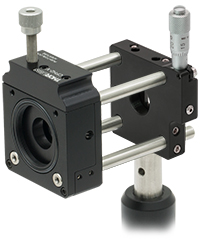 Click to Enlarge

| Item # | VA100CP | VA100CP/M |
| --- | --- | --- |
| Micrometer Graduation | 0.001" per Division | 10 µm per Division |
| Slit Width Adjustment per Rev | 0.025" | 0.5 mm |
| Slit Centering Tolerance | ±0.003" | ±0.08 mm |
| Mounting Hole Tap | 8-32 | M4 |
Features
30 mm Cage System Compatible in Vertical or Horizontal Orientation
1-to-1 Micrometer-to-Slit Width Adjustment
Slit Centered in SM05-Threaded (0.535"-40) Through Hole
Slit Width: 0 to 0.24" (0 to 6 mm)
Post Mountable in Vertical Orientation
The VA100CP(/M) Mechanical Slit for 30 mm Cage Systems provides precise micrometer adjustment of the width of a slit formed by two A2 tool steel blades. This slit is mounted in a housing with four through holes for 30 mm cage system rods; each rod can be locked in place with a setscrew using a 5/64" (2.0 mm) hex key or balldriver. When mounted within a cage system, these through holes allow the slit to be oriented either vertically or horizontally.
The slit itself is centered about an SM05-threaded through hole, and its width can be adjusted with a built-in micrometer. The unique design of this mechanism provides a 1-to-1 correlation between the adjustment of the precision micrometer drive and the subsequent change in slit width to within 0.001" (20 µm for the metric micrometer). The actual slit width ranges from fully closed to 0.24" (6.0 mm) wide with 0.025" (0.5 mm for the metric micrometer) of adjustment per revolution of the micrometer. In the fully closed position, the two blades are touching. However, imperfections in the blades and the degree to which the blades are parallel can cause gaps as large as 0.001" (25 µm) in width. The slit opening remains centered on the SM05-threaded (0.535"-40) aperture as the slit width is varied.
The slim profile of the mount makes it ideal for use with compact optical assemblies, and the black finish of the housing and the blades limits unwanted reflections. The bottom-located mounting hole is compatible with our standard Ø1/2" posts, allowing the slit to be mounted on a post in a vertical orientation. The through hole is SM05 threaded for compatibility with a variety of Thorlabs' products, including our Ø1/2" lens tubes. We also offer standard Adjustable Mechanical Slits that are not compatible with our cage systems.