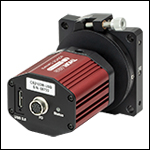 Click to Enlarge
The
CS2100M-USB
Quantalux
®
camera can be mounted to the LCP16R1 using the
SM1A39
thread adapter.


Click to Enlarge
Every mount features an engraved fine adjustment scale.
Features
Control Rotation of Thorlabs' Scientific Cameras in Microscopy Systems
1° Engraved Graduations, Labeled Every 2°
Compatible with SM1 (1.035"-40) or SM2 (2.035"-40) Lens Tubes
Suitable for Stable Mounting of Cantilevered Loads with up to 0.5 ft-lbs (0.68 N•m) Torque
Removable SM1- or SM2-Threaded Rotation Rings Also Available Separately
These 60 mm Cage Rotation Mounts are designed to provide ±8° of fine and 360° of coarse rotation angle adjustment for Thorlabs' Scientific Cameras. They can be combined with compatible Microscope Port Adapters to integrate the cameras with a variety of imaging systems. Each mount includes four Ø6 mm bores for use with 60 mm cage rods and a rotation ring with SM1 (1.035"-40) or SM2 (2.035"-40) internal threads. The rotation rings are removable and additional rings are available separately below. On the top of every mount is an engraved fine adjustment scale that has graduations every 1° with a range of ±8°, as shown to the upper right. Each mount has one 8-32 (M4 x 0.7) bottom-located tap for post mounting.
Scientific cameras with 60 mm cage rod holes, such as our Scientific CCD Cameras, can be mounted using ER cage rods and the four cage-rod holes at the corners of the mount. Cameras with a 30 mm cage rod hole pattern, such as our Compact Scientific Quantalux®, Kiralux™, and Zelux™ cameras, can be adapted to a 60 mm cage system hole pattern using the LCP4S cage plate adapter. Alternatively, a camera can be mounted to the rotation ring using the appropriate thread adapter (see below for more information).