Mounted UV Fused Silica Plano-Convex Lenses, Uncoated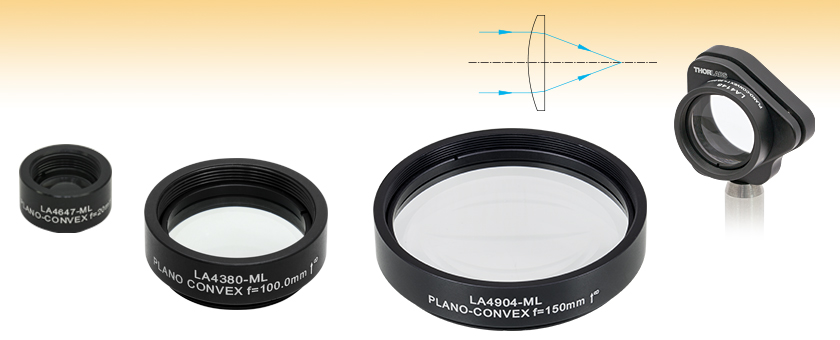 Wavelength Range: 185 nm - 2.1 µm
Zemax Files Available
Ø1/2", Ø1", Ø2", or Ø75 mm Optics in SM-Threaded Mounts
LA4647-ML
(Ø1/2")
LA4380-ML
(Ø1")
LA4148-ML
Mounted in a KB1P
Quick-Release Mount
(Mount Sold Separately)
LA4904-ML
(Ø2")

Please Wait
UV Fused Silica Plano-Convex Lenses, Uncoated
Lens Shape
Plano-Convex
Material
UV-Grade Fused Silicaa
Wavelength Range
185 nm - 2.1 μm
Diameters Available
Ø1/2" in SM05-Threaded Mount
(0.535"-40)
Ø1" in SM1-Threaded Mount
(1.035"-40)
Ø2" in SM2-Threaded Mount
(2.035"-40)
Ø75 mm in SM3-Threaded Mount
(3.035"-40)
Diameter Tolerance
+0.00 mm / -0.10 mm
Clear Aperture
Ø1/2" Lenses: >Ø11.05 mm
Ø1" Lenses: >Ø22.86 mm
Ø2" Lenses: >Ø45.72 mm
Ø75 mm Lenses: >Ø67.50 mm
Design Wavelength
546 nm

b

Index of Refraction
(@ 546 nm)
1.460
Surface Quality
40-20 Scratch-Dig
Surface Flatness
(Plano Side)
λ/2
Spherical Surface Power
(Convex Side)

c

3λ/2
Surface Irregularity
(Peak to Valley)
λ/4
Centration
≤3 arcmin
Focal Length Tolerance
±1%
Click Link for Detailed Specifications on the Substrate
For LA4052-ML, LA4306-ML, LA4148-ML, LA4725-ML, and LA4380-ML the design wavelength is 587.6 nm.
Much like surface flatness for flat optics, spherical surface power is a measure of the deviation between the surface of the curved optic and a calibrated reference gauge, typically for a 633 nm source, unless otherwise stated. This specification is also commonly referred to as surface fit.

Zemax Files
Click on the red Document icon next to the item numbers below to access the Zemax file download. Our entire Zemax Catalog is also available.
Features
Ø1/2", Ø1", Ø2", and Ø75 mm Lenses Available in SM-Threaded Mounts
UV-Grade Fused Silica
Wavelength Range: 185 nm - 2.1 μm (Uncoated)
Focal Lengths Available from 20.0 - 1000.0 mm
These UV Grade Fused Silica Plano-Convex lenses, which are available in Ø1/2", Ø1", Ø2", and Ø75 mm sizes in threaded mounts, have a wavelength range of 185 nm - 2.1 μm. UV-grade fused silica offers high transmission in the deep UV and exhibits virtually no laser-induced fluorescence (as measured at 193 nm), making it an ideal choice for applications from the UV to the near IR. In addition, UV fused silica has better homogeneity and a lower coefficient of thermal expansion than N-BK7.
Plano-convex lenses have positive focal lengths and are the most popular type of lens element. They are commonly used to focus a collimated incident beam; in such cases the collimated light source should be incident on the curved surface to minimize spherical aberrations. When image quality is not critical, plano-convex lenses can also be used as a substitute for achromatic doublets.
When deciding between a plano-convex lens and a bi-convex lens, both of which cause collimated incident light to converge, it is usually preferrable to choose a plano-convex lens if the desired absolute magnification is either less than 0.2 or greater than 5. Between these two values, bi-convex lenses are generally preferred.
Below is the transmission curve for a 10 mm thick uncoated sample of UV fused silica when the incident light is normal to the surface. Please note that this is the measured transmission, including surface reflections.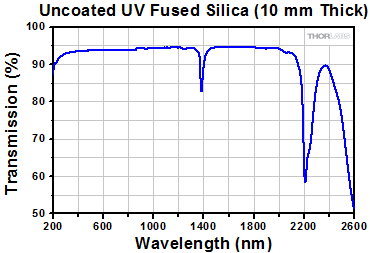 Click to Enlarge
Click
Here
for Raw Data
---
The lenses sold on this page are also available with broadband antireflective coatings, the reflectance traces of which are shown in the graph below.
These high-performance multilayer AR coatings have an average reflectance of less than 0.5% (per surface) across the specified wavelength ranges and provide good performance for angles of incidence (AOI) between 0° and 30° (0.5 NA). The plot shown below indicates the performance of the standard coatings in this family as a function of wavelength. Broadband coatings have a typical absorption of 0.25%, which is not shown in the reflectance plots.