Features
Excellent Transmission from 220 to 650 nm, 340 to 800 nm, or 420 to 2000 nm
Suitable for Rugged Environments
Adapters Designed to Mate Ø3 mm or Ø5 mm Liquid Light Guides to SM1 or SM2 Thread Standard Available Below
Microscope Collimation Adapters Available Below
Thorlabs' Liquid Light Guides (LLGs) offer outstanding transmission from 220 to 650 nm, 340 to 800 nm, or 420 to 2000 nm. These LLGs can be used with our stabilized broadband sources, free-space broadband sources, plasma light sources or UV light source. For large core diameters, liquid light guides are a more efficient transmission solution than fiber bundles as they eliminate the packing fraction loss (dead space) that fiber bundles have.
These liquid light guides are offered from stock with a core diameter of either 3 or 5 mm, and in lengths of 4' (1.2 m), 6' (1.8 m), or 8' (2.4 m). The LLG03-4H and LLG05-4H each have a yellow band that acts as a visual indicator when the LLG is used with the HPLS343 and HPLS345 high-power plasma light sources, respectively; the LLG is correctly inserted when the edge of the band is flush with the front panel of the instrument. The LLG3-4Z and LLG5-4Z also feature a yellow band, which indicates the end that must be used as the input because it contains a filter to protect the light guide from radiation below 420 nm. For LLGs without a yellow band either end can be used as the light input.
These light guides can be mounted to an optical breadboard by using one of our VH1(/M) V-Mounts, a Ø1/2" (12.7 mm) post, and post holder. They can also be mounted to SM1-threaded (1.035"-40) components, SM2-threaded (2.035"-40) components, or microscope ports using the adapters sold below. Thorlabs also offers collimating and coupling adapters for the liquid light guides, which are sold separately below. The SLSLLGx coupling/collimating adapters feature external SM2 (2.035"-40) threading on the housing that makes them directly compatible with our Broadband Light Sources. Additionally, we offer a variety of collimating adapters that allow the LLGs to be coupled to a Cerna® microscope or the illumination ports used by various microscope manufacturers.
All of our LLGs are available with custom core diameters or custom lengths as made-to-order items by contacting Tech Support.
All transmission data presented here is typical. For the LLG0338 and LLG0538 versions, the LLG0338-6 and LLG0538-6 data is shown. The maximum variation from lot to lot is ±5%. As a function of length, only minimal variations (<5%) are expected between our 4' (1.2 m), 6' (1.8 m), and 8' (2.4 m) long liquid light guides.
Liquid Light Guide Dimensions
Item #
Active Core Diameter
Standard End Fittings
Protective Sleeve
Min Bend Radius
d0
d1
l1
d2
l2
d3
I3
d4
LLG3-4T
Ø3 mm
Ø5 +0/-0.1 mm
20 ± 0.1 mm
Ø9 ± 0.1 mm
30 ± 0.1 mm
N/A
N/A
Ø7.5 mm
50 mm
LLG0338, LLG03-4H, LLG3-4Z
Ø3 mm
Ø5 +0/-0.1 mm
20 ± 0.1 mm
Ø9 ± 0.1 mm
24 ± 0.1 mm
N/A
N/A
Ø7 mm
40 mm
LLG5-4T
Ø5 mm
Ø7 +0/-0.1 mm
20 ± 0.1 mm
Ø10 ± 0.1 mm
24 ± 0.1 mm
Ø13 ± 0.1 mm
24 ± 0.1 mm
Ø10.5 mm
70 mm
LLG0538, LLG05-4H, LLG5-4Z
Ø5 mm
Ø7 +0/-0.1 mm
20 ± 0.1 mm
Ø10 ± 0.1 mm
24 ± 0.1 mm
N/A
N/A
Ø9.5 mm
60 mm
The drawings and photographs below illustrate the dimensions given in the table above.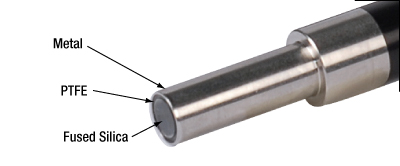 Cleaning the Optical End Faces of Liquid Light Guides
The optical end faces of these liquid light guides are made of fused silica, PTFE and either aluminum, chrome plated brass, or stainless steel. All of these materials are very resistant to all common cleaning solvents, making them easy to clean. Please note that when using solvents to clean the end faces, you cannot submerge the tip of the light guide in the solvent, or use a heavily soaked cleaning pad, as the solvent may get into the light guide, causing damage. If you find that debris from the light guide end cannot be removed by using a solvent, you can gently use a razor blade to clean the tip, making sure that you do not chip the edge of the fused silica glass window.