PMT Housing for Side-On Hamamatsu PMTs
Light-Tight Design Securely Holds PMT via Threaded Retaining Collar
Compatible with SM1 Lens Tube and 30 mm Cage Construction Systems
Post Mountable via 8-32 (M4) and 1/4"-20 (M6) Taps
The PXT1 housing centers the PMT active area along a beam path built using our SM1 lens tubes and 30 mm cage system.
PXT1

Please Wait
Features
Active Area of PMT Centered in SM1-Threaded Bore
Optical Axis, Defined by Cage and Lens Tube Compatibility, Simplifies Alignment
Light-Tight Mounting of PMT into PXT1 Housing
The PXT1(/M) housing helps create light-tight connections between the Ø1-1/8" barrel side-on photomultiplier tubes (PMTs) sold by Hamamatsu and Thorlabs' SM1 (1.035"-40) lens tubes and 30 mm cage system. This housing eliminates the need to design custom adapter plates for these PMTs.
Internal SM1 threads, 0.38" (9.5 mm) deep, enable connections to our Ø1" lens tubes. Four Ø6 mm holes accept cage rods and are spaced for compatibility with our 30 mm cage system. For post mounting, the PXT1 body features two 8-32 tapped holes and one 1/4"-20 tapped hole, whereas the PXT1/M has two M4 tapped holes and one M6 tapped hole.
To insert the PMT into the PXT1, first remove the retention collar. As seen in the drawings below, the active area of the PMT is slid into the body of the PXT1 housing, where an O-ring creates a light-tight seal. The the retention collar can then be fastened on to lock the PMT in and create a second light-tight seal.
Note that the PXT1 housing is not compatible with PMTs that have windows which protrude outside the cylindrical Ø1-1/8" profile.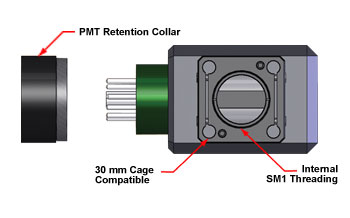 PMT in Housing
Cross-Sectional View of PMT in Housing