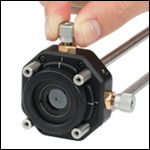 Click to Enlarge

An
XY Translation Mount
can be used to optimize centration of an SM-threaded iris within a cage system.
Features
Ring-Actuated Design is Ideal for Cage Systems
Versions with a Laser Engraved Scale to Indicate Aperture Size
Zero Aperture Option Blocks All Incoming Light in Closed Position
Lockable via Setscrew on the Side of the Housing
Our ring-actuated irises are perfect for tight spaces where the lever on our Standard Lever-Actuated Irises or Threaded Lever-Actuated Irises doesn't easily fit. Ring-actuated irises are especially beneficial within our cage assemblies, preventing interference between a lever actuator and the surrounding cage rods, as shown in the image to the right. The ring actuator provides an intuitive, smooth feel; the aperture size can be locked via a setscrew, see the Drawings tab for details. All of the irises on this page contain black spring steel leaves. For dimensional comparison of the irises on this page, please see the Drawings tab.
| Item # | SM05D5D | SM1D12D | SM2D25D | SM1D12C | SM1D12CZ |
| --- | --- | --- | --- | --- | --- |
| Thread Standard | SM05 (0.535"-40) | SM1 (1.035"-40) | SM2 (2.035"-40) | SM1 (1.035"-40) | SM1 (1.035"-40) |
| Aperture (Min) | Ø0.7 mm (Ø0.03") | Ø0.8 mm (Ø0.03") | Ø1 mm (Ø0.04") | Ø1 mm (Ø0.04") | Zero |
| Aperture (Max) | Ø5 mm (Ø0.20") | Ø12.0 mm (Ø0.47") | Ø25 mm (Ø0.98") | Ø12 mm (Ø0.47") | Ø12 mm (Ø0.47") |
Item #
SM05D5D
SM1D12D
SM2D25D
Thread Standard
SM05 (0.535"-40)
SM1 (1.035"-40)
SM2 (2.035"-40)
Aperture (Min)
Ø0.7 mm (Ø0.03")
Ø0.8 mm (Ø0.03")
Ø1 mm (Ø0.04")
Aperture (Max)
Ø5 mm (Ø0.20")
Ø12.0 mm (Ø0.47")
Ø25 mm (Ø0.98")
Locking Setscrew Hex
0.035" (0.9 mm)
0.05" (1.3 mm)
0.05" (1.3 mm)
Mechanical Drawing
(Click Image to Enlarge)