Specifications
Item #
SRF15
SRF11
Size
Ø1/2"
Ø1"
Spectral Range
400 - 1100 nm
Clear Aperture
>90% of Diameter
Surface Flatness
λ/2 at 633 nm
Over Clear Aperture
λ/4 at 633 nm
Over Clear Aperture
Surface Quality
40-20 (Scratch-Dig)
Parallelism
≤3 arcmin
Transmission Data

Raw Data
Thickness
1.0 mm (0.04")
3.2 mm (0.13")
Thickness Tolerance
±0.25 mm
0.00 / -0.10 mm
Diameter
Ø1/2"
Ø1"
Diameter Tolerance
0.00 / -0.25 mm
0.00 / -0.10 mm
Substrate
Fused Silica
Coating
Dielectric Coating on Front Surface
AOI
0°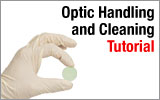 Features
Designed to Flatten Spectral Response of FDS100 and Other Si Photodiodes
Performance over 400 - 1100 nm Wavelength Range:


10% Minimum Transmission at 985 nm
95% Maximum Transmission at 400 nm

Facilitates Power Monitoring When Used with Broadband / Tunable Light Sources
Reduces Dynamic Range Requirements for Post-Photodiode Electronics
Ø1/2" and Ø1" Unmounted Sizes
The filters on this page feature a dielectric coating on fused silica and are designed to compensate for the wavelength-dependent responsivity of silicon photodiodes. Improving the response uniformity is beneficial for applications where a broad spectral response is desired. These filters are suitable for reducing dynamic range requirements for detector system electronics and can be used to improve the performance of applications dependent on feedback from optical power monitoring. The filter is designed to reshape the responsivity rather than to attenuate the light. We suggest combining the response-flattening filter with neutral density filters or edgepass filters when attenuation is required.
These filters are designed to be used with the FDS100 photodiode as well as the SM05PD1A and SM05PD1B mounted photodiodes and DET36A(/M) detector. However, they can also be used with silicon photodiodes in general, with varying degrees of spectral responsivity flattening depending upon the specific responsivity of the diode. To calculate the expected flattened spectral response induced by the filter, multiply together the transmission of the filter and spectral response of the Si photodiode. The graph above shows the calculated flattening effect for the FDS100 Si photodiode. Refer to the table to the right to download the transmission data. When using with the DET36A(/M), the bias voltage and amplifiers of the detector may alter the effective responsivity of the diode. Note that, depending upon the distance of the filter from the photodiode and the angle of the filter with respect to the normal, multiple reflections may occur that will alter the transmission through the filter; adjust the filter appropriately to account for this effect. Thorlabs' wedge prism mounting shims can be used to accommodate back reflections at different wedge angles.
The SRF11 Ø1" filter can be mounted onto the external SM1 (1.035"-40) threads of the DET36A(/M) using an internally threaded SM1 lens tube and an SPW606 SM1 spanner wrench. To mount the SRF15 Ø1/2" filter to the detector, use an SM05 lens tube, an additional SM05RR retaining ring, and an SPW603 SM05 spanner wrench. Alternatively, the filters can be mounted using our wide selection of filter mounts.