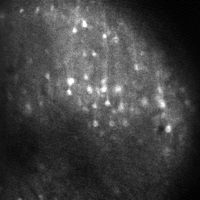 Click to Enlarge
500 µm Field of View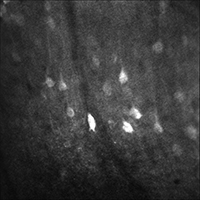 Click to Enlarge
200 µm Field of View
Neuronal activity in an awake mouse. Both laser-scanned multiphoton images used the G2P10 GRIN lens implanted 3 mm deep and a 20X, 0.5 NA Nikon Objective Lens. Images courtesy of Dr. Mackenzie Mathis, Rowland Institute, Harvard University.
Features
Use as an Implantable Lens Element for In Vivo Imaging Applications
Designed for Laser Scanning Microscopy
Broadband AR Coating for 500 - 1000 nm
Suitable for Excitation Wavelengths up to 1040 nm
Water Coupling on Sample Side and Air Coupling on Objective Side
Thorlabs' broadband gradient-index (GRIN) lens is available for imaging applications in which the region of interest is inaccessible with a microscope objective. The lens features a 0.25 mm working distance on the sample side and a 0.19 mm working distance on the objective side. It has a broadband AR coating optimized for 500 to 1000 nm wavelengths, which supports both widefield imaging techniques to locate the target region of interest (ROI) and multiphoton laser scanning of the sample. At 1 mm in diameter and 3.4 mm in length, this GRIN lens can be implanted deeply into a target specimen with minimal invasiveness and load. It provides a large collection angle due to a numerical aperture of 0.5 in water. See the Specs tab for more details on optical properties.
Unlike a traditional lens, a GRIN lens affects the optical path by varying the index of refraction within the lens itself. Additionally, in a GRIN lens, all optical path lengths (refractive index multiplied by distance) are the same due to the radially varying refractive index, in contrast to a spherical or aspheric lens. For information on how to calculate the refractive index as a function of radius, please see the Specs tab.
Note: this lens contains materials that might be toxic and is not recommended for prolonged periods of direct contact with live tissue. Click here to download a pdf of the SDS for this lens.
Specifications
Design Wavelength
550 nm
AR Coating Range (Both Ends)

500 - 700 nm, Ravg < 0.5%
700 - 1000 nm, Ravg < 1.5%
Working Distancea
0.25 mm on Sample Side (Water Immersion)
0.19 mm on Objective Side (Dry)
Viewing Angle (Max)
70°
Refractive Index (n1)

1.666 @ 550 nm
Gradient Constant (√A)

0.782 mm-1 @ 550 nm
Pitchb (P)

0.423 @ 550 nm
Face Angle (θ)
0°
Numerical Aperture (NA)
0.5 in Water
Magnification
-1
Length (Z)
3.4 mm ± 0.085 mm
Diameter (D)
1 mm +0/-0.05 mm
Field Curvaturec
100 µm
Polarization Preservation
0.99
Operating Temperature

<200 °C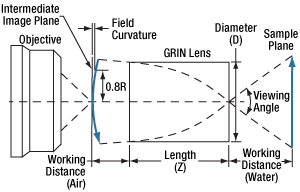 Click to Enlarge
Imaging Using a GRIN Lens

Click to Enlarge
AR Coating Reflectance; Click
Here
for Raw Data

Index as a Function of Radius
The index as a function of radius, as shown in the diagram to the bottom right, may be calculated with the equation:



where n1 is the index of refraction on the optical axis, √A is the gradient constant, and r is the radial position (ranging from -D/2 to +D/2, where D is the diameter).
Relating Pitch and Lens Length
The pitch and length of a GRIN lens may be related using the following equation:


where P is the pitch of the lens and Z is the length of the lens.
Handling
After opening the lens box, exercise extra care in lifting the plastic shield, as the G2P10 lens may cling to the shield and be lost during removal. The G2P10 should be handled with stainless steel tweezers, preferably those with a tapered end, and picked up by firmly grasping the side of the cylinder rather than the flat ends.
Cleaning
Use methyl alcohol as a cleaning solvent when necessary. Acetone may also be used without harm to the GRIN lens, but should be pure enough to not leave a residue on the lens surface.
Storage
For extended periods of time, the G2P10 should be stored in a "dry box" environment. This entails the use of a desiccant or heat source to prevent humidity from leaching the lens material. For short-term storage (less than a month), the plastic box and foam packing in which the lens is shipped will provide adequate storage, provided the lens is placed securely in the built-in slot to avoid chipping or scratching from other lenses.