Mesoscale Calcium Imaging
A low-magnification image from layer 2/3 cortex expressing GCaMP6f under the thy-1 promoter (GP 5.17 line), followed by four fields of view acquired at a higher resolution and frame rate. (Courtesy of Nicholas James Sofroniew, Daniel Flickinger, Jonathan King, and Karel Svoboda; Janelia Research Campus and Vidrio Technologies, Virginia, USA.)


Click for Details
Random Access Scanning
The mesoscope creates high-speed images following user-defined scan patterns that translate the field of view laterally and axially.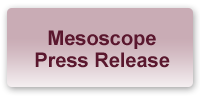 Several images and the video on this webpage are taken from https://elifesciences.org/content/5/e14472/
article-data and used here under a Creative Commons Attribution license.
Features
Enables Functional Imaging within a Ø5 mm Field of View
Scans can be Configured over Whole Field of View or over Multiple Non-Contiguous Regions
Microscope Body Enables ±20° Rotation Around Sample and Fine XYZ Motion
Remote Focusing Mirror for Fast Axial Control over 1 mm Travel Range
Enclosure Provides Large Working Volume for Specimen and Experimental Apparatus
Field of View can Move While Specimen Remains Fixed
Technology Used Under License from HHMI's Janelia Research Campus
Range of Motion
-20° to +20° Rotation About the Objective Focus
2" of Fine X Motion
6" of Fine Y Motion
2" of Fine Z Motion
X, Y, and Z Axes Rotate with the Objective
Remote Focusing Mirror Enables Fast Focusing Adjustments over 1 mm Range During Scans
Thorlabs' Mesoscope (US Patent 10,295,811) provides subcellular resolution over an exceptionally large Ø5 mm field of view. As shown in the schematic at the top of the webpage, it enables in vivo functional imaging of spatially separated brain regions operating in concert. When imaging across user-defined, non-contiguous regions of interest within the field, near-video frame rates are possible, as demonstrated in the video to the right. A lateral scan unit, in conjunction with a built-in remote focusing mirror, enables both lateral and axial translation of the field during the measurement.
Developed and commercialized in collaboration with Karel Svoboda's research laboratory at HHMI's Janelia Research Campus, the mesoscope is designed for large-area functional imaging of individual neurons. It contains many optical systems that are specifically optimized to work together, including the built-in remote focusing mirror, which translates the focal plane over a 1 mm range; the lateral scan unit, which comprises virtually conjugated mirrors and a resonant scanner; a multi-jointed periscope that maintains the laser alignment over the entire range of motion; and the objective itself.
Since the study of awake, behaving specimens benefits from large working spaces, the mesoscope's enclosure leaves the surface of the optical workstation free for the experimental apparatus. In addition, we incorporated motion control systems directly into the mesoscope's body, permitting the specimen to remain fixed on the optical workstation as the mesoscope moves. The mesoscope body allows -20° to +20° rotation for the objective, as well as 2" of fine X motion, 6" of fine Y motion, and 2" of fine Z motion; just as with Thorlabs' Bergamo® II multiphoton microscope, X, Y, and Z rotate along with the objective.
The included objective is specifically designed for use with the mesoscope and provides large excitation and collection NAs of 0.6 and 1.0, respectively. Fast fine focusing adjustments are enabled by the lightweight remote focusing mirror, which translates the focal plane without moving the objective. The scan path wavelength range of 900 - 1070 nm was chosen for optimal two-photon excitation of GFP and red fluorescent proteins, and is compatible with any tunable Ti:sapphire laser designed for multiphoton microscopy, such as Thorlabs' Tiberius® laser.
2P-RAM: Two-Photon Random Access Mesoscope
To enable image acquisition at near-video frame rates, the mesoscope implements a random access scanning pattern, in which the lateral scan unit travels from region to region within the Ø5 mm field of view in <10 ms. By hopping between regions, coordinated activity across multiple brain regions can be visualized. The motion of the lateral scan unit can be coordinated with the remote focusing mirror, enabling both lateral and axial translation of the field of view during a scan. This principle is demonstrated by the figure to the left.


Click to Enlarge
The mesoscope allows a user-defined number of regions of interest to be tracked within a single scan.
(Courtesy of Karel Svoboda, Janelia Research Campus, Virginia, USA.)
Please send questions via our mesoscope contact form or call (703) 651-1700
to discuss this new technology with one of our imaging specialists.
Mesoscope Specifications
Scan Path Wavelength Range
900 - 1070 nm
Field of View
Ø5 mm
Objective
Excitation NAa
0.6
Collection NAa
1.0
Working Distance
2.7 mm (Minimum)b
Lateral Scan Unit
12 kHz Resonant Scanner + Virtually Conjugated Galvo Scanner Set
Scan Speed
Field of View is Divided into 608-µm-Wide Vertical Stripes; Time per Scan Line is 42 µs
Scan Speed = 42 µs × Number of Stripes × Number of Scan Lines
Examplesc
Low Resolution, Full Field of View:
4.3 Frames per Second (6.3 mm × 5.4 mm Area, 500 Scan Lines, 9 Stripes)
High Resolution, Multiple Regions of Interest:
9.5 Frames per Second (Four 600 µm × 600 µm Areas, 512 Scan Lines per Area, 1 Stripe per Area)
Scan Resolution
Point Spread Function at λ = 970 nm: 0.61 µm Lateral FWHM, 4.25 µm Axial FWHM
Epi-Detection
Two Ultrasensitive GaAsP PMTs
Range of Motion
Objective Rotation
-20° to +20° Around Objective Focus; 0.1° Encoder Resolution
X
2" (50.8 mm); 0.5 µm Encoder Resolution
Y
6" (152.4 mm); 0.5 µm Encoder Resolution
Z
Stepper Motor
2" (50.8 mm), 0.1 µm Encoder Resolution
Remote Focusing Mirror
1 mm Travel Range
Please send questions via our mesoscope contact form or call (703) 651-1700
to discuss this new technology with one of our imaging specialists.