Right-Angle Mounting Adapters for Breadboards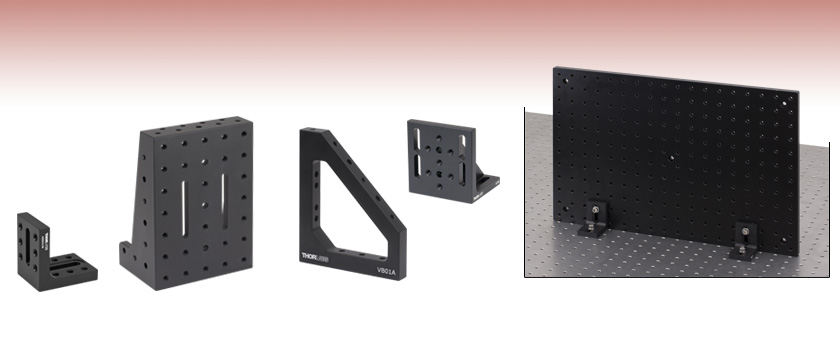 Stably Mount Small or Large Components at 90°
Slotted, Counterbored, and Tapped Holes Enable
Virtually Any Configuration
Fabricated from Black Anodized Aluminum
AP90RL
Large Right-Angle Bracket
AB90A
Right-Angle Bracket
VB01A
Vertical Bracket
AP90
Right-Angle Plate
Two AB90 Brackets Mounting an MB1218 Breadboard to an Optical Table

Please Wait
The brackets and plates featured on this page allow for our Solid Aluminum Breadboards to be mounted at 90° to an optical table. The mounting bracket or plate most appropriate for breadboard mounting depends on the size of the breadboard and the setup. For example, the AP90RL is ideal for use with larger breadboards requiring central support, whereas the VB01A is ideal for smaller breadboards requiring outer support. We recommend mounting only our smallest breadboards using the small right-angle brackets and plates.
All parts shown here are constructed from single aluminum blocks, providing exceptional precision and rigidity. Dimensions of each bracket and plate are provided in the PDF drawing under Docs (

), located next to the Part Number, below. Each mounting bracket or plate can be attached to our solid aluminum breadboards using our cap screws and balldrivers.