Right-Angle Brackets with a Clear Aperture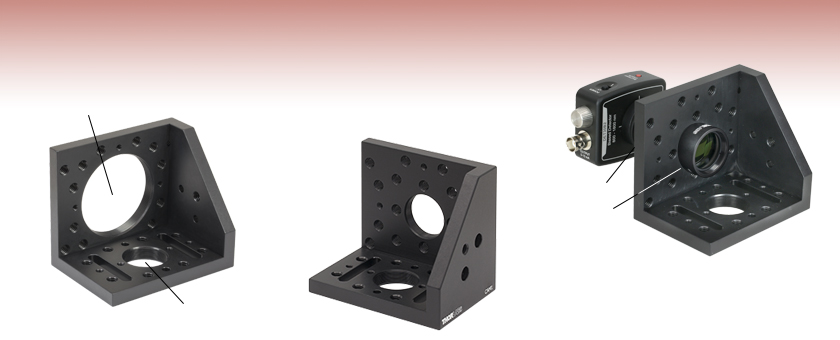 Right-Angle Bracket with SM-Threaded Clear Apertures
Generous Array of 1/4"-20 (M6) Tapped Holes
Rigid One-Piece Construction
SM2-Threaded Hole
SM1-Threaded Hole
CAM2
Two SM1-
Threaded
Holes
CAM1
DET30B2
Detector
SM1 Lens Tube
Mounted
Achromatic
Doublet
CAM1
Application Idea
The DET30B2 Ge Photodetector with an SM1 Lens Tube and a Mounted Achromatic Doublet Both Mounted on the CAM1

Please Wait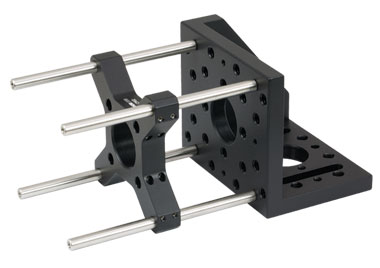 Click to Enlarge
60 mm cage system
is attached to the front of the CAM1 right-angle bracket. This is being adapted to a
30 mm cage system
using the
LCP02
30 mm to 60 mm cage plate adapter.
Features
Compatible with Many Thorlabs Optomechanical Devices
Compact Structure Suitable for Mounting Lens Tubes and Cage Structures in Confined Spaces
Threaded 1/4"-20 (M6) Holes Provide Numerous Mounting Options
Thorlabs' Clear Aperture Right-Angle Brackets provide a threaded clear aperture on both mounting surfaces, allowing them to be positioned directly within a beam path. The CAM1(/M) bracket offers two SM1 (1.035"-40) threaded mounting apertures, while the CAM2(/M) bracket offers one SM2 (2.035"-40) and one SM1-threaded aperture. These clear apertures are directly compatible with SM-threaded components such as our Lens Tubes. Tapped 4-40 holes on one surface are compatible with Thorlabs' 60 mm Cage Structures, as shown in the figure to the right. This rigid structure provides the strength and stability required to support large cantilever loads like lens tubes containing several optics.
Each bracket surface has an array of 1/4"-20 (M6) and 6-32 (M4) tapped holes. One surface also has slots for 1/4"-20 (M6) cap screws for convenient mounting to an optical table. The angled support has two #8 (M4) counterbores and one 1/4"-20 (M6) tapped hole for even greater versatility.
Please Note: The SM-threaded holes for previous versions of these brackets were offset by 0.06" (1.5 mm). This offset was corrected for the CAM1/M as of December 12, 2014, the CAM2/M as of February 10, 2015, and the CAM1 and CAM2 as of April 23, 2015.