Light-Tight Filter Wheel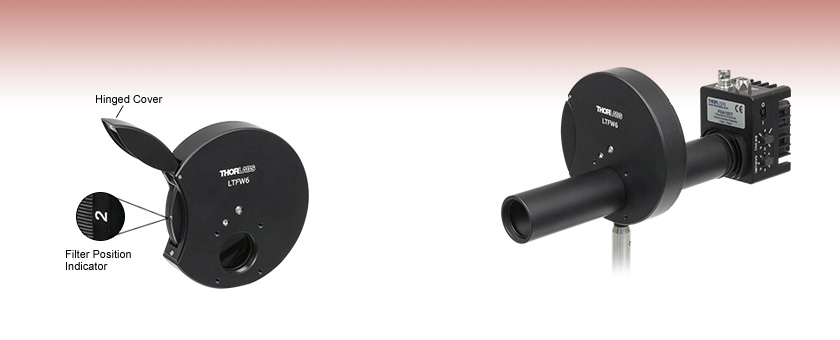 Light-Tight Filter Wheel for Ø1" Filters
Compatible with SM1 Lens Tubes and 30 mm Cage System
LTFW6
(Filter Not Included)
LTFW6 Shown with SM1 Lens
Tubes and PDA10DT Detector

Please Wait
Click to Enlarge
To switch filter positions, lift the cover on the side of the housing and manually turn the wheel.
Features
Light-Tight Housing Ideal for Sensitive Measurements
6 SM1-Threaded Filter Housings Hold Ø1" (Ø25 mm) Filters up to 0.25" (6.4 mm) Thick
30 mm Cage System and SM1 Lens Tube Compatible
8-32 and M4 Adapters Included for Mounting to Ø1/2" Posts
The LFTW6 Six-Position Light-Tight Filter Wheel is designed for situations where a manual filter wheel must be completely isolated from sources of stray light. The outer cover seals out sources of stray light, making this filter wheel ideal for sensitive measurement systems using a detector, such as a PMT.
The filter wheel is equipped with six SM1-threaded filter holders designed for holding Ø1" or Ø25 mm plano optics up to 0.25" (6.4 mm) thick. The rotation mechanism is located under a hinged cover, as shown in the photo to the right. It has a knurled edge to aid in rotating between filters between the various positions. In addition, the wheel edge is also engraved with numbers to identify the filter locations. Once the proper filter is in position, a magnet holds the cover closed. The filter wheel uses a spring-loaded detent mechanism to lock into place at each location and center the filter within the clear aperture.
The outer cover features internal SM1-threaded (1.035"-40) input and output apertures surrounded by 4-40 tapped blind holes for mounting rods for our 30 mm cage system. By attaching SM1 lens tubes to both the entrance and exit apertures, an entire system can be made light tight. Please note that since the SM1 threading extends all the way through the cover, we only recommend threading in components, such as our standard Ø1" lens tubes, that have an external SM1 thread depth of 0.12" or less, or damage to the components may occur.
The plate on the back side of the housing needs to be removed to insert or remove filters. It is secured with three button-head screws that can be loosened with a 0.05" (1.3 mm) hex key, as shown in the two photos below right. Six SM1RR retaining rings are included for securing the filters in the wheel. An SM1 spanner wrench can be used to tighten the retaining rings.
The bottom of the filter wheel is M6 x 0.5 threaded, but adapters with either 8-32 or M4 threads are included to provide post mounting. Additional adapters are available; please contact tech support for details.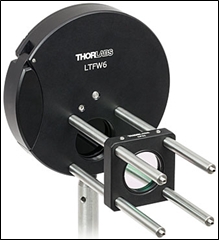 Click to Enlarge
The LTFW6 with a 30 mm cage assembly attached.
Click to Enlarge
The Filters are held in SM1-Threaded mounts and secured with SM1RR retaining rings.
Click to Enlarge
The filter access panel is removed by unscrewing three button-head screws with a 0.05" (1.3 mm) balldriver.