Optics Handling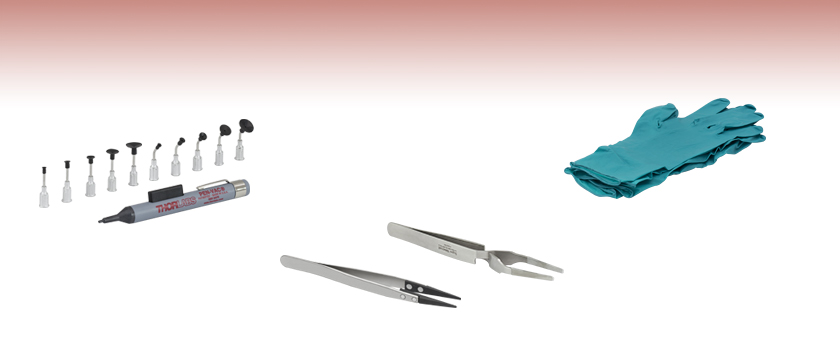 Stainless Steel or Nylon Tweezers
Vacuum Pick-Up Tool
Nitrile Gloves
TZ1
TZ3
Tweezers
VP10C
Vacuum Pick-Up Tool, Set of 10 Tips
Nitrile Gloves

Please Wait

Click to Enlarge
TZ3 Self-Closing Tweezers Holding a Ø1" Lens
TZ1: Tweezers with Stainless Steel Body and Carbon-Fiber Tips for ≤Ø12 mm Optics
TZ2

: Tweezers with Nylon Body and Tips for ≤Ø25.4 mm Optics

TZ3

: Tweezers with Stainless Steel Body and Polyolefin Tips for Ø19 mm to Ø25.4 mm Optics

Chemically Resistant to Common Solvents
Thorlabs offers three types of tweezers for the handling of delicate optics. Our TZ1 tweezers work well for holding the edges of Ø12 mm or smaller optics. These tweezers are made from stainless steel and have molded-carbon-fiber tips that are chemically resistant to common solvents to protect the object being handled. Alternatively, our TZ2 tweezers can accommodate Ø25.4 mm or smaller optics and are made from nylon that is chemically resistant to common lab solvents. Finally, our TZ3 self-closing tweezers are able to comfortably hold the edges of Ø19 mm to Ø25.4 mm optics, as shown in the photo to the right. The TZ3 tweezers have a polyolefin cover over each tip that is unaffected by common lab solvents and helps to grip and protect optics.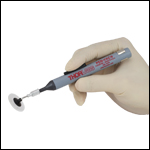 Click to Enlarge
VP10C Vacuum Pick-Up Tool Holding a Ø1" Lens
Self-Contained Vacuum Tweezer Ideal for Gently Lifting and Handling Optics
Includes Five 45°-Angled and Five Straight Interchangeable Tips with Ø1/8", Ø1/4", Ø3/16", Ø3/8", or Ø1/2" Suction Cups
Electrostatic Discharge Safe
The VP10C Vacuum Pick-Up Tool Kit is ideal for lifting and handling small optics, such as lenses and mirrors, without damaging the optic. This pick-up tool is shaped like a pen for ease of use and also includes a pen clip for carrying. Each kit comes with a set of five angled and five straight interchangeable tips with Ø1/8", Ø1/4", Ø3/16", Ø3/8" or Ø1/2" Buna-N (nitrile) suction cups. Hold and then let go of the black button while contacting an optic with a suction cup to apply the vacuum force; press the black button to release the optic.
Please use caution when handling an optic as improper use may cause damage to the optic surface. We recommend that this tool be used with optics that have a plano surface. The VP10C should not be used with gratings, pellicle beamsplitters, or any optic that has an unprotected coating.

Glove Fitting Guidelines
Item #
Glove Size
Palm Sizea
Maximum Middle Finger Length
MC10-S
Small
6.5" - 7.5" (16.51 cm - 19.05 cm)
2.75" (6.99 cm)
MC10-M
Medium
7.5" - 8.5" (19.05 cm - 21.59 cm)
3.25" (8.26 cm)
MC10-L
Large
8.5" - 9.5" (21.59 cm - 24.13 cm)
3.6" (9.14 cm)
MC10-XL
Extra Large
9.5" - 10.5" (24.13 cm - 26.67 cm)
3.75" (9.53 cm)
Circumference Around the Palm Not Including the Thumb
Available in 4 Sizes (Small, Medium, Large, or Extra Large)
Provides Protection for the Entire Hand While Handling Optics
Packs of 100 Gloves
These disposable, powder-free nitrile gloves provide protection for the user's hands, while preventing contamination and damage to optical elements being handled. Nitrile gloves are durable and chemically resistant, and they offer a latex-free alternative for those with latex allergies. They are available in four sizes (small, medium, large, or extra large), and come in packages of 100 gloves. The table to the right provides hand measurement guidelines for determining which glove size would fit best.