High Voltage Amplifier for EO Modulators and Piezo Actuators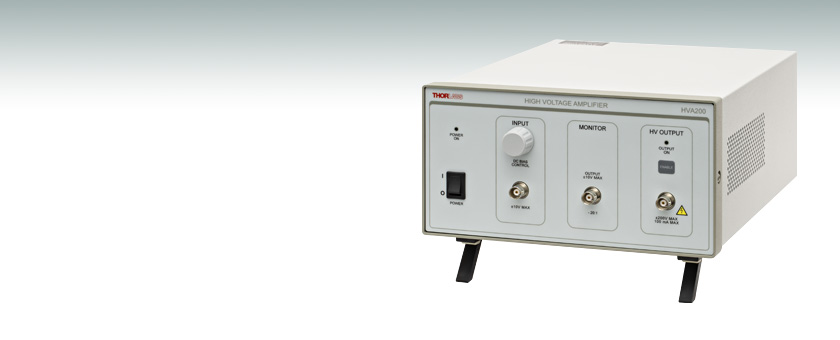 Maximum of ±200 V Bipolar Output
−20X Voltage Gain
Up to 100 mA Continuous Output Current
1 MHz Bandwidth
HVA200
High-Voltage Amplifier

Please Wait
Features
Adjustable Bias for Full-Range DC Offset Control
Low Output Noise of 1.5 mV (RMS)
USB 2.0 Connection for Remote Operation
Thorlabs' HVA200 High Voltage Amplifier is ideal for driving our Electro-Optic (EO) Modulators, Shear Piezo Chips, and Piezo Scanning Actuators (see compatibility notes below). The amplifier provides a maximum output voltage of ±200 V, a continuous current output of up to 100 mA, and a 1 MHz bandwidth, with a low output noise of 1.5 mV (RMS). The voltage gain of -20 boosts the input signal up to the high voltages needed to drive our lithium niobate broadband modulators and shear piezo chips. An adjustable bias allows for precise DC offset control over the full -200 V to +200 V output range. A high-voltage, wideband, high-slew-rate output amplifier is used to achieve the desired output.
The input amplifier includes a summing junction that adds an adjustable DC bias to the input modulation. This composite signal is then boosted by a fixed voltage gain of -20 up to a maximum output of ±200 V. For example, if the HVA200 amplifier is sweeping from -200 V to +200 V and a 10 V DC bias is applied, the resulting output will range from -190 V to +200 V (i.e., the sweep is clipped because the maximum output voltage is reached). If, however, the unit is sweeping from -100 V to +100 V and the same 10 V DC bias is applied, the output will sweep from -90 V to +110 V. The DC bias control consists of a rotary encoder that provides for precise control of the DC level. A real-time monitor voltage output with a scaling of 20:1 (when used with high-impedance detectors), is provided, such that an output of +200 V results in a +10 V monitor voltage. Please see the Specs tab above for the complete specifications.
The HVA200 amplifier is CE compliant. For added safety, a front-panel High Voltage (HV) Enable button must be pressed to connect the HV output to the output BNC. It includes an SMA-to-BNC cable for connection to our free-space electro-optic modulators, a USB 2.0 Type A to B cable for remote operation, and a region-specific power cord.
EO Modulator and Shear Piezo Chip Compatibility
The amplifier produces a maximum +200 V half-wave voltage, making it ideal for driving our non-resonant EO phase modulators to fully modulate optical signals with wavelengths up to approximately 900 nm. There are some limitations on the operational wavelength ranges of some of the modulators when the HVA200 amplifier is used as the driver. Please see the electro-optics modulators page for additional details.
We can generally recommend this amplifier for our piezo scanning actuator and shear piezo chips and stacks. For the PN5FC3 multi-axis piezo positioner, note that while the HVA200 can drive the stack in the longitudinal direction, the relatively low current provided by the HVA200 combined with the high capacitance of the stack limits the maximum driving voltage frequency. In addition, care must be taken not to exceed the driving voltage limits of this stack. Drivers better compatible with the longitudinally-translating stack incorporated in the PN5FC3 include the MDT69xB or KPZ101 Open-Loop Controllers, and the BPC301 and BPC303 Closed-Loop Controllers are also options.
Electrical Characteristics
Input Voltage Range
-10 V to +10 V
Input Impedance
1 kΩ
Output Voltage
-200 V to +200 V
Output Impedance
50 Ω
Slew Rate
400 V/μs
Output Noise
1.5 mV (RMS)
Voltage Gaina
-20 ± 2%
DC Bias Adjust
-200 V to +200 V
HV Monitor to Output Ratio
With Input Impedance of 50 Ω
40:1 (Vout / 40 ± 6%)
With Input Impedance of >10 kΩ
20:1 (Vout / 20 ± 6%)
AC Power
115 V / 230 V, 50-60 Hz, 70 VA
The voltage gain is inverted to preserve the high slew rate of the output amplifier (i.e., a -1 V input results in +20 V output).
Physical Features
Input Connector
BNC
Output Connector
BNC
HV Monitor Connector
BNC
Bias Adjustment
Digital Encoder
Output Enable
Front Panel Push Button
Output HV Indicator
Bright LED
Power Switch
Rocker Switch
Dimensions
9" x 5" x 12.5"
(228.6 mm x 127 mm x 317.5 mm)
Weight
11.6 lbs
Other
Tilting Rubber-Padded Feet
Max Ratings
Max Output Current
100 mA DC
Max Input Voltage Range
-10 V to 10 V
Fuse Rating
630 mA @ 115 VAC (5x20 mm SLO-BLO)
400 mA @ 230 VAC (5x20 mm SLO-BLO)
Modulation Input Signal
BNC Female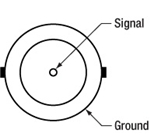 ±10 V, 10 mA
HV Output Monitor
BNC Female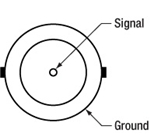 ±10 V, 200 mA, Min Load 50 Ω
HV Output
BNC Female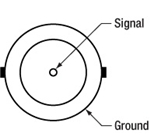 ±200 V, 100 mA