Pockels Cell Driver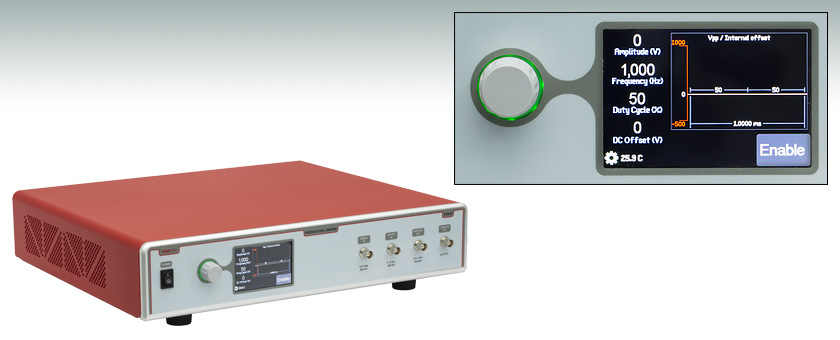 1000 V Differential Voltage Output
Rise Time: <1.2 μs
LCD Touch Screen or Remote Computer Control
Internal or External Signal Operation
PCD1K
Pockels Cell Driver
LCD Touch Screen

Please Wait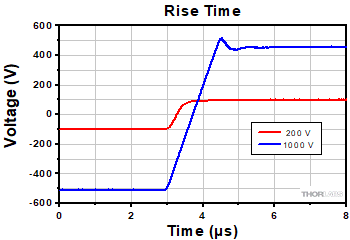 Click to Enlarge
This graph shows the rise times for 200 V and 1000 V signals from the PCD1K driver when driving a 20 pF Pockels cell with the included
CA3262
cables.

Click to Enlarge
This graph shows typical combined differential output from the PCD1K driver.
Features
Up to 1000 V Differential Voltage
Rise Time: <1.2 μs
Amplifies Internal or External Input Signal and Offset
Touchscreen or Remote Computer Control
Included with the PCD1K Pockels Cell Driver:

Software Available for Download (See Software Tab for Details)
Thorlabs' PCD1K Pockels Cell Driver is a voltage amplifier designed to drive a Pockels cell up to 1000 V with a rise time <1.2 µs. It features a LCD touch screen and encoder, allowing for full functionality through a simple interface. The driver can operate with an internal or external input signal and offset. Please note, this driver is not appropriate to drive the EO-PC series Pockels cells.
Operation
The driver incorporates an internal frequency generator that can produce a square wave with frequencies up to 250 kHz, allowing it to function fully without any external signals or DC voltages. The touchscreen interface allows the user to adjust the amplitude, frequency, duty cycle, and DC offset. Full DC adjustment is available when the internal frequency generator is used. The driver can also be used to amplify an external voltage source, typically a square wave with a DC offset. The amplification of the external input signal and the DC offset can be controlled independently. See the Specs table for more information on input signal requirements.
A voltage monitor output is provided to allow real-time monitoring of the high voltage (HV) output. The monitor has a scaling of 100:1 so that an output of 1000 V results in a 10 V monitor voltage. Since this is a differential signal, the monitor output is a bipolar ±5 V signal. Details on input and output signal connections can be found on the Front & Back Panels tab.
For connecting to a lower voltage Pockels cell with a BNC connection, T4005 SHV Female to BNC Male Adapters can be used to convert connector types. To ensure a safe user connection, connect the BNC adapter to the Pockels cell BNC connection before attaching the SHV cable. Additional Safe High Voltage (SHV) Coaxial Cables are also available separately.
Safety Features
The output is provided differentially with a separate shielded positive and negative signal through SHV style connectors rated for 1 kV+. The shield is directly connected to the case and provides a completely enclosed high voltage path to prevent user access to potentially dangerous high voltage. These SHV outputs are located on the rear panel to limit user accessibility and keep SHV outputs away from low voltage signals. For added safety, a HV Enable button on the touchscreen must be pressed to connect the HV output to the output BNC. The output is automatically disabled each time the system is powered on.
Additionally, there is a safety interrupt that prevents the unit from working while the cover is open, though the user should not open the PCD1K driver as there are no user serviceable parts inside.
Computer Control
In addition to the touch screen control, the driver is fully configurable through USB control through either terminal commands, such as HyperTerminal, through a provided software application, or through software development kits (SDKs). See the Software tab to download the software.
PCD1K Specifications
Bandwidth (Square Wave)
250 kHz
Output Voltage (Max)
Differentiala
1000 V
Each Output to Chassisb
±500 V
Output Currentc
85 mA
Output Rise/Fall Timed (Click for Graph)
<1.2 μs
Signal In BNCe
Voltagef
5 Vpp
Range Options
-5 V to 0 V, ±2.5 V, or 0 V to 5 V
Impedance
2 kΩ
Offset In BNCe
Voltage
0 V to 5 V, DC
Impedance
10 kΩ
Monitor Out BNCe
Voltage
±5 V
Max Load Current
10 mA
Min Load Impedance
500 Ω
Trigger Out BNCe
Voltage
5 V TTL
Max Load Current
5 mA
Min Load Impedance
1 kΩ
Output Connector (Rear)
SHV
USB Port Type
USB 2.0 Type-B
Operating Temperature
15 °C - 35 °C
Storage Temperature
0 °C - 50 °C
AC Input
85 - 264 VAC, 50 - 60 Hz Switching Power Supply
AC Input Power
130 W
AC Input Fuse
1.0 A Type T Slow Blow
Display
3.5" TFT LCD Touchscreen
Size (L x W x H)
15.60" x 17.01" x 4.14"
(396.3 mm x 432.0 mm x 105.3 mm)
This is the max voltage as seen at the load, or Pockels cell, with both outputs connected.
This is the voltage seen at each output connector with respect to the system chassis, or SHV shell.
The output is short circuit protected above output current limit.
Actual rise/fall is dependent on load characteristics. Worst case test performed with 10' cable set (~ 30 pF/ft) and 10 pF Pockels cell at 1000 Vpp output.
The maximum USB and BNC cable length is 1.5 meters in order to avoid a susceptibility to RF interference according to IEC610000-4-3.
Input voltage range needs to be set through the LCD setting menu to one of the three range options listed.This setting can be found in the Signal Menu, using the Signal Sources drop down menu.
Front and Back Panel


Click to Enlarge
Back Panel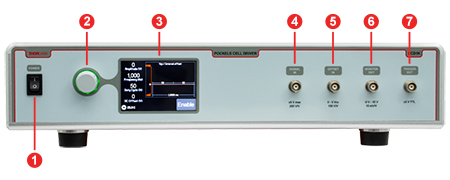 Click to Enlarge
Front Panel
Back Panel
Callout
Description
1
USB 2.0 Type-B Port
2
High Voltage Output (SHV Female Connector)
3
High Voltage Output (SHV Female Connector)
4
Main Power Connection with Fuse Drawer
Front Panel
Callout
Description
1
Main Power Toggle Button
2
Control Knob with LED Status Ring
3
Main Display
4
Signal In (BNC Female Connector)
5
Offset In (BNC Female Connector)
6
Monitor Out (BNC Female Connector)
7
Trigger Out (BNC Female Connector)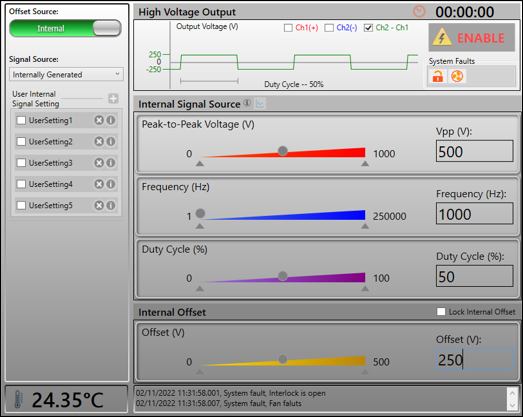 PCD1K Pockels Cell Driver Software Front Panel
A Windows®-based GUI application software is provided to the user to control the Pockels Cell Driver from a computer (not included). A Software Development Kit (SDK) also comes with the device for integration of the Pockels cell driver into the user's own applications.
Posted Comments:
No Comments Posted