Focusing Optics
Item #
Description
C220TMD-A
350 - 700 nm, f = 11.0 mm, NA = 0.25 Aspheric Lens
C220TMD-B
600 - 1050 nm, f = 11.0 mm, NA = 0.25 Aspheric Lens
C220TMD-C
1050 - 1700 nm, f = 11.0 mm, NA = 0.25 Aspheric Lens
Features
KT110 Fiber Coupler Accepts FC or SMA Fiber Cables
High-Precision Differential Adjusters Included with KT110 Provide Submicron Translation
KT310 Spatial Filter Directly Compatible with Ø9 mm Aspheric Lens Housings
Easy-to-Follow Instructions and Alignment Tools
Fiber Launch Systems
Thorlabs' KT110(/M) fiber launch system couples free-space laser beams into fiber optic cables. This system, which can be used with single or multimode fiber, is equipped with high-precision differential adjusters capable of submicron translation.
This fiber launch system only includes optomechanical components (see the Components tab for a complete list of components). The table to the right lists the recommended optics for focusing collimated light into the output fiber (KT110).
Spatial Filter Systems
Many applications, such as holography, require a beam with uniform intensity. The KT310 spatial filter is ideal for producing a clean, spatially uniform, Gaussian beam. The input of this system consists of a Z-axis translator, which can house a diffraction-limted aspheric lens. This aspheric lens focuses the beam through a pinhole, which can be mounted in the XY translator. The output consists of a Ø1" cage mount, which holds and centers a collimating optic.
This filter system only includes optomechanical components (see the Components tab for a complete list of components). The aspheric lens, collimating optics, and pinhole must be purchased separately. Please refer to the Tutorial tab for more information on choosing the appropriate optics and pinhole for your application.
Principles of Spatial Filters
For many applications, such as holography, spatial intensity variations in the laser beam are unacceptable. Our KT310 spatial filter system is ideal for producing a clean Gaussian beam.




Figure 1: Spatial Filter System
The input Gaussian beam has spatially varying intensity "noise". When a beam is focused by an aspheric lens, the input beam is transformed into a central Gaussian spot (on the optical axis) and side fringes, which represent the unwanted "noise" (see Figure 2 below). The radial position of the side fringes is proportional to the spatial frequency of the "noise".


Figure 2
By centering a pinhole on a central Gaussian spot, the "clean" portion of the beam can pass while the "noise" fringes are blocked (see Figure 3 below).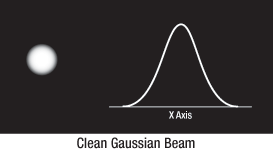 Figure 3
The diffraction-limited spot size at the 99% contour is given by:
where λ = wavelength, ƒ=focal length and r = input beam radius at the 1/e2 point.
Choosing the Correct Optics and Pinhole for Your Spatial Filter System
The correct optics and pinhole for your application depend on the input wavelength, source beam diameter, and desired exit beam diameter.
For example, suppose that you are using a 650 nm diode laser source that has a diameter (1/e2) of 1.2 mm and want your beam exiting the spatial filter system to be about 4.4 mm in diameter. Based on these parameters, the C560TME-B mounted aspheric lens would be an appropriate choice for the input side of spatial filter system because it is designed for use at 650 nm, and its clear aperture measures 5.1 mm, which is large enough to accommodate the entire diameter of the laser source.
The equation for diffraction limited spot size at the 99% contour is given above, and for this example, λ = (650 x 10-9 m), f = 13.86 mm for the C560TM-B, and r = 0.6 mm. Substitution yields



Diffraction-Limited Spot Size (650 nm source, Ø1.2 mm beam)
The pinhole should be chosen so that it is approximately 30% larger than D. If the pinhole is too small, the beam will be clipped, but if it is too large, more than the TEM00 mode will get through the pinhole. Therefore, for this example, the pinhole should ideally be 19.5 microns. Hence, we would recommend the mounted pinhole P20S, which has a pinhole size of 20 μm. Parameters that can be changed to alter the beam waist diameter, and thus the pinhole size required, include changing the input beam diameter and focal length of focusing lens. Decreasing the input beam diameter will increase the beam waist diameter. Using a longer focal length focusing lens will also increase the beam waist diameter.
Finally, we need to choose the optic on the output side of the spatial filter so that the collimated beam's diameter is the desired 4.4 mm. To determine the correct focal length for the lens, consider the following diagram in Figure 4, which is not drawn to scale. From the triangle on the left-hand side, the angle is determined to be approximately 2.48o. Using this same angle for the triangle on the right-hand side, the focal length for the plano-convex lens should be approximately 50 mm.



Figure 4: Beam Expansion Example
For this focal length, we recommend the LA1131-B plano-convex lens [with f = 50 mm at the design wavelength (λ = 633 nm), this is still a good approximation for f at the source wavelength (λ = 650 nm)].
Note: The beam expansion equals the focal length of the output side divided by the focal length of the input side.
For optimal performance, a large-diameter aspheric lens can be used in place of a plano-convex lens if the necessary focal length on the output side is 20 mm (see AL2520-A, AL2520-B, AL2520-C). These lenses are 25 mm in diameter and can be held in place using the supplied SM1RR Retaining Ring.
---
Cage System Overview
The Cage Assembly System provides a convenient way to construct large optomechanical systems with an established line of precision-machined building blocks designed for high flexibility and accurate alignment.
16 mm, 30 mm, and 60 mm Cage System Standards
Thorlabs offers three standards defined by the center-to-center spacing of the cage assembly rods (see image below). The 16 mm cage, 30 mm cage, and 60 mm cage standards are designed to accomodate Ø1/2", Ø1", and Ø2" optics, respectively. Specialized cage plates that allow smaller optics to be directly inserted into our larger cage systems are also available. All locking setscrews used in these cage plates are standard 4-40 setscrews, which use a 0.05" hex key.
Standard Threads
The flexibility of our Cage Assembly System stems from well-defined mounting and thread standards designed to directly interface with a wide range of specialized products. The three most prevalent thread standards are our SM05 Series (0.535"-40 thread), SM1 Series (1.035"-40 thread), and SM2 Series (2.035"-40 thread), all of which were defined to house the industry's most common optic sizes. Essential building blocks, such as our popular lens tubes, directly interface to these standards.
An example of the standard cage plate measurements determining cage system compatibility.
Standard Cage System Measurements
Cage System
16 mm
30 mm
60 mm
Thread Series
SM05
SM1
SM2
Rod to Rod Spacing
16 mm (0.63")
30 mm (1.18")
60 mm (2.36")
Total Length
25 mm (0.98")
41 mm (1.60")
71.1 mm (2.8")
Cage Components
Cage Rods
16 mm
These rods are used to connect cage plates, optic mounts, and other components in the cage system. The SR Series Cage Rods are compatible with our 16 mm cage systems, while the 30 mm and 60 mm cage systems use ER Series Cage Rods.
30 mm
60 mm
Cage Plates
16 mm
These serve as the basic building blocks for a cage system. They may have SM-threaded central bores, smooth bores sized for industry standard optics or to accommodate the outer profile of our SM Series Lens Tubes, or specialized bores for other components such as our FiberPorts.
30 mm
60 mm
Optic Mounts
16 mm
Thorlabs offers fixed, kinematic, rotation, and translation mounts specifically designed for our Cage Systems.
30 mm
60 mm
Cage Cubes
16 mm
These cubes are useful for housing larger optical components, such as prisms or mirrors, or optics that need to sit at an angle to the beam path, such as beamsplitters. Our cage cubes are available empty or with pre-mounted optics.
30 mm
60 mm
Post and Breadboard Mounts and Adapters
Mounting options for cage systems can be found on our Cage System Construction pages. Cage Systems can be mounted either parallel or perpendicular to the table surface.
Size Adapters
Cage System Size Adapters can be used to integrate components from different cage system and threading standards.
Specialized Components
Thorlabs also produces specialized cage components, such as Filter Wheels, a HeNe Laser Mount, and a FiberPort Cage Plate Adapter, allowing a wide range of our products to be integrated into cage-mounted optical systems. Explore our Cage Systems Visual Navigation Guide to see the full range of Thorlabs' cage components.