5-Axis Kinematic Mount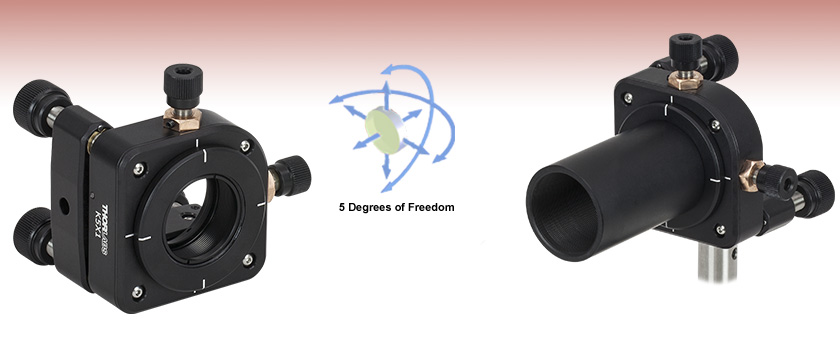 Five Axes of Lockable Adjustment
Accepts Ø1" (Ø25 mm) Optics up to 0.35" (9.5 mm) Thick
K5X1
Pitch, Yaw, and XYZ Adjustment
K5X1 Kinematic Mount Shown
with a Ø1" Lens Tube
and Ø1/2" Post

Please Wait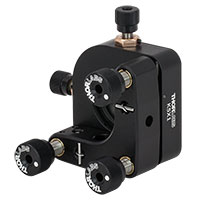 Click to Enlarge
Rear View of the K5X1 Kinematic Mount
Features
Five Axes of Lockable Adjustment

Pitch/Yaw: ±4° at 8 mrad/rev
X and Y Translation: ±0.04" (±1.0 mm) at 254.0 µm/rev
Z Translationa: ±0.13" (±3.2 mm) at 318 µm/rev

SM1-Threaded (1.035"-40) Bore for Ø1" (25 mm) Optics up to 0.38" (9.5 mm) Thick
Two #8 (M4) Counterbores for Post Mounting
Compact Size: 2.54" x 2.54" x 2.10" (64.4 mm x 64.4 mm x 53.3 mm)
The K5X1 5-Axis Kinematic Optic Mount offers an optic cell that can be adjusted along 5 axes (pitch, yaw, and XYZ), each with a locking screw for stability. The translating cell has SM1 threading (1.035"-40) for attaching Ø1" mounted optics. The cell can also be used to mount Ø1" (Ø25 mm) unmounted optics up to 0.38" (9.5 mm) thick using the included SM1RR Retaining Ring, which can be tightened using an SPW602 or SPW606 Spanner Wrench (sold separately). The mount features engraved vertical and horizontal tick marks to use as an alignment aid for the mounting cell. For post mounting the K5X1 kinematic mount in a right- or left-handed configuration, two orthogonal #8 (M4) counterbores are provided. For information on the hex key sizes needed to adjust and lock the kinematic mount, please click on the Docs icon (

) below and select a drawing format.
For adjustment on all of the axes available with the K5X1 plus rotational adjustment, we offer the K6XS 6-Axis Kinematic Mount.
If higher adjustment resolution or control is desired, the three 1/4"-80 adjusters used for tip/tilt translation can be switched with DAS110 or DM22 Differential Adjusters.
Z-axis translation is accomplished by turning all three tip/tilt adjusters equally in the same direction.