Motorized Kinematic Mount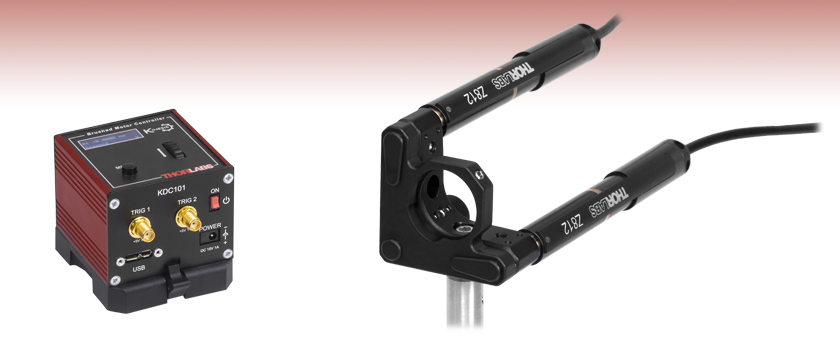 Motorized Tip/Tilt Ø1" Mirror Mount
Ideal for OEM Applications
KDC101
Controller for
the KS1-Z8
(2 Required,
Shown with Included Mounting Plate)
KS1-Z8
Motorized Kinematic Mount

Please Wait
Features
Ultra Stable Ø1" Mirror Mounts
Two Motorized Actuators, One Manual Actuator
±4° Pitch and Yaw Adjustment
Thorlabs offers the popular Ultra-Stable KS1 Ø1" mirror mount in a motorized version. The KS1-Z8 mount comes with two of our Z812 DC Servo Motors and includes a 1/4"-80 threaded adjuster, which allows for greater pitch and yaw adjustment over standard two adjuster mounts. The mount is fabricated from black anodized aluminum.
The two Z812 DC Actuators are equipped with commercial grade internal limit switches to provide over drive protection. The motors also have an encoder to provide 1.1 arcsec angular step size. Two KDC101 K-Cube™ DC servo motor controllers are required for use with KS1-Z8 motorized mount, one for each channel. The KDC101 and compatible power supplies are not included with the motorized kinematic mount, but are available below. Note that if you will be using a Z8 series DC Servo Motor with a previously purchased, former generation TDC001 T-Cube DC servo motor controller, you may need to update your firmware to version 1.0.10 or later. This update is included in the APT Software download.
Please refer to the Actuator Specs tab for more information on these motorized actuators.
Z812 Actuators
Item #
Z812
Travel Range
12.0 mm
Backlash
<8 µm
Bidirectional Repeatability
<1.5 µm
Home Location Accuracy
<2 µm
Homing Repeatability
±1.0 µm
Vertical Load Capacity
4.5 kg (Max)
Horizontal Load Capacity
9 kg (Max)
Vertical Load Capacitya
<4.0 kg
Horizontal Load Capacitya
<7.5 kg
Velocityb
2.6 mm/s (Max)
Velocity Stability
±0.125 mm/s
Acceleration
4 mm/s2 (Max)
Absolute On-Axis Accuracy
95 µm
Maximum Percentage Accuracy
0.82%
Motor Typec
6 VDC Servo
Motor Coil Temperature
85 °C (Max)
Phase to Phase Resistance
33.0 Ω (Max)
Phase to Phase Inductance
0.6 mH (Max)
Limit Switch Life Time
<100,000 Cycles
Minimum Achievable Incremental Movement
0.05 µm
Minimum Repeatable Incremental Movement
0.2 µm
Operating Temperature Range
41° to 104° F
(5° to 40° C)
Weight
0.134 kg
Recommended
At 2.6 mm/s, velocity ripple and distortion of the acceleration/deceleration profile may occur. For improved control, the maximum velocity should be limited to 2.3 mm/s.
The nominal motor drive voltage is 6 V. Voltages up to 12 V can be used with pulse width modulation (PWM) controlled outputs.
Calculating the Linear Displacement per Encoder Count
For the Z812, there are 512 encoder counts per revolution of the motor. The output shaft of the motor goes into a 67.49:1 planetary gear head. This requires the motor to rotate 67.49 times to rotate the 1.0 mm pitch lead screw one revolution. The end result is the lead screw advances by 1.0 mm.
The linear displacement of the actuator per encoder count is given by
512 x 67.49 = 34,555 encoder counts per revolution of the lead screw,
whereas the linear displacement of the lead screw per encoder count is given by
1.0 mm / 34,555 counts = 2.9 x 10-5 mm (29 nm).
Thorlabs offers two platforms to drive our wide range of motion controllers: our Kinesis® software package or the legacy APT™ (Advanced Positioning Technology) software package. Either package can be used to control devices in the Kinesis family, which covers a wide range of motion controllers ranging from small, low-powered, single-channel drivers (such as the K-Cubes™ and T-Cubes™) to high-power, multi-channel, modular 19" rack nanopositioning systems (the APT Rack System).
The Kinesis Software features .NET controls which can be used by 3rd party developers working in the latest C#, Visual Basic, LabVIEW™, or any .NET compatible languages to create custom applications. Low-level DLL libraries are included for applications not expected to use the .NET framework. A Central Sequence Manager supports integration and synchronization of all Thorlabs motion control hardware.

Kinesis GUI Screen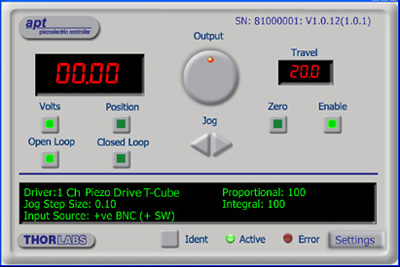 APT GUI Screen
Our legacy APT System Software platform offers ActiveX-based controls which can be used by 3rd party developers working on C#, Visual Basic, LabVIEW™, or any Active-X compatible languages to create custom applications and includes a simulator mode to assist in developing custom applications without requiring hardware.
By providing these common software platforms, Thorlabs has ensured that users can easily mix and match any of the Kinesis and APT controllers in a single application, while only having to learn a single set of software tools. In this way, it is perfectly feasible to combine any of the controllers from single-axis to multi-axis systems and control all from a single, PC-based unified software interface.
The software packages allow two methods of usage: graphical user interface (GUI) utilities for direct interaction with and control of the controllers 'out of the box', and a set of programming interfaces that allow custom-integrated positioning and alignment solutions to be easily programmed in the development language of choice.
A range of video tutorials is available to help explain our APT system software. These tutorials provide an overview of the software and the APT Config utility. Additionally, a tutorial video is available to explain how to select simulator mode within the software, which allows the user to experiment with the software without a controller connected. Please select the APT Tutorials tab above to view these videos.
Software
Kinesis Version 1.14.35
The Kinesis Software Package, which includes a GUI for control of Thorlabs' Kinesis and APT™ system controllers.
Also Available:



Click to Enlarge

KS1-Z8 Shown with a PIAK10
Piezoelectric Inertia Actuator
Motorized ±4° Tip/Tilt Adjustment
Angular Step Size (Repeatable): 1.1 arcsec (5.3 µrad)
34,555 counts/revolutions Rotary Encoder
Commercial-Grade Limit Switches Prevent Motor Damage
Required (Not Included, Sold Separately Below):

Two KDC101 Brushed DC Servo Motor Controllers
Power Supply
The KS1-Z8 features an Ultra-Stable KS1 Ø1" mirror mount and combines it with two Z812 Series DC Motor Actuators. Higher precision adjustments can be made with the motorized actuators than with manual adjusters. The mount also features one 1/4"-80 adjuster, which allows for greater pitch and yaw adjustment over standard two adjuster kinematic mounts, while also providing Z-translation.

Click to Enlarge
KAP101
Adapter)
Front Panel Velocity Wheel and Digital Display for Controlling Motorized Stages or Actuators
Two Bidirectional Trigger Ports to Read or Control External Equipment
Interfaces with Computer Using Included USB Cable
Fully Compatible with Kinesis® or APT™ Software Packages
Compact Footprint: 60.0 mm x 60.0 mm x 49.2 mm (2.42" x 2.42" x 1.94")
Power Supply Not Included (See Below)
Thorlabs' KDC101 K-Cube Brushed DC Motor Controller provides local and computerized control of a single motor axis. It features a top-mounted control panel with a velocity wheel that supports four-speed bidirectional control with forward and reverse jogging as well as position presets. A backlit digital display is also included that can have the backlit dimmed or turned off using the top-panel menu options. The front of the unit contains two bidirectional trigger ports that can be used to read a 5 V external logic signal or output a 5 V logic signal to control external equipment. Each port can be independently configured.
The unit is fully compatible with our new Kinesis software package and our legacy APT control software. Please see the Motion Control Software tab for more information.
Please note that this controller does not ship with a power supply. Compatible power supplies are listed below. Additional information can be found on the main KDC101 DC Servo Motor Controller page.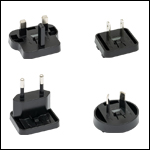 Click for Details
Each KPS201 power supply includes one region-specific adapter, which can be selected upon checkout.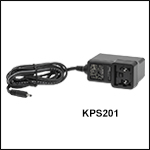 Click to Enlarge
The KPS201 Power Supply Unit
Individual Power Supply

KPS201: For K-Cubes™ or T-Cubes™ with 3.5 mm Jacks

USB Controller Hubs Provide Power and Communications

KCH301: For up to Three K-Cubes or T-Cubes
KCH601: For up to Six K-Cubes or T-Cubes
The KPS201 power supply outputs +15 VDC at up to 2.66 A and can power a single K-Cube or T-Cube with a 3.5 mm jack. It plugs into a standard wall outlet.
The KCH301 and KCH601 USB Controller Hubs each consist of two parts: the hub, which can support up to three (KCH301) or six (KCH601) K-Cubes or T-Cubes, and a power supply that plugs into a standard wall outlet. The hub draws a maximum current of 10 A; please verify that the cubes being used do not require a total current of more than 10 A. In addition, the hub provides USB connectivity to any docked K-Cube or T-Cube through a single USB connection.
For more information on the USB Controller Hubs, see the full web presentation.