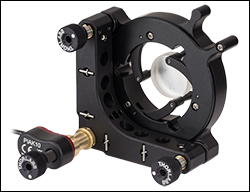 Click to Enlarge

KS1SC Shown with a PIAK10
Piezoelectric Inertia Actuator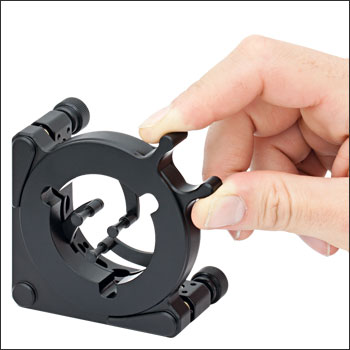 Click to Enlarge

Pinching the Acuator Tabs Adjusts the Optic Mounting Diameter
Features
Kinematic Mirror Mount With Self-Centering Fingers for Easy Optic Insertion and Removal
Holds Optics Between Ø0.15" (Ø3.8 mm) to Ø1.7" (Ø43 mm)
Three 1/4"-80 Adjusters Provide Angular Adjustment
Three Trumpet-Shaped Delrin®* Optic Holders Designed to Secure Optics up to 8 mm Thick
Fabricated from Black Anodized Aluminum
Thorlabs' KS1SC Kinematic Self-Centering Mount is designed to allow optics of various diameters to be easily inserted and removed from a kinematic-style mount. The optic holder features three spring-loaded fingers that automatically grip and center optics ranging from Ø0.15" (Ø3.8 mm) to Ø1.7" (Ø43 mm), similar to our line of Self-Centering Fixed Lens Mounts. The optic holder fingers are easily opened with one hand by pinching the actuator tabs between the thumb and forefinger. The optic is simply held between the mounting fingers as the actuator tabs are released. This mount features trumpet-shaped fingers designed to securely mount round optics, such as mirrors, up to 8 mm thick.
The kinematic adjustment is provided by three 1/4"-80 adjusters, similar to our Precision Three-Adjuster Kinematic Mirror Mounts. The adjusters provide ±4° of angular adjustment. The adjusters may be locked with set screws actuated by the included 5/64" ball driver. The mount features #8 (M4) couterbores for compatibility with both imperial- and metric-threaded Ø1/2" Posts.
*Delrin is a registered trademark of DuPont Polymers, Inc.