Electronic Self-Leveling Isolation System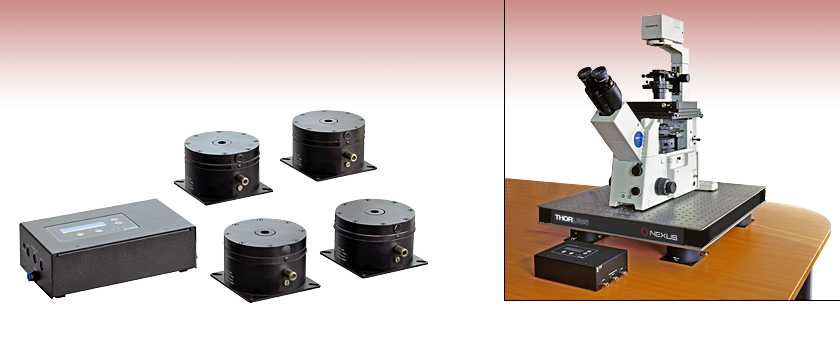 Benchtop Vibration Isolation
Active-Air Isolation with PID Control
Electronic Control Box, No Mechanical Linkage
Space-Saving Design
PWA090
Benchtop Isolation System
Typical Benchtop
Application
(Wires and Tubing
Not Shown)

Please Wait
Key Specificationsa
Vertical Resonant Frequency
<1.7 Hz
Horizontal Resonant Frequency
7.0 Hz
Vertical Transmissibility at 10 Hz
-27 dB (95.66%)
Horizontal Transmissibility at 10 Hz
-4.5 dB
Maximum Load Capacity (Set of Four)
462 lb (210 kg)
See the Specs tab for a transmissibility plot and additional specifications.
Features
Excellent Vibration Isolation: Vertical -27 dB at 10 Hz
Contactless Leveling Improves Isolation
Control Box with Three Proportional Valves
PID Loop for Precise Leveling Control
Oil-Free Design, No Leaks
Freestanding Benchtop Solution
Extremely Low Resonant Frequency: <1.7 Hz
Fast Settling Time of 1 - 5 s Typical
Can Be Used to Upgrade Rigid Workstations
The PWA090 electronic, self-leveling, vibration isolation system provides a portable, lightweight, low-profile, vibration-control solution for sensitive benchtop equipment and experiments. The system consists of four pneumatic isolators that must be connected to a constant supply of air, either from a compressor or bottled air supply, and an electronic control box with keypad. Other isolator quantities are available upon request.
The control box, which is shown in the image to the right, houses three proportional valves, each controlling a master isolator. The fourth (slave) isolator is controlled by one of the three master legs. Control of these valves is via a PID control loop that provides feedback for the leveling system. This electronic sensing system removes the need for the mechanical linkage between the valve and the breadboard found on traditional systems and results in more efficient isolation. Manual adjustment of the level/height is achieved via a keypad. Once set up, the level is maintained and any further disturbances are corrected automatically. These miniature electronic isolation mounts are only 110 mm (4.33") in diameter and 71 mm (2.8") high, making them ideal for use with breadboards and small optical tables.
The system is designed to be used on a desk, benchtop, or similar surface. The isolators can be used free standing to provide a temporary or moveable isolation solution. Alternatively, they can be bolted to an imperial or metric tapped work surface for more permanent applications. These isolators can also be used to upgrade a PFR series rigid frame to have active isolation as shown in the photo to the right.
These supports contain an isolation system that effectively isolates the worksurface from vertical and horizontal vibrations within the critical 3 - 50 Hz frequency range, which is the range where most common large-amplitude sources of vibrations are found in laboratories (see the Optical Tables Tutorial tab on Sources of Vibration). The vibrations are isolated from the breadboard by an air-driven pneumatic isolation system. This proprietary design eliminates the need to use oil-based damping systems that can leak or degrade over time. The supports are controlled by a control box, which regulates the pressure in the pneumatic system to control the height of the breadboard. If the breadboard is displaced vertically, the control box changes the pressure in each isolator as necessary, so that the breadboard is returned to its original height.
Note: For best performance, these supports should be used with our Nexus® Series Breadboards. Please contact Tech Support for advice on use with our MB series breadboards.
Specification
Value
Vertical Resonant Frequencya
<1.7 Hz
Horizontal Resonant Frequencya
<7.0 Hz
Vertical Transmissibility at Resonancea
14.22 dB
Horizontal Transmissibility at Resonancea
16.27 dB
Vertical Transmissibility at 10 Hza
-27 dB
Horizontal Transmissibility at 10 Hza
-4.5 dB
Load Capacityb
30 kg (66 lbs) Min
210 kg (462 lbs) Max
Height
73.50 - 76.0 mm (2.9" - 3.0")
Self-Leveling Repeatability
±0.2 mm (0.008")
Adjustable Leveling Repeatability
±0.2 mm to ±1.0 mm
(±0.008" to ±0.04")
Average Settle Time for
±0.2 mm Repeatabilityc,d,e
5.0 s
Average Settle Time for
±0.3 mm Repeatabilityc,d,f
<1.0 s
Settling Time for Large Disturbancesc,d,g
<60 s
Legs Height Adjustment Range
±2.5 mm (0.1")
Air Pressure Required
552 kPa (80 psi) Max
138 kPa (20 psi) Min
Finish
Black Paint
At full load
Weights smaller than 66 lbs (30 kg) may be used but settling time, repeatability, and isolation may be affected.
Settling time is defined as the time from when the valve is opened to when all LEDs are lit (within error band). The system will turn off 2 seconds after this.
Settling time varies with weight, pressure, footprint, center of mass, and error window.
The data above is for small 'knock type' disturbances across the entire load range [66 - 462 lbs (30 - 210 kg)], with load evenly distributed.
Measured with 36 kg load, 600 mm x 600 mm footprint, and 20 psi.
For large disturbances such as those experienced when large weights (20 kg or above) are removed, an overpressure situation occurs, which causes the legs to vent. In this case settling time is <1 minute.
In order to avoid system oscillation or long settle times, the mounting surface must be flat to within 4.0 mm.
A vibration isolation system is subjected to continuous vibrational impulses from the laboratory floor. These vibrations may be caused by large machinery within the building or even by wind- or traffic-induced building resonances (swaying). Transmissibility is a measure of the isolator's efficiency at damping out these vibrations and is defined as the ratio of the amplitude of the transmitted vibration to that of the forcing vibration.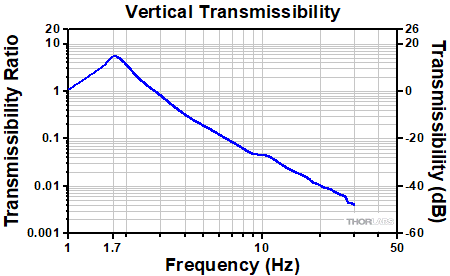 Click to Enlarge
Typical Weight/Pressure Settings
| Weight | Pressure | Min Isolator Separation |
| --- | --- | --- |
| <47 kg (103.4 lbs) | 20 psi | 400 mm |
| >47 kg (103.4 lbs) to <98 kg (215.6 lbs) | 40 psi | 400 mm |
| >98 kg (215.6 lbs) to <152 kg (334.4 lbs) | 60 psi | 600 mm |
| >152 kg (334.4 lbs) to <210 kg (462 lbs) | 80 psi | 900 mm |