SAF Gain Chips, 1220 nm Center Wavelength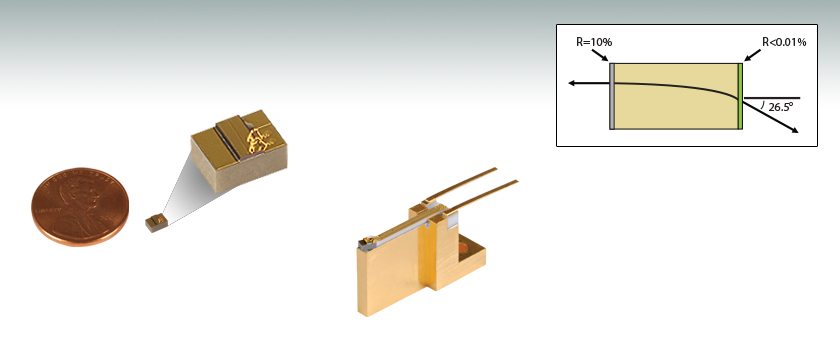 InP Gain Chip on Submount or Submount with Heatsink
Ultra-Low Reflectance at Angled Facet
Custom Coatings Available
Actual Size Compared
to US One Cent Coin
SAF1145C
Chip on Submount
SAF1145H
Chip on Submount
with Heatsink

Please Wait
Parameter
Min
Typ
Max
Operating Current
-
300 mA
500 mA
Center Wavelength
1190 nm
1220 nm
1250 nm
ASE Power @ IOP
0.5 mW
1.0 mW
-
Peak Gain @ IOP
-
20 dB
-
Optical Bandwidth
60 nm
80 nm
-
Gain Ripple (rms) @ IOP
Res. BW = 0.1 nm
-
0.35 dB
1 dB
Angled Facet Reflectivity
-
0.005%
0.01%
Normal Facet Reflectivity
-
10%
-
Forward Voltage
-
1.4 V
1.8 V
Chip Length
-
1.0 mm
-
Waveguide Refractive Index
-
3.2
-
Lateral Beam Exit Angle
-
26.5°
-
Transverse Beam
Divergence (FWHM)
-
30°
-
Lateral Beam
Divergence (FWHM)
-
13°
-
Features
Broad Tuning Range
High Output Power
Ultra-Low Angled Facet Reflectance: 0.005% (Typ)
Gain Medium for Narrow Linewidth Fiber Bragg Grating Lasers
Gain Medium for Widely Tunable External Cavity Semiconductor Lasers
Single Angled Facet (SAF) gain chips use a geometric technique to further reduce the reflection on one end of the chip by curving the ridge waveguide so that it is not normally incident to the chip facet. This, in combination with an AR coating on that facet, virtually eliminates back reflections that can create unwanted feedback into the laser cavity. As a result, SAF gain chips are superior to standard gain chips when used in Extended Cavity Lasers (ECLs), particularly tunable ECLs, since any residual reflection from the AR-coated Fabry-Perot (FP) gain chip facet often limits the stability, output power, and spectral quality of the laser.
Our 1220 nm SAF gain chip is available two configurations. The SAF1145C chip is offered on a submount, while the SAF1145H is provided on the same submount with a heatsink and connected cathode and anode leads.
Sample Results of an SAF1145 Used in a Basic Littman-Metcalf Configuration

For more information on using a SAF gain chip in an external cavity laser see the online External Cavity Diode Laser Tutorial.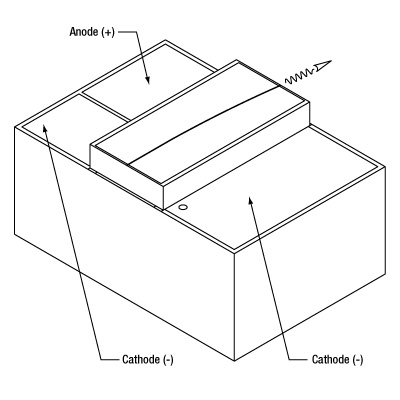 Click to Enlarge
Diagram of the Anode and Cathode Pins of the SAF1145C

Click to Enlarge
Diagram of the Anode and Cathode Pins of the SAF1145H