Features
White Light Output over 1530 to 1610 nm
Additional L-Band Power
High Power Output: 30 mW
Easy Operation
The ASE730 White Light Test Source is a low noise, high power C&L source that delivers more than +15 dBm of output power across the C&L Band wavelengths. Key features include low intensity noise, broadband output, and exceptional wavelength stability. This light source takes advantage of Erbium-doped fluoride fiber, pumped with a single 1480 nm laser diode, to produce 30 mW (15 dBm) of broadband "white light". This rare-earth fiber design allows for a higher degree of power and wavelength stability than conventional silica fibers with multiple pumping lasers. The output fiber is a standard SMF-28 silica fiber.
Thorlabs also offers Single Mode Benchtop SLD Sources as well as a Single Mode Benchtop ASE Source for NIR applications. This alternative may be suitable for some C&L Band applications.
ASE730 Specifications
Total Output Power
>+15 dBm(30 mW)
Spectral Power Density (Typical)
>-18 dBm/nm at 1530 nm; >-11 dBm/nm at 1540-1600 nm;
>-18 dBm/nm at 1610 nm
Output Power Stability
0.001 dB (15 min. After 1 h Warmup); 0.005 dB Maximum
Wavelength Range
1530 nm - 1610 nm
Output Connector
FC/PC
Output Fiber
SMF-28
Size (mm)
88 (H) x 483 (W) x 352 (D); 19" Rack-Mount Compatible
Operation Temperature
0 °C to 40 °C
Storage Temperature
10 °C to 45 °C
Warranty
2 years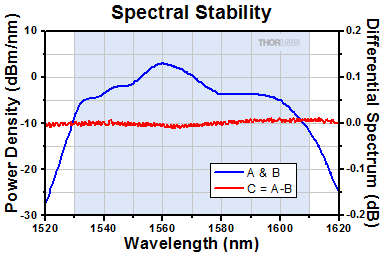 Click to Enlarge
Spectral stability of the ASE730 light source. Trace C is the difference between two scans (traces A and B) taken 15 minutes apart.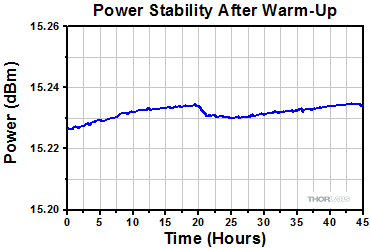 Click to Enlarge
Stability of ASE730 Output Power over 45 Hours