Stepper and DC Servo Motor Drive Cables
1 m or 3 m Long Cables for Use with Thorlabs' Stepper Motors
2.5 m Long Cable for Use with Thorlabs' DC Motors
PAA612
15-Pin Stepper Motor Cable, 1 m
PAA632
15-Pin DC Motor Cable, 2.5 m
PAA613
15-Pin Stepper Motor Cable, 3 m

Please Wait
Thorlabs' DRV, ZST, and ZFS Stepper Motor Actuators, as well as our Z8 DC Servo Motor Actuators, come with cables for connecting to the required controllers. Thorlabs also offers separate cables that may be used as extension cables.
Stepper Motor Cables
Thorlabs offers a variety of cables to support several stepper motor actuator and controller combinations. Supported stepper motors include our ZST, ZFS, and DRV actuators; supported controllers include our BSC benchtop controllers, our KST201 K-Cube™ Controller, and our MST602 Rack Control Module. In order to see which cable is compatible with a given combination of stepper motor and controller, please see the table below. The pin assignment for each cable is given in the Pin Diagrams tab. Please note that these cables cannot be used with motors and controllers that do not match their pin assignment, even if the connectors are the same.
DC Motor Cables
The PAA632 is a 2.5 m cable for our Z8 series of DC motor actuators. This cable is intended to be used with the KDC101 K-Cube DC Servo Motor Controller. The pin assignment for this cable is given in the Pin Diagrams tab. Although it uses a 15-pin connector, this cable is not compatible with any of our stepper motors.

Green shading indicates hardware for DC servo motors.
The KST201 K-Cube Controller can be used to drive our DRV Stepper Motor Actuators (excluding the DRV208, which is incompatible) at a reduced velocity.
PAA612 and PAA613 Stepper Motor Cables
DA15 Male D-Type to DE15 Female D-Type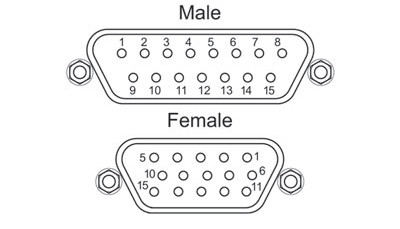 | DA15 Male Pin | DE15 Female Pin | Description |
| --- | --- | --- |
| 11 and 12 | 1 | Limit Switch Ground |
| 10 | 2 | Reverse Limit Switch |
| 9 | 3 | Forward Limit Switch |
| 7 | 4 | Motor Phase B - |
| 14 | 5 | Motor Phase B + |
| 8 | 6 | Motor Phase A - |
| 15 | 7 | Motor Phase A + |
| 6 | 9 | Reserved for Future Use |
| 5 | 13 | 5 V |
PAA632 DC Servo Motor Cable
DE15 Male D-Type to DE15 Female D-Type

| DE15 Male Pin | DE15 Female Pin | Description |
| --- | --- | --- |
| 1 | 1 | Ground |
| 2 | 2 | Forward Limit Switch |
| 3 | 3 | Reverse Limit Switch |
| 5 | 5 | Motor - |
| 7 | 7 | Motor + |
| 10 | 10 | 5 V Encoder Supply |
| 11 | 11 | Encoder Channel A |
| 13 | 13 | Encoder Channel B |
PAA614 Stepper Motor Cable
DE15 Male D-Type to DE15 Female D-Type

| DE15 Male Pin | DE15 Female Pin | Description |
| --- | --- | --- |
| 1 | 1 | Ground |
| 2 | 2 | CCW Limit Switch |
| 3 | 3 | CW Limit Switch |
| 4 | 4 | Motor Phase B - |
| 5 | 5 | Motor Phase B + |
| 6 | 6 | Motor Phase A - |
| 7 | 7 | Motor Phase A + |
| 10 | 10 | +5 VDC |
| 15 | 15 | Ground |