SMB Cable
Right-Angle SMB Female Connector to BNC Male Connector
Nickel Plating on Connectors Protects Against Corrosion
Thin, Flexible 36" Cable
PAA236R
SMB-to-BNC Cable
Enlarged View of PAA236R Connectors

Please Wait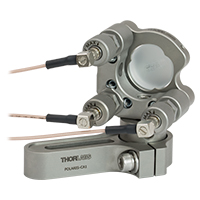 Click to Enlarge


Click to Enlarge
Features
Right-Angle SMB Female and Straight BNC Male Connector
50 Ω Impedance
DC to 4.0 GHz Frequency Range
1000 V (RMS) Dielectric Withstanding Voltage
0.40" (10.2 mm) Minimum Bend Radius
No Bare Brass, Suitable for Use in Laser Systems
This cable has a right-angle, SMB female connector on one end and a straight, BNC male connector on the other. The connectors are made of nickel-plated brass. The RG-178 coaxial cable is flexible enough to reach a minimum bend radius of 0.4", and the 90° SMB connector allows the cable to be connected in tight areas without putting lateral force on the connection, making this cable ideal for use in space-constrained setups.
The PAA236R can be used with our Polaris® mirror mounts with piezoelectric adjusters.
The links in the table below will take you to web pages containing our other varieties of electrical cables.
Posted Comments:
No Comments Posted