Levels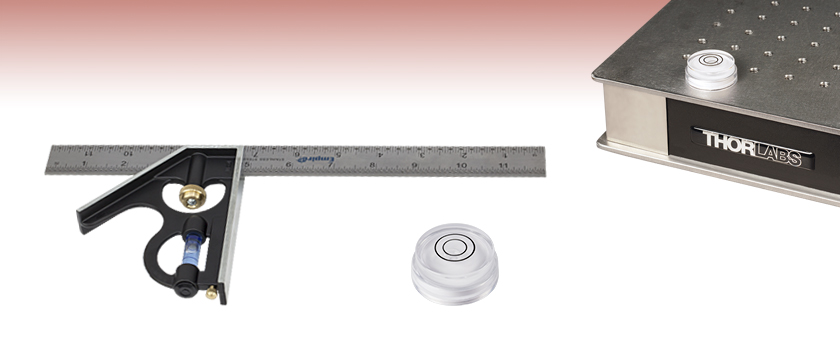 Circular Bullseye Level is Ideal for Checking the Level of Breadboards
and Tables in the XY Plane
Combination Square Level can be Used to Measure the Level in One
Dimension and Draw Right Angles
LVL02
Combination Level
LVL01
Bullseye Level
LVL01 Shown on an Optical Table (Sold Separately)

Please Wait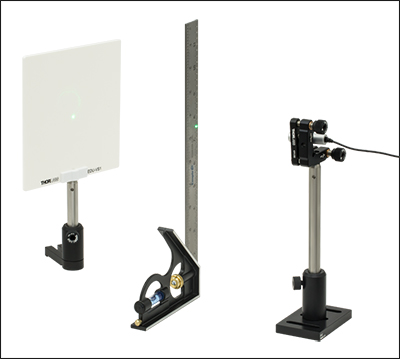 Click to Enlarge
The holes in LVL02 can be used to measure the height of a beam larger than the hole. Part of the beam passes through the hole and hits the screen, showing that the beam is at the height of the hole. The rest of the beam is clipped by the blade of the level, allowing the user to read off the height of the beam. Click the photo to see an enlarged image with a zoom of the beam on the blade.
LVL01 Features
40 arcmin Sensitivity
Made of Durable Acrylic and a Hot Stamped Lens
Measures Level in XY Plane
The LVL01 Bullseye Level is well suited for determining the level in the XY plane. The level can be used in the lab to measure and set the level of breadboards and tables, as well as optomechanical mounts.
LVL02 Features
Precision Machined Head and Bubble Level Ensure Squareness to 0.001°
12" Etched Stainless Steel Blade with 3 Different Inch Graduations: 8, 16, and 32 Marks per Inch
Through Holes Provide Easy Marking Access
Heavy-Duty Machined Square Head
Self-Aligning Drawbolt
Hardened Scriber Included in Back of Head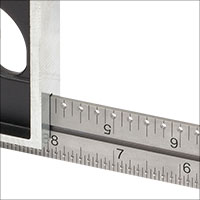 Click to Enlarge
The blade of LVL02 has holes every 1/4" along one edge and every 1/8" along the other edge.
The LVL02 Combination Square is a precision instrument with better sensitivity than similar instruments used in carpentry. Sensitivity is the measure of how large of a tilt is needed for the bubble to move, while accuracy is how close to true level the device measures. The stainless steel blade is marked with two scales on each side and is removable. One side is marked with 1/8" markings with 1/4" hole spacing and 1/16" markings with 1/8" hole spacing. On the other side, the ruler is marked with 1/16" markings with 1/4" hole spacing and 1/32" markings with 1/8" hole spacing. Also included with the combination square is a hardened scriber which is conveniently stored in the back of the head for ready access.