Height Spacers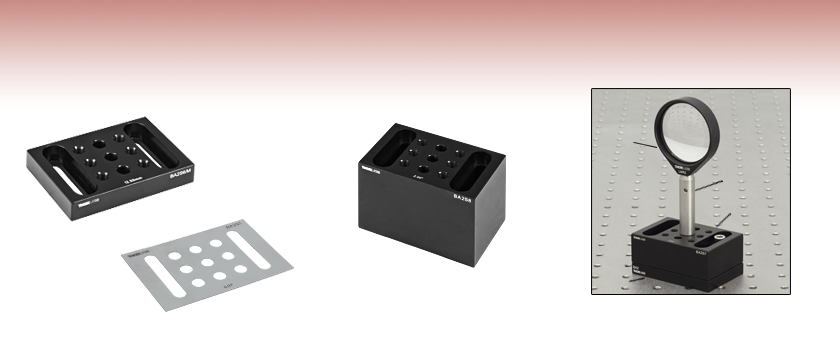 Easily Adjust Optic Heights
Thicknesses Available from 0.01" (0.25 mm) to 2" (50 mm)
Equipped with an Array of Mounting Holes and Slots
BA2S6/M
12.5 mm Thick Spacer
BA2S1
0.010" Thick Spacer
BA2S8
2.0" Thick Spacer
LMR2
with Lens
TR Post
BA2
Base
BA2S7
Spacer

Please Wait


Click to Enlarge
Fixed Ø3" Kinematic Optic Mount Shown with BA2S3 (Silver Spacer Just Above the Breadboard) and BA2S7 (Black Spacer).
Features
Quick, Stable Adjustment of Fixed-Height Optical Systems
Thicknesses Available from 0.010" (0.25 mm) to 2" (50 mm)
Spacers Equipped and Various Hole Patterns (See Below for Details)
These spacers, which are based on the outer profile of our BA2 Mounting Plate, are available in an array of thicknesses and are manufactured to facilitate changes in beam heights. The three thinnest spacers are fabricated from stainless steel while the five thickest ones are fabricated from black anodized aluminum. Each spacer is equipped with two counterbored mounting slots that accept 1/4"-20 (M6) capscrews and an arrangement of tapped, clearance, and/or through holes (see the tables below for details). The configuration of holes and slots provided makes it easy to bolt multiple plates together and to create fixed-height optical systems.
Posted Comments:
No Comments Posted

Item#
Thickness
Material
Mounting Options
BA2S1
BA2S1/M
0.010"
(0.25 mm)
Stainless Steel
• 2 Clearance Slots: Ø0.27" (Ø6.7 mm)
• 9 Through Holes: Ø0.27" (Ø6.7 mm)
BA2S2
BA2S2/M
0.025"
(0.50 mm)
BA2S3
BA2S3/M
0.050"
(1.25 mm)

Item #
Thickness
Material
Mounting Options
BA2S4
BA2S4/M
0.150"
(4 mm)
Black Anodized Aluminum
• 2 Clearance Slots: Ø0.27" (Ø6.7 mm)
• 9 Through Holes: Ø0.27" (Ø6.7 mm)
BA2S5
BA2S5/M
0.250"
(6.25 mm)
• 2 Clearance Slots: Ø0.27" (Ø6.7 mm)
• 3 Through Holes: Ø0.27" (Ø6.7 mm)
• 6 Taps: 1/4"-20 (M6)

Item#
Thickness
Material
Mounting Options
BA2S6
BA2S6/M
0.500"
(12.5 mm)
Black Anodized Aluminum
• 2 Clearance Slots: Ø0.27" (Ø6.7 mm)
• 6 Mounting Holes: 1/4"-20 (M6)
• 3 Counterbored Holes: Accept 1/4"-20 (M6) Cap Screws
BA2S7
BA2S7/M
1.000"
(25 mm)
BA2S8
BA2S8/M
2.000"
(50 mm)