Engineered Diffusers™ Tutorial


Please Wait

Click to Enlarge

Illustration of the Detector Path through the Beam Profiles
Experimental Set Up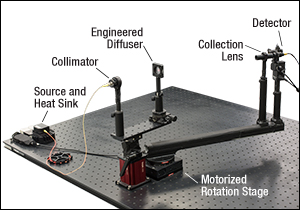 Click to Enlarge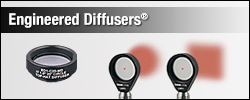 Introduction
Engineered Diffusers are designed to create non-Gaussian intensity distributions in cicular or square beam profiles that diverge from the plane of incidence. The Graphs tab on this page has both theoretical approximations of the intensity through the center of the diverging beam profile when illuminating the engineered diffusers with a 633 nm collimated beam and data compiled from independent tests with laser wavelengths of 488 nm, 637 nm, 785 nm, and 1064 nm. These tests demonstrate the change in output profile with wavelength between diffusers across wavelengths.
Procedure
Four wavelenghts of light were chosen for study: 488 nm, 637 nm, 785 nm, and 1064 nm. These were prepared using the equipment to the right (a full list of all parts used can be found under the photo of the Experimental Set Up). The optical path was approximately 35 cm above the surface of the breadboard; it began when fiber-coupled light sources were collimated with triplet collimators, using a design wavelength as close to the source wavelength as possible. In free space, the beams were incident upon one of the Engineered Diffusers. The exiting divergent profile was isolated and focused by an with an LA1304 plano-convex lens attached to an SM05L20 lens tube. The signal was sampled every 0.5° by a SM05PD1A photodiode. This assembly was mounted on the end of an XT34-500 rail. The opposite end of the rail was mounted to a NR360S rotation stage centered with the engineered diffuser under test in order to sweep the detector and lens assembly through the center of the profile, as illustrated in the diagram to the upper right, and plot normalized intensity versus output angle. The distance between the diffuser and the detector was approximately 43 cm. The output angle was defined with respect to the original optical axis when the diffuser was not within the path. In order to control for ambient light, a 1 kHz sine wave was used to modulate the drive current applied to the laser diode and the signal was acquired with a lock-in amplifier. A LabVIEW program was written to control the setup and acquire the data.
Experimental Limitations
Only one of each Item # was testeda. Stability may have been compromised by the experiment being performed on a PBG11113b breadboard without any isolation. Only the middle of each diffuse shape was measured, so variances in other areas of the shape are possible, including the corners of the square profiles.
Results
It was found that there was little variance in diffuse beam profile with respect to wavelength across the middle of each beam profile. In the Graphs tab, there are data compiled from independent tests with various laser wavelengths to verify the theoretical models. The same graphs can be found in the table below.
The ED1-L4100 was not tested.
This is a previous generation item. Please see the PBG3648F for an up-to-date replacement.
Circular Pattern Diffusers Transmitted Intensity Plots
Square Pattern Diffusers Transmitted Intensity Plots
Line Pattern Diffuser Transmitted Intensity Plot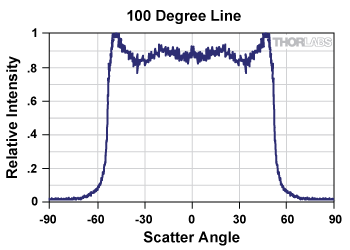 Click to Enlarge
Theoretical Data for ED1-L4100