Optics Mount with Quick Release Mounting Carriage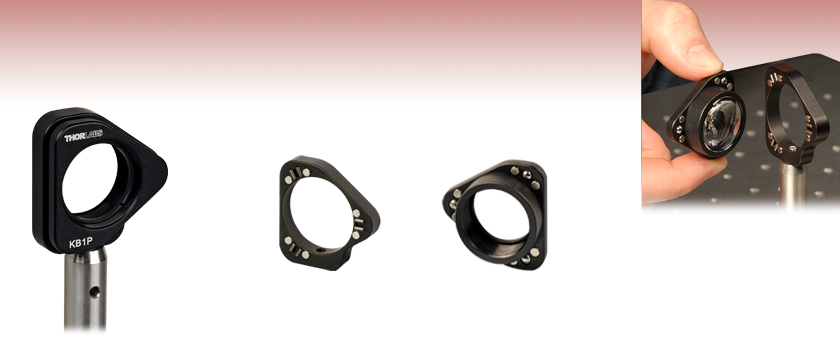 8-32 (M4) Tap for Post Mounting
SM1-Threaded Mounting Carriage for Ø1" Optics
Magnetically Coupled Mounting Carriage
KB1P
(Post Not Included)
KB1B
KB1F
Application Idea

Please Wait
| Parameter | Value |
| --- | --- |
| Max Optic Thickness | 0.35" (8.9 mm) |
| Repeatabilitya | 1 µm |
The repeatability specification (1 µm) indicates that the X, Y, and Z position of the mount will not vary by more than 1 µm after being removed and replaced.
Features
SM1-Threaded (1.035"-40) Mounting Carriage for Ø1" Optics
One Retaining Ring (SM1RR) Included
Magnetically Coupled Removable Mounting Carriage
8-32 (M4) Tapped Hole on Back Plate for Post Mounting
The KB1P mount has back plate to which a removable mounting carriage can be magnetically coupled. This mount is designed for applications that require a Ø1" optical element, like a lens, to be periodically inserted and removed for an optical setup with a high degree of precision. The magnetically coupled mounting carriage eliminates the need to align the optic when it is reinserted into the setup. For stability, precision, and repeatability, the mounting carriage contacts the back plate at three points. Each point of contact is a ball bearing on the mounting carriage resting in the groove formed by two parallel steel pins. The coupling force is provided by pairs of rare earth magnets.