See what's new at Thorlabs:
View the full list of new products (below) or browse our entire product range.
All of these items are available now!

Choose

RSS Feed to have this information delivered to you.

2 New Products in the Spatial Filters Family!
«« View All New Products
«« View ByCategory
These pinholes and obstruction targets are used for spatial filtering of an optical beam. They are useful for creating a uniform gaussian beam, particularly in holography applications. Thorlabs offers single pinholes, annular apertures, and 16-position pinhole wheels. A motorized 16-position pinhole wheel is also available.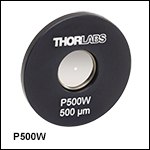 Tungsten Pinholes (View Product Family)
2 New Products!

P5W- Ø1" Mounted Pinhole, 5 ± 1 µm Pinhole Diameter, Tungsten RELEASED: August 03, 2020


P10W- Ø1" Mounted Pinhole, 10 ± 1 µm Pinhole Diameter, Tungsten RELEASED: August 03, 2020