See what's new at Thorlabs:
View the full list of new products (below) or browse our entire product range.
All of these items are available now!

Choose

RSS Feed to have this information delivered to you.

1 New Product in the Microscope Port Adapters Family!
«« View All New Products
«« View ByCategory
Thorlabs offers a variety of lamphouse, camera port, and nosepiece adapters for Olympus BX and IX, Nikon Eclipse Ti, Upright Nikon Eclipse, Leica DMI, and Zeiss Axioskop microscopes. The adapters below are organized by microscope compatibility.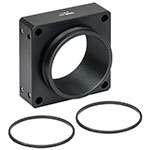 Transmitted Illumination Port Adapters for Olympus BX41, IX71, or IX73 Microscopes
(View Product Family)
1 New Product!

SM1A14B- Olympus BX41, IX71, or IX73 Microscope Trans-Illumination Port Adapter, Internal SM1 Threads, 30 mm Cage Compatibility RELEASED: August 31, 2020