See what's new at Thorlabs:
View the full list of new products (below) or browse our entire product range.
All of these items are available now!

Choose

RSS Feed to have this information delivered to you.

2 New Products in the Electrophysiology Family!
«« View All New Products
«« View ByCategory
Burleigh's® microscope platforms, micromanipulators, and accessories provide leading edge stability and control for electrophysiology research. The Gibraltar® platform supports microscopes from popular third-party manufacturers such as Olympus, Zeiss, Nikon, and Leica, and our manual and motorized micromanipulator assemblies offer excellent control for patch clamping experiments.

Thorlabs also offers rigid stands that offer convenient and adjustable placement of slides, recording chambers, and other equipment next to the microscope.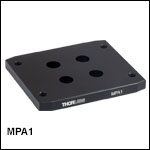 Rigid Stand Adapter Plate for XRN25 Series and LX Series Stages (View Product Family)
2 New Products!

MPA1/M- Rigid Stand Adapter Plate, M6 Taps RELEASED: June 12, 2019


MPA1- Rigid Stand Adapter Plate, 1/4"-20 Taps RELEASED: June 12, 2019 - Customer Inspired Product!