See what's new at Thorlabs:
View the full list of new products (below) or browse our entire product range.
All of these items are available now!

Choose

RSS Feed to have this information delivered to you.

1 New Product in the Fiber Lasers & Amplifiers Family!
«« View All New Products
«« View ByCategory
Thorlabs' fiber lasers are suitable for a range of applications in the infrared region. Our fiber lasers include an MIR supercontinuum source (1.3 - 4.5 μm), thulium-doped fiber lasers (1800 - 2050 nm), a femtosecond fiber laser with emission at 2 μm, and erbium-doped zirconium fluoride (ZrF4) fiber lasers (2.7 μm). Thorlabs also manufactures benchtop optical amplifiers with ytterbium-doped fiber (1025 - 1075 nm), praseodymium-doped fluoride fiber (1280 - 1330 nm), and erbium-doped fiber (1530 - 1535 nm). In addition to Thorlabs-manufactured options, our strategic partner, Menlo Systems, offers an extensive line of femtosecond fiber lasers.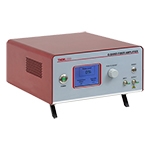 (View Product Family)
1 New Product!

PDFA100- Praseodymium-Doped Fiber Amplifier, Single Mode RELEASED: September 12, 2019